As Google Analytics 4 (GA4) works to replace Universal Analytics standards that have been in place for years, you need to make sure your auto dealership is still set up to win. Today on CBT Now, we're joined once again by auto marketing expert Brian Pasch, Founder of BPE Brian Pasch Enterprise and the host of CBT's Auto Marketing Now, to give us an update on the GA4 Council, and we'll also find out his perspective on the role of DMS platforms.
Google Analytics is a go-to source for information for dealers, agencies, and even OEMs, who use the platform to monitor their marketing campaigns. Starting next year, as early as July, dealers will stop seeing data from their websites in the current style, known as universal analytics. Data will only be available in Google Analytics 4 moving forward.

To help dealers manage the transition as smoothly as possible, Pasch's company has created the Automotive Standards Council for GA4. The council includes over 75 companies ranging from website and DMS companies, digital retailers, chat and messaging, agencies, and dealer groups. The group's goal is to understand what needs to be done to properly track the engagement of what consumers do on the website.
According to Pasch, an excellent example of the changes users will have to navigate involves a lack of standard event tracking. So, to remedy that, the council has created around 17 events that are a part of the consumer's digital shopping experience. Prior to this, nobody thought it could be done. However, they have created events in a way that everyone will be using and tracking the same event veins, so that rollup reports for dealer groups will be much easier.
As for what's driving Google to change its platform, Pasch says that increasing how consumers find their way to dealer websites requires different tracking methods. Also, the new platform hopes to create a cleaner way to look at how consumers interact with websites and mobile apps.
Notably, five training classes will be offered this November at the Modern Retailing Conference in Palm Springs that are specially designed to help dealer groups transition to Google Analytics 4 so that there will be no problems when Google shuts down its old analytics.
When discussing the role of DMS platforms, Pasch pointed to problems with automotive retail and retail technology relating to limited access and limited API integration. There are many products that replicate data into or copy data out of the DMS, but in Pasch's opinion, the DMS should be the "single source of truth."
One of the reasons digital retailing isn't working as effectively as it could be is because the consumer in-store and online experiences are so different. Pasch says it comes from frustration with or limited access to secure APIs into the DMS software. Pasch called it a "shot over the bow" for DMS providers, and with the introduction of new technology on the market, the DMS community realizes that "we can do everything end to end because we own all the pieces."
Undeniably, there have been struggles with inventory shortages, and these challenges are limiting the growth of digital retailing at the moment. Pasch says that leading up to the pandemic, digital retailing became a buzzword, but now consumers are slowly making their way back into the showrooms. Many started to think that showing the same data and look both online and in the stores would boost the customer experience.
Customers are paying full MSRP without the need to negotiate. Pasch said this model works well with digital retailing, where negotiation is eliminated, and customers are comfortable paying a set price. But he warns that when the market returns to normal and inventory becomes more available, that model likely won't hold. Pasch also highlighted the need for dealers to develop an intentional strategy to buy used cars and sell them directly to consumers.
Pasch urges dealer groups to attend the upcoming Modern Retailing Conference, which will be held between November 13-15th in Palm Beach, Florida. Pasch says the scope of the conference has been expanded to accommodate the rapid changes in the industry, including Google Analytics 4.
The conference will have specific tracks for HR, leadership, sales processes, marketing, and Google Analytics so that dealers' groups can bring out "more of their team and learn together." The conference will also include conversations about how dealers need to accelerate their used car sales and acquisitions because vehicles are selling "as fast as they hit the ground."
---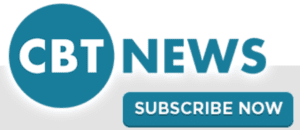 Did you enjoy this interview with Brian Pasch? Please share your thoughts, comments, or questions regarding this topic by connecting with us at newsroom@cbtnews.com.
Be sure to follow us on Facebook, LinkedIn, and TikTok to stay up to date.
While you're here, don't forget to subscribe to our email newsletter for all the latest auto industry news from CBT News.