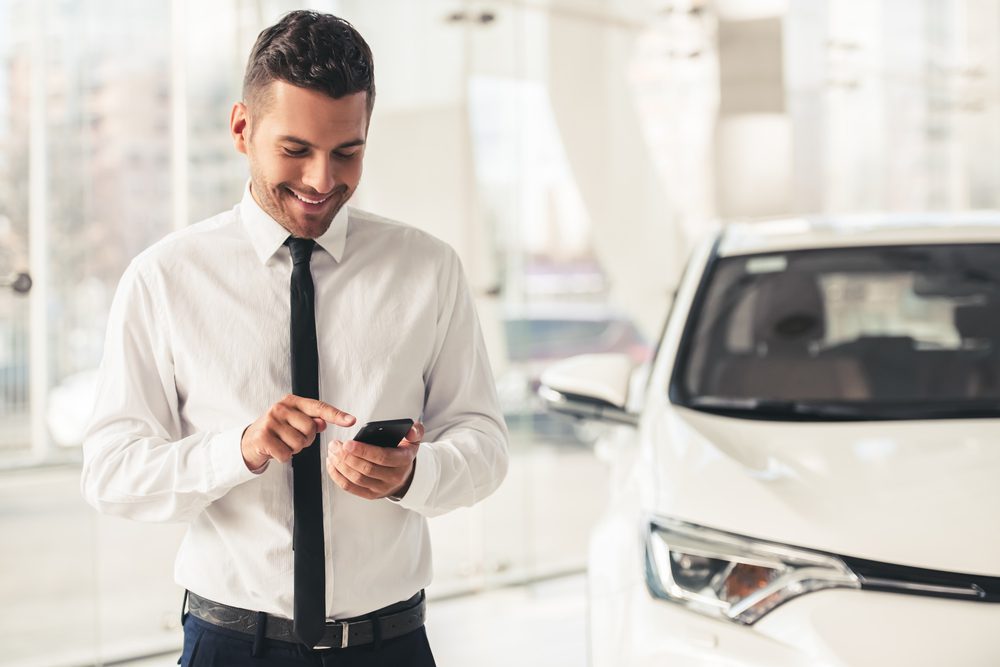 As dealerships enter into their next quarter of the marketing plan, many think creating a new marketing campaign is not in the budget. Especially now.
However, you can add something new by using geofencing to reduce your overall marketing cost significantly and still get some great results. Much of your cost savings and leads will come from a targeted and personal message tailored to a specific individual who is in-market and has accepted a request to hear from you. They're local, nearby, and they're likely to buy from you or at least seek more information.
What is Geofencing?
Gartner defines geofencing as "creating a virtual boundary in which a device, individual or asset can track and monitor or detect a violation of the boundary." In lay terms, it lets you track the mobile device GPS of people who walk or drive into a nearby area you've created. With software, you can then send users alerts and notifications.
Geofencing has a growing variety of applications for marketing and social media. For example, dealerships can use geofencing to alert local shoppers of a great deal nearby. Service departments can advertise the day's special to engaged passersby. Your concierge services can alert passengers when there's a driver in their area to pick them up.
Geofencing growth is such that Global Market Insights predicts the global geofencing market will exceed $500 million by 2023. With 90% of consumers saying they use multiple devices to complete everyday tasks, and 40% use their mobile device to research before making a purchase, you have a great opportunity to provide them what they want.
It could be beneficial to your marketing plans to look into this space. So where do you begin?
Related: The Power of Local: Five Ways to Harness Local Community Support
Seven Strategic Questions to Get Started
Since you can talk with your agency partner or look up some great resources on how to get started technically, let's pass that and take a closer look at strategies you can consider at the dealership level. Understanding that it's easy to be unsure of where to start, we've provided some thought starters on how to get you moving in the right direction.
What is the Content?
A suggested best practice is to focus on the call-to-action and offer. The audience may be correctly selected and be in-market, but the wrong offer will cause the effort to fail. If a consumer has entered the geofence and is in-market to purchase a car or pick up accessories at an independent garage across the street, sending a coupon for an oil change may not work. You'll need different messages for different audiences. The ad, text, or video has to catch your audience's attention, meet their need, and get them to engage.
Who is the Audience?
Saying, "people ages 25-65" isn't going to work. Segment the audience based on things like whether they have you in their consideration set, are in-market, or needing service. You'll need:
Demographic information
Location
Buying habits
Hobbies
Interests
Browsing behavior
Then create targeted content based on this data. And start with your customer data so you can get a profile of future buyers.
Why Should They Care?
They have to be receptive to what you're offering. People won't engage with your ad if it doesn't apply to their interests, at best. At worst, they'll never want to hear from you again. The content has to connect and offer value at a time when they're open to it.
Have You Fenced the Right Area?
If you're selling Mini's, don't geofence the Aston Martin dealership unless you have some hard data that they may be looking for a kid's first car. Focus on putting the fence in the right place. If you're fencing off the areas where your target doesn't frequent, you will miss lead capture opportunities. Place the fences where your audience will enter and make them small.
For example, you might discover that people visit REI down the street before shopping for your SUV line. You'll want to set up a geofence near REI to show them some relevant content while they shop. Although doing the research to choose the right location for the fence and serving the right content may seem like too much work, it pays off in successful lead captures.
Does It Work?
No marketing campaign is perfect, and that's why you'll need to frequently optimize your campaign. It's not unusual to set up fences and never check back to see if they were successful. Be different and spend time optimizing your strategies, or you'll irritate your consumer, miss opportunities for any leads or sales, and lose revenue.
When you run a geofencing campaign or any campaign, you must monitor it and ensure the analytics show success. If not, make the needed changes.
The issues could be inappropriate content, fence location, or the time of delivery, among other things. By looking at the analytics, you can determine the problem and then make the changes needed for success.
By remembering that marketing campaigns are rarely set and forget, you'll be successful. You'll need to create, deploy, refine, and repeat continually.
Related: Are Personally-Branded Facebook Pages Bad for Dealers?
What Will You Get Out of It?
The main task of geofencing should be to drive the capture of leads from people who are interested in what you're selling. If you do this well, you'll have:
More targeted and personal communication
Better-engaged consumer
Only reach people close to your location
More efficient lead capture
Better data
Will You Have Success?
Remember, there's no single solution for efficient and effective marketing. Expect your mileage to vary when you first start out and have a monthly check-in to track your progress. You have a great opportunity for success with a small expense.
In 2018, Burger King used geofencing technology to steer hungry customers away from McDonald's. Burger King app users received an offer for a 1 cent Whopper as soon as they got within 600 feet of a McDonald's. And it worked. Because of the promotion, over a million users downloaded the Burger King app.
If geofencing works for Burger King, it can work for you. It's time to set up some fences.
---
Did you enjoy this article from Steve Mitchell? Read other articles from him here.
Be sure to follow us on Facebook and Twitter to stay up to date or catch-up on all of our podcasts on demand.
While you're here, don't forget to subscribe to our email newsletter for all the latest auto industry news from CBT News.