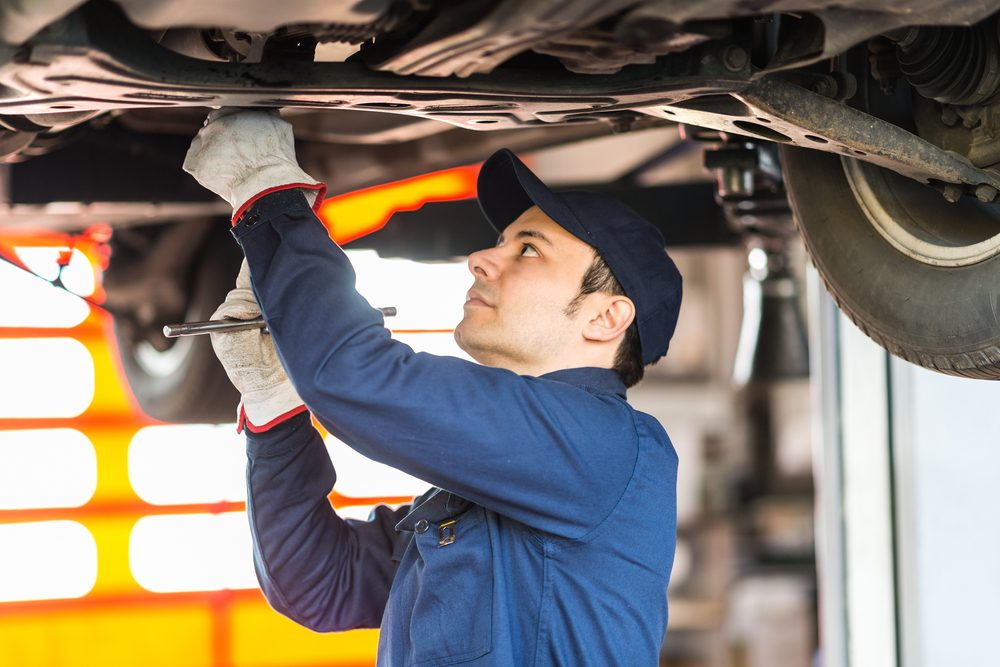 In the United States, catalytic converter thefts are still increasing in frequency. Thieves are finding ever more creative ways to perpetuate the crimes. Security cameras have caught instances of stolen tow trucks used to take the exhaust part and even tow straps used to rip the complete exhaust system out from under the vehicle. 
The problem will cost insurance companies and vehicle owners hundreds of millions of dollars nationwide annually. Some insurance companies intend to refuse claims subsequent to the first, putting the onus on vehicle owners to protect their vehicle in ways they never imagined they'd need to, and that goes for dealership vehicles too. 
Unsurprisingly, hundreds of vehicles are left overnight at virtually every dealership across the country. Thieves have targeted dealerships already, evidenced by two men charged for stealing converters at a LeHigh dealership recently. Without security measures or ideas to combat the theft, these vehicles are at risk of losing the high-value part.
How can dealerships help fight the problem?
There are many components recently released on the market that help prevent theft. Still, most are cumbersome, costly, and can be circumvented with a bit of foresight. The simplest solution that can also be the most effective is painting the catalytic converter a bright color in high-temp paint. It deters thieves since the paint is difficult to remove, and recyclers are less likely to buy these parts that have been tagged, at least without proper documentation. 
So, to combat the potential theft of vehicles on the car lot, dealers can have each catalytic converter treated to a coat of hi-vis paint, yet in a way that doesn't affect the vehicle's street appearance. Any new and used cars can be painted during their inspection on arrival in a recognizable way, so thieves are less likely to target them. 
How can it benefit dealers?
Dealers are clearly capitalizing on catalytic converter sales, boosting their fixed operations grosses in a noticeable way. With parts alone capable of reaching well over $1,000, not to mention labor, it likely even factors into higher $/RO calculations. But there's more to it for dealers.
With vehicles for sale tagged to help in catalytic converter theft prevention, it's an extra perk that can be used to secure a deal. It is definitely not going to be a determining reason for customers to make a decision, but it can contribute to their overall value perception. 
Get the wheels off the ground
For service departments that could benefit from a surge in business, consider a community blitz that doubles as a trust-building initiative as well as a revenue generator. Offer a period of time – maybe a week-long or month-long initiative – where vehicle owners can bring their car in to paint their catalytic converter at no charge. 
There's next to no cost to tag their exhaust, but it provides an opportunity to get their wheels off the ground and perform a complimentary visual inspection. Service departments don't compromise their $/RO on the fee-free service since it's a $0 invoice, and there can be sales generated as a result. For same-brand cars, it can be an opportunity to complete recalls and generate revenue from that. At the very least, you can add more names and email addresses to the CRM and potentially get them back in. 
Converter thefts are a plague that no one appreciates but the thieves themselves. Dealers have tools they can use to combat the problem, even in a small way, and take a silver lining from it.
---
Did you enjoy this article from Jason Unrau? Read other articles on CBT News here. Please share your thoughts, comments, or questions regarding this topic by submitting a letter to the editor here, or connect with us at newsroom@cbtnews.com.
Be sure to follow us on Facebook and Twitter to stay up to date or catch up on all of our podcasts on demand.
While you're here, don't forget to subscribe to our email newsletter for all the latest auto industry news from CBT News.