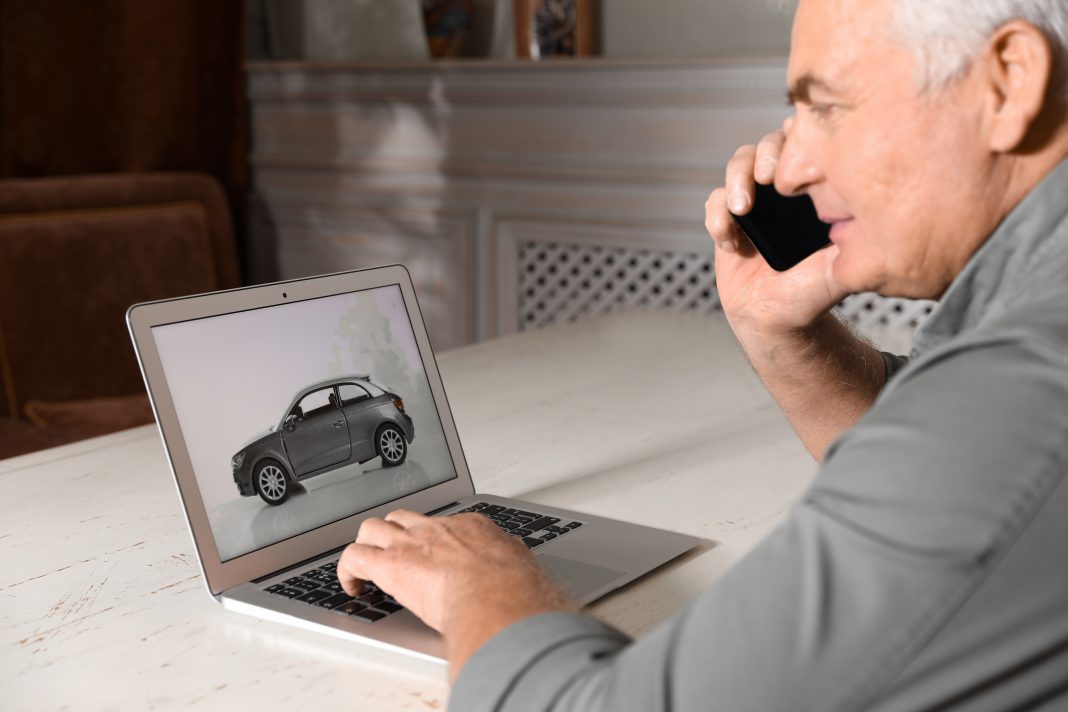 In 2020 dealers across the country were forced to massively adapt the way they serve their customers. With the rise in safety measures, lockdowns, and broken links in supply chains due to the Covid-19 pandemic, the automotive industry was forced to shift its focus to optimizing every revenue stream that could close the gap on suffering vehicle sales. Dealers who did not seek out additional revenue streams may not have made it through the economic hardship of the global pandemic. Those who did likely had a strong parts and accessories eCommerce strategy in place.
What happened to dealer revenue?
When the pandemic hit the U.S., many franchised new car dealerships saw a significant decrease in parts and accessories sales. In fact, the National Automobile Dealers Association (NADA) reports total parts sales dropped from $71 billion in 2019 to $65 billion in 2020. That's a sum of $6 billion parts departments across the country missed out on!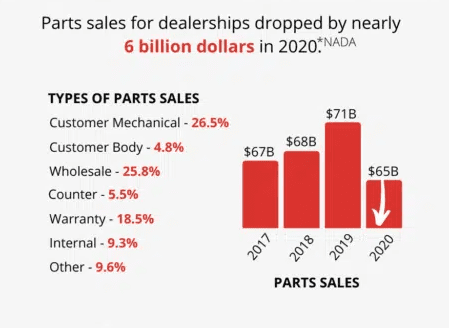 How dealers selling parts online kept revenue safe
While many U.S. dealers struggled to maintain parts and accessories sales, dealers selling auto parts online experienced a different story. RevolutionParts, the leading parts eCommerce solution, saw a 27% rise in parts and accessories sales in 2020, showing just how essential selling parts online became during the economic downturn caused by the pandemic.
Why parts eCommerce is important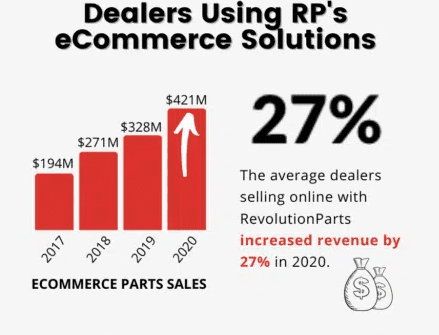 Dealers should come out of the global pandemic knowing that we must be prepared for virtually anything. This isn't the first economic downturn that we've experienced, and unfortunately, it won't be the last. The only way to truly protect your business is by preparing for the worst, whether it be a declining national economy or flux in your local economy.
The best way to bulletproof your business is to diversify your selling channels and expand your part and accessories buyer's market. That way, when hard times hit, you have an unshakeable hold on your revenue streams.
Before the pandemic hit, the trend in online shopping was on the right, with 2020 pushing that trend to new heights as consumers spend 44% more online than they did in 2019. As the world begins to shift to a post-pandemic era as vaccines become more widely available, online shopping is not expected to drop to pre-pandemic levels. Many consumers found shopping online convenient and don't plan on giving it up. This also rings true for the automotive industry.
How parts eCommerce will play a role in the future
U.S. automotive parts eCommerce revenue hit $16 billion in 2020, and it's expected to continue growing year over year. According to Hedges & Company, the auto parts eCommerce market share is projected at over $22 billion by 2023.
Even parts and accessories bought at brick-and-mortar stores are digitally influenced, and that influence is slated to grow significantly in the next few years. Hedges & Company says that $141 billion in parts revenue was influenced by online shopping. That number is projected to climb by a whopping $28 billion, landing online-influenced revenue at $169 billion in 2023.
While many U.S. dealers scrambled to make ends meet last year, dealers who had the added revenue from online parts and accessories sales were able to boost fixed absorption rates, maximize gross profit, prevent layoffs, and keep their doors open amidst the economic downturn of the COVID-19 pandemic. If there is one thing dealers should take away from 2020, it is the importance of digital retailing in maintaining a strong, financially stable business despite economic challenges.
---
Did you enjoy this article from Jason Unrau? Please share your thoughts, comments, or questions regarding this topic by submitting a letter to the editor here, or connect with us at newsroom@cbtnews.com.
Be sure to follow us on Facebook and Twitter to stay up to date or catch-up on all of our podcasts on demand.
While you're here, don't forget to subscribe to our email newsletter for all the latest auto industry news from CBT News.