The 19th-century proverb, "The more things change, the more they stay the same," couldn't be more appropriate for today's car dealers. People still purchase cars despite inventory challenges, rising interest rates, and changing buying habits.  
A new report from CDK Global captured these dynamics while getting insight from innovative car dealers who aren't happy resting on laurels. CDK calls these individuals "trendsetters;" they represent almost half of the 311 dealership department heads and executive managers surveyed.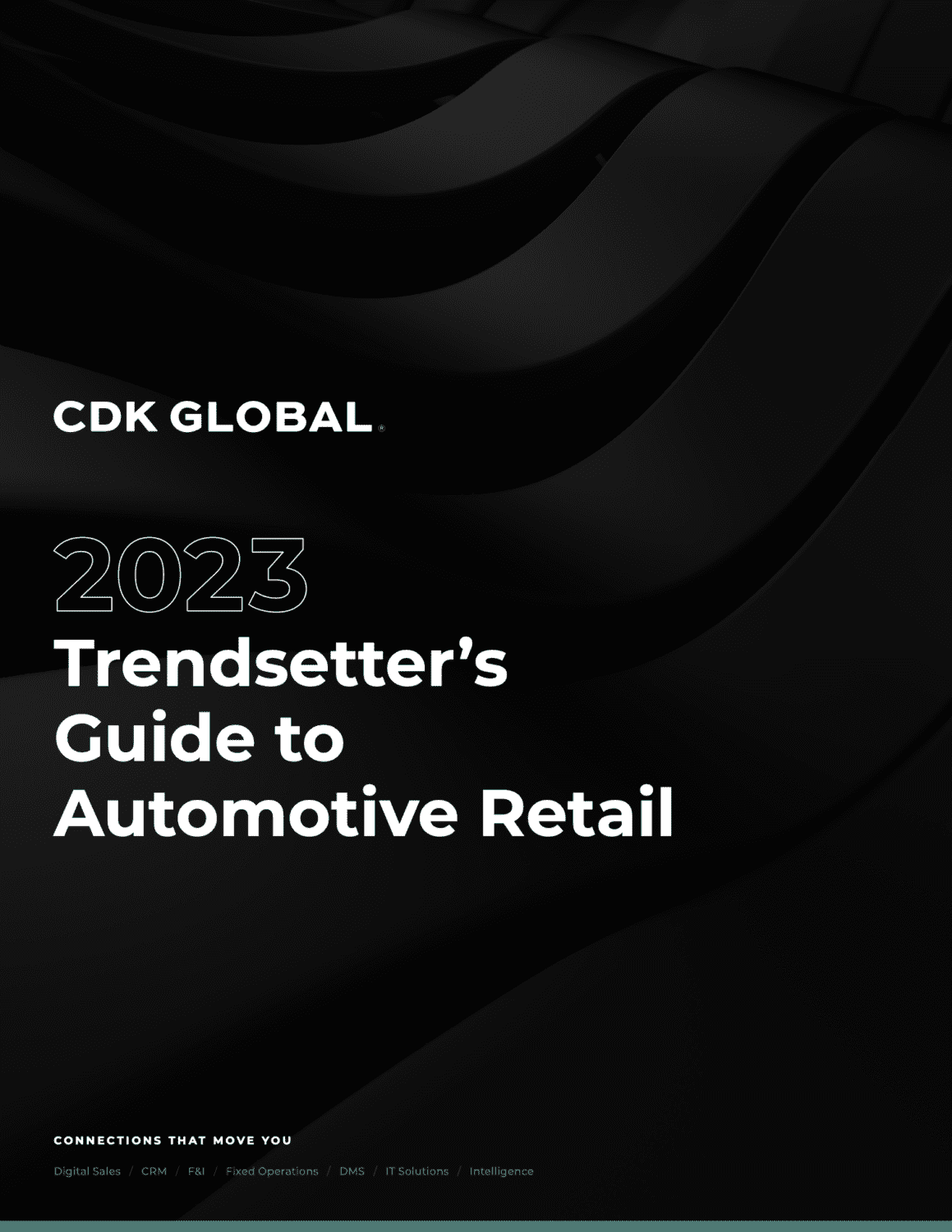 The 2023 Trendsetter's Guide to Automotive Retail explores what these forward-thinking dealers use to stay ahead of the game. In a nutshell, we highlight three key areas from the study and offer takeaways to consider. 
#1 Technology integrations
It's no secret that many advances in automotive retailing center on technology. In fact, the CDK report called technology a "trendsetting divide" between enterprising dealers and those focused on more conventional selling methods. The study cited that 72% of surveyed dealers felt technology had a "very high impact on their business."  
But there's a gap in implementation. Almost half (48%) of trendsetting dealers enhanced their digital retailing efforts last year, compared to 36% for "non-trendsetters" still relying on web channels. Yet, on a broader scale, only 25% of all dealers made any significant efforts to enhance their retail technology offerings.  
Technology takeaway
One of the key discoveries of the study shows how much the use of digital images and videos for vehicle servicing vastly improved the estimate process. 81% felt that such efforts had a positive impact. However, the reports indicates most have dealers have a lot of ground to cover. 
#2 Strengthening staff
Concerns about dealership employees lessened, according to CDK. 35% of respondents reported being less worried about staffing this year, compared to 46% in 2022. Unease about burnout also declined, from 29% last year to 20% in the current analysis. However, these reductions don't give managers a pass on retention issues.  
Employees will need better pay and benefits to keep up with inflation and want on-target training designed to boost careers instead of being burdensome mandates.  
Staffing takeaway
There's a training upside for dealers beyond what automakers and others may require. CDK reports that 47% of dealer trendsetters had outlays last year for technology training compared to 21% of those taking more traditional avenues. Yet, there's a payoff for this investment. 70% of forward-looking dealers who undertook this type of training said it had a "very high impact" on their business. And 81% of all dealers who initiated training plan on making further investments in 2023.  
With so many dealers believing that training is working, it's hard not to argue against this being a clear pathway for moving operations forward without disengaging staff. 
#3 Trying new solutions
Changing pricing strategies and cutting costs aren't new ideas for dealers. But taking a fresh look at how to do these things can produce innovative results. 35% of dealers cited that a new approach to pricing helped the bottom line, while 31% reported that reducing expenses also improved profitability. There are other ways to reinvent, says CDK. 
New Solutions Takeaways
Looking for new ways to enhance business doesn't mean a trip far from home. 31% of dealers who sought stronger partnerships with OEMs felt the effort had a very or extremely high impact on operations.  
Innovative dealers also sought to reinvent their sales process. 44% of these trendsetting businesses undertook efforts to transition from a traditional approach to a sales methodology based on improving the buying experience. The result is that 29% felt the steps had a substantial operational impact. Equally as important, 27% of these dealers felt reinventing their sales process significantly improved the bottom line.  
Look For More Solutions
In addition to reviewing the CDK report, dealers can search for their own ways to be trendsetters. Learn about what's driving today's buyers, discover the value of social selling, or foster a culture of creative innovation. There are limitless opportunities to improve operations and profit.