On a typical day, when most people will never stop by your dealership but they'll visit your website, the importance of digital showroom curb appeal matters tremendously. If your website doesn't meet your possible buyers' standards, you won't grow online, and you'll suffer in sales at your brick and mortar location.
The same welcoming, organized customer service experience people have when they drive up to and walk into your dealership is the same they should find online – if not better. Signage, style, information, and an experience tailored to the prospective owner is something you wouldn't want to sacrifice in-store, and you definitely don't want that happening online.

How does your online store look to you? Are people going to feel a disconnect from what they'll receive when they walk through the door? Is the online experience confusing? Do you hear consumers expressing frustration with navigating the website? Let's look at some things to help you head in the direction of success and, in the end, bring you more leads and more sales.
Know Your Market
Today, we're all different. We come from different backgrounds, countries, and world views. Diversity in income, family size, and lifestyle in your location are things to consider when providing a store experience online and in your dealership. For online, especially, the look, feel, and what you offer prominently on your homepage should reflect the market you cater to.
Here's a simple example: if your dealership is in a lower-income area, it wouldn't be a best practice to prominently feature your upper-end models. Yes, a buyer could dig down into the site and maybe see what they're looking for. But most likely, in the 2-3 seconds you have them, they'll bounce to some other site to get the information and you've lost them ever coming in.
There may be possible restrictions based on your OEM brand or photography, but you know your market and, where you can, make sure that you're meeting their needs in your virtual and real-world brand image.
Related: Is digital retailing here to stay in the automotive industry?
Make Your Showroom Inviting
A website development service is a common tool to run your digital showroom. And while they're good, it doesn't mean you can't ask questions on how the site is set up. If you've set yours up yourself using internal resources, then you'll want to pay even closer attention.
When reviewing your website, it's important to make sure you've internally linked your category pages down to your individual pages. Although groups are continually working on improved user experience and structure, an optimal link structure is still a pyramid, as discussed and shown here.
When Google spiders crawl over your properly linked website, they'll index your data and include deeper links in the suggested result when someone searches for dealerships or cars. It provides a better experience on your site and a better experience in Google search.
As you have vehicle landing pages, new offers on used cars or service and accessories, make sure these are also linked from other pages where it makes sense. For instance, you wouldn't necessarily want to link the service page from your newly introduced vehicle landing page, but you would want to link the extended warranty or accessories. Using logic based on your buyer data goes a long way, and your goal is to mimic the buyer's desired journey and process and not make them fit into yours.
Speaking of customer journeys, the general journey looks something like this:
Awareness is where your prospective owner becomes aware of your brand or product and location through social media, advertising, or word-of-mouth.
Consideration is the research stage of deciding whether or not they'll purchase a car or purchase from you. This is where they'll look through the website, build and price or do inventory search. Maybe even more important is that they'll be checking reviews.
Purchase is when the customer asks for a quote, works out financing, and picks up the car.
Retention customers are satisfied over time with the car, your service, and your employees. They'll continue on a long road of ownership and increase your share of their garage.
Advocacy: owner sings the praises of your dealership experience to their friends on social media and online reviews.
Take an objective look at your virtual showroom and consider how you can make it easy for a consumer to arrive at the site, gather the required information, take a buying action and become an advocate. Does it allow an easy path for the consumer or set up roadblocks? When you look, ask yourself, "Where do I want the customer to go from here?" A properly structured site helps the journey and provides another reason for the owner to stay with you.
Regarding staying with you, would testimonials from your current owners make a difference to shoppers if they were included on the homepage? If the consumer is looking to make a purchase or consider service, testimonials make a dramatic difference.
CXL Institute reported, "…In general, user-generated reviews are tremendously influential when it comes to persuading people to buy.
One study found that 88% of consumers trust online reviews as much as personal recommendations, and 72% of consumers say positive reviews give them the ability to trust businesses more. Millennials, in particular, trust user-generated content 50% more than other media."
If you want to strongly encourage leads to move from the consideration stage to the purchase stage, owner testimonials and reviews throughout the site will work well.
Test Your UI and UX
If you were to go to a retail store and happily spot a pleasing salesperson based on how they looked, you would respond to a person's UI (User Interface). After engaging them in conversation, you may find that the pleasing look has hidden a horrible UX (User Experience) of talking and interacting with them. You've encountered excellent UI but a very disappointing UX, and you quickly leave, never to speak with them again.
The chances are great that most of your potential car owners are doing the same thing with you. Maybe you've been comfortable with your response rates, and you don't think you need to have a totally responsive site (mobile friendly). And maybe your think everyone likes your online showroom as much as you do, but until you put it in front of people in a room and ask them to do an inventory search, build and price, or make a service appointment, you'll never know. You like your website because you may have directed, paid for, and approved everything. But consumers may not like it and have no idea what to do if they get there.
It's time to do usability testing with a focus group. By seeing real people interacting with your site, you'll hear their needs and how the site may be perfect or only provide frustration and hurdles on what they're looking for. You will find new insight into the customer journey on the site and pivot fairly quickly to make improvements with the information you gather.
One of the most inexpensive ways to test is by using your own employees. Ideally, they wouldn't have experience in completing tasks like build and price on the site. As an example, you would present a task such as "find the website and – from the homepage – build an SUV, find one like it in inventory, request a quote," and watch how they do it. Don't interrupt them; observe and take notes. You can see where they encountered confusion, frustration, or gave up. The downside of this is in using your employees who may be familiar with your process and may not be in your target market. You can get results, but they may not be reliable. It's always best to use uninvolved people in the auto industry, but if you're low on your budgets, then this could be the way to go.
The ideal and most effective data you'll gather is from a focus group of your target market audience. The process would include sending out surveys to prospective buyers who are on your leads list. And then those who replied would come to a location for interviews. There are most likely focus group companies in your area, so you could look around or ask for advice. With focus group focused organizations, you'll get video, compiled reports, analysis, and recommendations on the next steps. It's worth the time and money since your virtual showroom is what people will see first. For a good explanation of what to expect or if you want to do one on your own, check out the information at usability.gov.
Measure, Refine, Repeat
You have a Google Analytics account and tracking codes on every page that collect data on how your leads interact with the site, but you may never look at the results. Things you'll find in your dashboard are:
Daily/hourly traffic
Bounce rates
Sales conversion rates
Cost of Acquisition
If you look at the results, you may not be sure what to do with them, so it's a good time to brush up on what the data means. Whether you use Google, Adobe, or some other tracking method, you should always be aware of analyzing success and failure.
Every business has or should have the mantra, Measure, Refine, and Repeat. With your website, you will be collecting data, making analysis, and determining what is working and what isn't. It would be best to evaluate the data, compare it to your plan, and then adjust to improve. Eventually, with repeated processes, A/B testing, and updates, you'll be where you want to be.
By using Measure, Refine, and Repeat, even in social media content, you'll be able to improve your showroom performance and overall interactive strategy.
Related: Staying Successful in the Showroom During COVID-19
Change is Good
Improving different areas of your online showroom is challenging but rewarding work. In today's templated world of OEM dealer sites, it's a challenge to stand out from your competition and meet your local audience's needs. But with some check-ups, tweaks, and testing to get the right experience, you'll be able to see a change that turns more leads into buyers. Doing some of these things in concert with a good SEO and paid media strategy may take three to six months to see movement but be patient and consistent, and it will come.
It's a challenging time in the industry. Being open to change, quick to implement, and patient in results will bring you success in growing a new and loyal owner base through your digital showroom.
---
Did you enjoy this article from Steve Mitchell? Read other articles from him here.
Be sure to follow us on Facebook and Twitter to stay up to date or catch-up on all of our podcasts on demand.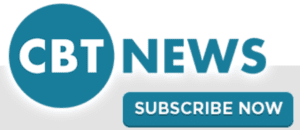 While you're here, don't forget to subscribe to our email newsletter for all the latest auto industry news from CBT News.