On today's episode of the Weekly Tune-Up, Becky Nixon discusses the costs of being competitive with maintenance products and services in your service department.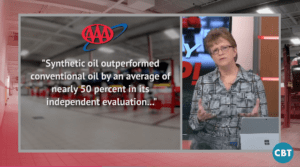 Video Transcription:
Hello again and welcome to this week's episode of the CBT Weekly Tune-Up Program.  I am your host, Becky Nixon, and after over 30 years working in dealership fixed operations, I am now the Director of Fixed Operations Training for David Lewis & Associates.
On todays show I want to speak with you about 'The Cost of Being Competitive with Maintenance' in your Service Departments.  This is a topic that for too long has been misunderstood and not given the proper attention it deserves in our dealership service departments.  Have you yielded to the false idea that we cannot compete with the independent or franchise shops when it comes to the cost of maintenance products and services?
Here are some important points to consider as we wade into this topic today:
The cost of not being competitive is lost business

No one truly expects the dealer to be less than the quick lube shop down the street

And, Where you must be competitive is maintenance
According to Cost Helper, an oil change typically costs $20 to $55. Using synthetic oil bumps the price to $45 to $90 on average. We polled four highly rated independent auto service professionals across the United States to find the average price of an conventional oil change.  The minimum price was $25, with $50 being the most expensive.
The fact of the matter is, most consumers today have little concept of how much money todays vehicles cost to maintain.  Too often consumers assume that oil is oil, tires are tires and parts are parts, and it is just the price that makes the difference between various grades of oil and other automotive maintenance products, and even the O.E.M and aftermarket parts being offered in the independents and secondary maintenance franchises.
AAA annually conducts an extensive scientific analysis to find out what exactly those costs are. The results aren't shocking, but I hope they guide consumers toward spending a bit more money to get a more reliable vehicle.  One thing it states:
Synthetic is better. A lot better.
"Synthetic oil outperformed conventional oil by an average of nearly 50 percent in its independent evaluation, offering vehicles significantly better engine protection for only $5 more per month when following a factory-recommended oil change schedule," AAA said in a statement on the topic.
. . . . . Before we go deeper into this subject, take a look at this short video presentation of what our DLA Certified Training has to offer you for increasing your skill level and advancing your career in retail automotive to the next level.
COMMERCIAL BREAK    *    COMMERCIAL BREAK
Welcome back to the program and let me ask you this question about today's topic 'The Costs of Competitive Maintenance:  Why do Consumers question oil change prices?  Well the obvious answer is, the prices are all over the board.
But so are the oil changes.  First there is the quality of the filter, this subject is debated heavily on blogs but the fact remains that the manufacturers filter is made specifically for that vehicles powertrain. Whether a 4-cylinder turbo or a nearly 400hp V8, each engine requires a certain level of oil pressure. The quality of the oil filter has a direct correlation to the level of filtration and the degree of oil pressure the engine operates at on a daily basis.
Then there is oil, conventional, synthetic or a synthetic blend. 15w50, 5w20, 10w30, 10w40 the list goes on and on. Whatever the weight your particular vehicles engine is designed to run with, I can promise you some bulk container of cheaper oil will affect your overall engine performance and fuel economy.
But do Customers know the difference or hear about such things when they go to the Independent Service and Maintenance shops looking for cheaper prices.  I don't think so, and why would they?
Why would a customer follow the manufacturer's recommended oil change intervals and not follow what the manufacturer recommended be put in the engine?   Possibly they just don't truly understand the difference between a $2.99 generic filter and the OEM specifically designed filter. So, who is going to tell them if we don't?
My suggestion is, instead of losing money on every oil change, or losing Customers because they don't see the value in paying a little more. Spend a little advertising money on educating Customers on the benefits and differences spending just a little more money makes. This is a practice used often in the front end of the dealership when advertising new cars and why the Customer should choose your manufacturer over another. Things like, warranty, fuel economy, cost of ownership, towing capacity and so on.
Advertise what makes you a better, wiser and a smarter choice. Advertise that you perform a multi-point or safety inspection because your Customers safety and the reliability of the vehicle are important to you. Those Dealers that offer car washes, shuttle service and loaner vehicles, I say brag a little, let your Customers know that their convenience is important to you.
If I go to an expensive restaurant and they offer valet service, I expect that I am paying a little more for that glass of wine.   Most people understand that you can't get both the lowest price and the highest quality from the same products and services.
With vehicle owners driving further and keeping their cars longer than ever before, it makes sense that if we educate them on how best to maintain their vehicles for the extended service and mileage they want today, they will spend a little more to get the quality of products and services it takes to achieve those goals.
. . . . . Well, that's it for this week's show.  I hope you will come back next week and continue to join us every week as we delve into topics of interest that can benefit your Fixed Operations and help to increase productivity and the quality of service you deliver to your valuable Customers day in and day out in your Dealership Service Department.
So, until next our next broadcast, I am Becky Nixon and have a great and successful week.