If you thought everyone classified as either a millennial or Generation Z wanted to buy everything online, then you are mistaken. A new study by Urban Science, in partnership with Harris Poll, provides some stereotype-shattering information about young car buyers.
Urban Science surveyed 2,000 shoppers and 200 dealers in February of this year, and they found that dealerships have no reason to panic when it comes to the threat of e-commerce. The study found that Generation Z and younger millennials visited the highest number of physical dealerships when compared to older millennials, Generation X, and baby boomers. Here is the breakdown of the average number of brick-and-mortar dealership visits for each generation:
3.8 stores for Generation Z and younger millennials

2.6 for older millennials

2.4 for Generation X

2.1 for baby boomers
Because of the rise of online shopping, a shift toward digital interactions, and the influence that websites and social media have on the purchasing process, most would think that younger generations want to have the ability to shop and even order their vehicle online.
However, Urban Science's data paints a different picture. This information may seem like a surprising contradiction to what we know about this tech-savvy generation, but it isn't.
Recent data from InfoScout Omnipanel, a consumer data company found that Generation Z were more inclined to visit brick-and-mortar stores than older millennials. They were more likely to visit a physical Walmart store (93.8 percent vs. 91.6 percent), and less likely to visit Walmart.com to order goods (19.9 percent vs. 23.9 percent). They were also more likely to visit a brick-and-mortar Target store, and less likely to order items on Amazon.com.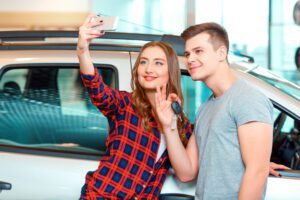 So, unlike what many may have thought, Generation Z and even younger millennials seem as if they are more inclined to want to interact with the product in-person instead of online. 
Consumers Want to Interact with Dealers
The Urban Science study also revealed that 75 percent of consumers would not want to buy a car without the help of a dealer. This stat set the tone for the rest of the data that shows that consumers are still seeking heavy involvement from dealership staff, and want hands-on experiences with cars before they buy them.
Eighty-five percent of consumers responded that they would not purchase a vehicle without physically seeing it first, and 83 percent said they would never buy a car without test driving it. Younger millennials and Generation Z were likely a considerable part of these groups.
So, again, while millennials, Generation Z, and even older generations are being exposed to online shopping, and may also use it for small purchases, these individuals still want to interact with someone before making a substantial buy—like the purchase of a vehicle. 
So, What Can You Take Away from This Data?
Since these younger generations are more inclined to visit the showroom (even more so than their older counterparts), it is crucial to create a customer experience that appeals to this generation's buying habits.
Here are a few things to remember about Generation Z:
Make sure you have your mobile sites up-and-running:

Forty-seven percent of U.S. Generation Z consumers research items on mobile devices while shopping at physical store locations. So, younger car buyers will likely be comparing prices and even models while shopping, so make sure that your mobile site is up and operational.

Be active on Facebook and YouTube:

Most members of Generation Z use Facebook and YouTube for their social media experiences. As a result, put your focus on these platforms when you advertise exclusive deals, test drives, and particular models.

Discuss car features and attributes:

Contrary to their millennial counterparts, those who are a part of Generation Z are more interested in "cool" products instead of "cool" experiences. So, playing up the perks and benefits of the car will go a long way in appealing to these customers.
Generation Z and younger millennials are tech-savvy and grew up in an environment that spotlighted online shopping and convenient e-commerce experiences. However, while this has influenced this group in many ways, they still prefer to visit dealerships for their car purchases while also using the help of dealers when making decisions.
So, if you were worried that the tide was changing from physical to digital vehicle buying experiences, the data shows that this is less of a concern than initially thought.
An emphasis on providing exceptional customer experiences with a focus on guiding Generation Z to the best car buying decision instead of "selling" to them will help you to capitalize on the interactions with this age group.