The auto industry has been running at full throttle for a few years now. Annual new vehicle sales have peaked at more 17 million units since 2015 and used cars in February 2020 were pacing at 4.4 percent above last year's figures. Then suddenly, the coronavirus pandemic has forced an industry in its prime to press the pause button.
The situation seems dire, certainly. Tens of thousands in dealerships are currently laid off. Factories have been temporarily idled in a bid to 'flatten the curve' of virus transmission rates. In the midst of the worry and fear, there's a glimmer of light at the end of the tunnel for one of America's largest industries.
Strong Sales Kept Inventory Levels High

Through the strong months of January and February and even into early March 2020, manufacturers were able to keep inventory levels at a relatively robust position of 68 days where a 60-day inventory is ideal. Well after the pandemic began, automobile manufacturing continued, and most manufacturers today are itching to resume production.
When the economy ramps up after the isolation practices loosen, dealer lots will be full and with many more units ready to take the place of vehicles sold. Unlike an issue like a raw materials shortage, as would be the case for steel or aluminum, vehicle supply will not be the cause of a downturn.
Incentives Bound to Be Coming
With units in inventory well in excess of demand, OEMs will almost certainly turn to dealer incentives to alleviate the burden. It was seen in 2009 as the economy struggled to recover from the recession. Not only did manufacturers incentivize cars for customers, but dealers received thousands of dollars to place orders on overstocked models as well as deep incentives to give room for negotiation.
For consumers, OEMs like FCA and Ford Motor Company are already dropping interest rates to 0% on up to 84-month finance terms and offering payment relief programs. The longer the pandemic rages and the closer the new model year comes, the deeper the price cuts and financing incentives will get. The same is likely to occur for dealer incentives.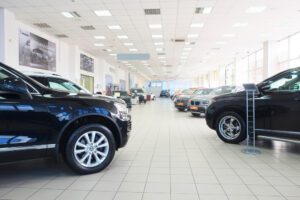 Customers Will Be Hungry for Cars
The average shopper's sentiment has shifted astronomically in a short time. Fewer visits to stores and employment uncertainty are both driving forces in the shifting sales environment affecting all industries, not just automotive. However, the overarching concern is an inability to travel freely and remain isolated.
As the COVID-19 pandemic begins to relax its grip on society and drivers attempt to re-establish themselves, vehicles will be a central product.
Leases account for approximately a third of new vehicle purchases, meaning an estimated 400,000 leases expire every month. While manufacturers have been flexible with lease maturities and some customers have been able to return their lease and purchase a new one, many others will stay put until restrictions are lifted.

Those shopping for a car prior to social distancing and stay-at-home orders were enforced aren't out of the game. Rather, their shopping experience is merely put on hold.

Vacationers will likely opt for local trips by car rather than overseas vacations or cruises. If that's the case, summer car sales will see a boom.
The automotive industry is resilient. It is well positioned for a rebound once the pandemic passes or recedes. It would be reasonable for dealers to stock up on new vehicle inventory while manufacturer incentives are at their best.
---
Did you enjoy this article from Jason Unrau? Read other articles from him here.
Car Biz Today, the official resource of the retail automotive industry.

Be sure to follow us on Facebook and Twitter to stay up to date or catch-up on all of our podcasts on demand.
While you're here, don't forget to subscribe to our email newsletter for all the latest auto industry news from CBT News.