Self-service kiosks have started to pop up in more dealerships. What started out as a novelty, is quickly being hurled into the mainstream, partly with the help of the COVID-19 pandemic. In a world of ever-increasing automation and out of desires for less contact with other humans, it is important to take a look at how this technology could affect your dealership service department. 
Recent Developments
In February, Reynolds and Reynolds, one of the largest providers of dealership management systems, acquired GoMoto, the biggest supplier of self-service kiosks to U.S. dealerships.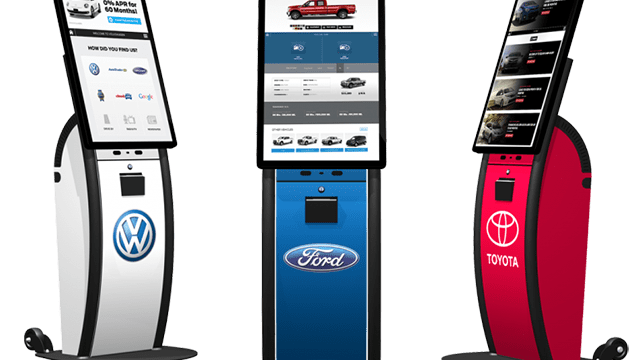 This is big news, and should be an indicator that kiosks are about to make a big move forward toward mainstreaming.
GoMoto already supplies kiosks to several manufacturers for pilot programs, including Ford, Volkswagen, Honda and Kia. Major dealership groups such as Penske Automotive Group and Lithia Motors are also working on pilots with GoMoto.
Some of GoMoto's kiosks allow customers only to check in and drop off their keys, but the next generation of kiosks that are coming out with the help of Reynolds, also let customers pay and pick up their keys during or after business hours, among other capabilities.
A competing kiosk manufacturer, Storm Kiosks Inc. of Calgary, which has a strong presence in Canada, is looking to expand in the U.S. and has an agreement with Volkswagen of America to supply kiosks to some dealers.
All of Storm's kiosks allow customers to drop off their keys in the machine when they check in and to pay and pick up their keys 24/7.
General Motors is getting involved in the kiosk game through Storm. At least three Chevrolet dealerships in the Phoenix area are promoting express check-in through Storm kiosks, though Storm has not confirmed whether it has a formal arrangement and GM declined to comment.
The New Norm
When you consider how long we have all been using kiosks to check in at the airport, to pick up rental cars, and to purchase fast food, it is surprising that automotive service kiosks have not shown up in full force before this point.
"We're seeing it more and more in our day-to-day interactions and we really believe that the automotive service drive is a very good environment to introduce this as well," Noah Miller, a Ford global retail strategy manager, told Fixed Ops Journal.
"The way society is evolving we have less and less patience, we're always in a hurry, we're expecting instant gratification," he says. "I think the more that customers see it in other retail environments, it then evolves from a novelty to almost an expectation."
Todd Marcelle, a co-founder of GoMoto and now a vice president with Reynolds, says most dealers are late in recognizing the trend in retail toward self-service options.
"The preferences of consumers are changing," Marcelle says. "You can see that with the success of companies like Carvana. They're selling cars and consumers are buying cars, which is what we do at dealerships. [But] they're offering a frictionless customer experience and giving the customer control, transparency and convenience."
Kiosk Benefits
Kiosk technology brings with it many benefits including:
Increased customer convenience

Increased automation of processes

Decreased payroll costs

Increased employee efficiency
It is only a matter of time before kiosks become a standard component of the automotive service process.
---

Did you enjoy this article from Ken Strong? Read other articles from him here.

Car Biz Today, the official resource of the retail automotive industry.

Be sure to follow us on Facebook and Twitter to stay up to date or catch-up on all of our podcasts on demand.
While you're here, don't forget to subscribe to our email newsletter for all the latest auto industry news from CBT News.