We're in the heart of earnings season, so today on Inside Automotive, we're joined once again by Kevin Tynan, Bloomberg Intelligence's Senior Automotive Analyst, to give us an update on the automotive retail market.
Tynan provides an overview of his observations regarding the automotive industry for the past month, noting that production for the second quarter rose around 16% year-over-year. He cautions that despite the rising numbers, automakers may not feel pressured to ramp up production significantly, as the industry is going through a "structural change" due to the current "unprecedented" pricing pattern.

With vehicle prices at an all-time high, Tynan says he expects car shoppers will still have the traditional transparency about inventory and pricing but may become more resigned to the fact that inventory is low and, therefore, they will need to do less haggling with retailers and pay higher prices.
On the topic of new versus used vehicles, Tynan says there is a notable "affordability gap" between the two segments. Off-lease volume is down, as consumers are keeping their cars, partially because of low mileage due to the elimination of many consumers' commutes as a result of+ the pandemic.
Tynan notes that retail prices across the board are continuing to rise as well as MSRPs, as OEMs are looking to take a higher cut of sales within the current "pricing environment" and "profit environment" that can be advantageous for them.
According to Tynan, commodity cars are no longer a priority for domestic brands such as Ford and General Motors, which are focusing more heavily on offering luxury vehicles and vehicles like the Mustang and the Corvette that bring higher profits. Conversely, automakers overseas are still producing more unprofitable and non-luxury models in higher volumes.
More consumers are beginning to report they are at least interested in considering an electric vehicle the next time they shop for a car, and automakers have quickly been ramping up R&D for EVs throughout the past few years as the push to phase out the sale of gas-powered vehicles continues. Tynan, however, anticipates EVs will be sufficient for some consumers but will not work for others.
Most manufacturers are pouring billions of dollars to market their new EVs, which is in stark contrast to Tesla, which reportedly "use[s] that money to make the product great," to paraphrase CEO Elon Musk. Tynan notes that part of competing automakers' marketing budgets will likely go towards alleviating range anxiety, which is one of the largest hesitations reported by consumers considering an EV.
Touching on the current economic conditions, including high-interest rates and high gas prices, Tynan expects the seasonally adjusted annual rate (SAAR) will reach over 15 million units in the next six to twelve months after it has recently been hovering around 13 million. He feels a SAAR of around 15 million would likely be a better situation for both manufacturers and consumers, as vehicles would be more affordable, but retailers would not be challenged by an overload of inventory.
---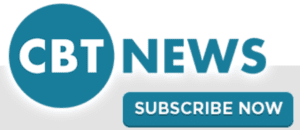 Did you enjoy this interview with Kevin Tynan? Please share your thoughts, comments, or questions regarding this topic by connecting with us at newsroom@cbtnews.com.
Be sure to follow us on Facebook, LinkedIn, and TikTok to stay up to date.
While you're here, don't forget to subscribe to our email newsletter for all the latest auto industry news from CBT News.