In the dealer's lounge, you may scroll through Instagram. Not for leisure but to inspect a competitor's latest post showcasing their newest sedan under a mesmerizing sunset. It may have thousands of likes, hundreds of comments, and make you think: "Are we missing out?" Welcome to social media, where the boundaries between social entertainment and business blur, continually reshaping the auto sales landscape.
The Power of Peer Reviews and Recommendations
Traditionally, car buyers would often turn to experts, magazines, or direct dealership interactions for advice and recommendations. Today, platforms like Facebook, Twitter, TikTok, and Instagram offer potential buyers firsthand user experiences.
Reviews and feedback from peers and influencers on these platforms can instantly influence a potential buyer's perception. But are social media reviews that important?
Yes, they are. Fera.ai suggests that "93% of customers read online product reviews before buying a product, and 91% of consumers in the 18–34 age range trust online reviews as much as they trust personal recommendations." And studies show that 90% of consumers gather information online before purchasing from your inventory they've already viewed.
Dealerships that actively engage with online feedback position themselves as trustworthy in the eyes of the digital community.
Driving Engagement through Visual Stories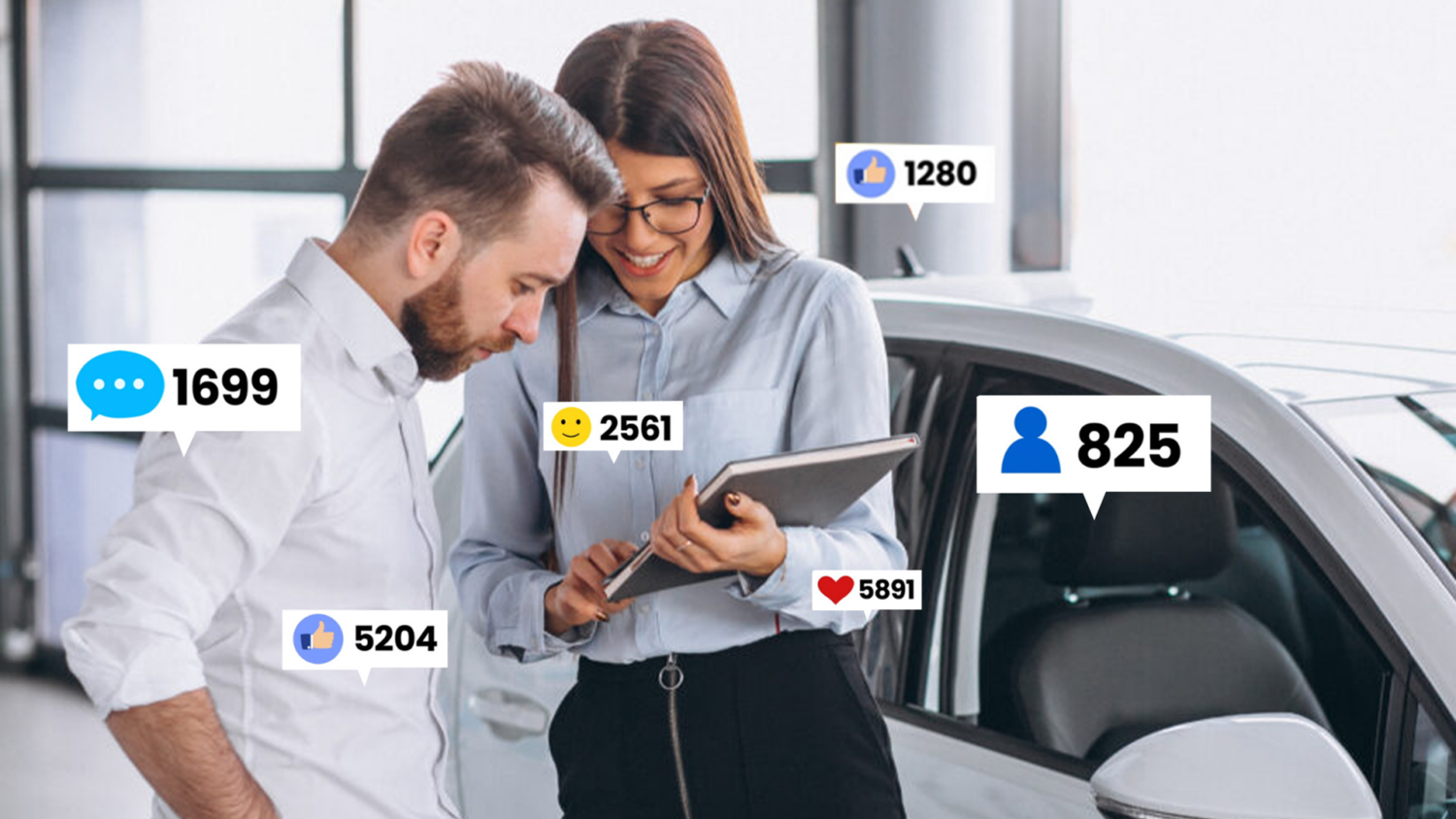 The visual allure of cars cannot be understated. Instagram and Pinterest are primed for showcasing the aesthetics, design, and features of vehicles. Dealerships can utilize these platforms to craft compelling visual narratives, often drawing increased foot traffic to their showrooms. These visual-centric platforms also serve as launchpads for new models or special offers, engaging potential buyers through captivating imagery and videos.
Influencers: The New Salespeople
The power influencers command in the digital sphere parallels that of traditional salespeople. Automotive brands collaborate with these digital personalities to present their vehicles in relatable, real-world settings.
For dealerships, partnering with local influencers can be a strategy to drive sales by connecting with a vast and engaged audience. And, as with any spokesperson or employee, make sure their brand image and activities accurately reflect your brand image. You can find some legal recommendations here.
Targeted Advertising for Precise Reach
The precision targeting capabilities of social media advertising stand out as one of its strongest advantages. Dealers can customize their advertisements to target specific demographics—age, interests, location, type of car, driving style, and more. Such tailored promotions ensure they reach individuals most likely to become buyers, optimizing advertising spend and boosting ROI.
Integrating Social Insights for Better Sales Strategies
Beyond mere promotion, social media offers dealerships rich insights into customer preferences and trends. Interactive polls, Q&A sessions, or regular posts can provide:
Valuable data.
Enabling dealers to refine their sales strategies.
Special offers.
Real-time customer interaction techniques.
Shaping Tomorrow's Auto Sales
Social media's profound influence on auto sales is both undeniable and continually evolving. As platforms unveil novel features and expand their user base, dealers must remain adaptive, tailoring their strategies to tap into the immense potential of social media.
By carefully embracing influencers, leveraging targeted ads, and integrating actionable social insights, there's the potential for a brighter, interconnected sales future.