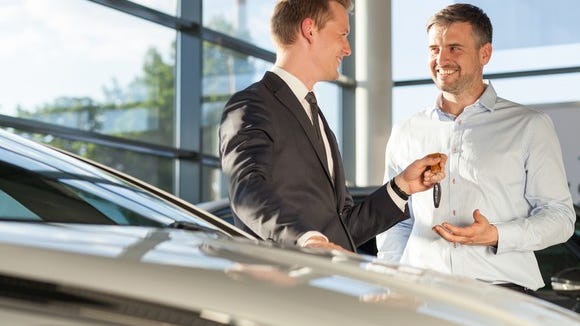 For the first time as an industry, the average transaction price for new vehicles scratched its way across the $46,000 mark according to Kelley Blue Book data. At $46,036, it's clocking in at 102% of MSRP. Yes, that's 2% higher than the sticker price, on average. Customer demand is pushing the selling price well above the label affixed to the window.
At the same time, new vehicle incentive spending by manufacturers has plummeted. Compared to highs last year in the nearly 11% range, the incentive spend as a percentage of ATP has dropped to just 4.3%. That means at the current ATP, incentive spending is just around $1,979. In October 2020, incentives represented 9.1% of ATP, or $3,710.
Kayla Reynolds is an analyst for Cox Automotive. She says, "Whether they are desperate or impatient, consumers continue to pay hundreds of dollars above the suggested price for new vehicles. While the average transaction price jumped to a new record high, the average incentive package fell to a 20-year low. To score a new vehicle, buyers are accepting no-haggle pricing, with significant market adjustments in some instances. It is absolutely a seller's market right now."
In this type of market where dealers can command an above-MSRP sale price, there are still customers who expect to negotiate a deal. When there's no pressure on the dealer to sell below MSRP, how can salespeople interact with these customers to try to get to closing?
FOMO is not a good motivator
The fear of missing out (FOMO) can push people to do things they haven't fully prepared for. That can be good in some circumstances, but in others, it can lead to regret and resentment. If FOMO is used as a prodding stick to nudge customers toward buying a car they're not financially capable of paying for or it's not equipped as they want or need, it's regret and resentment you're going to invoke.
It's not beneficial to give a customer a high-pressure deadline like, "This is the best deal you're going to get, and it goes away at the end of business today." This is exactly the type of pressure that gave the auto industry a bad name in decades past.
Give an honest account of the situation
Rather than instilling a fear the buyer will miss out, give them an honest overview of the sales climate. Cars aren't staying on dealer lots very long, and the dealership will be able to sell the vehicle to someone else at full price. There's an industry shortage not just in the auto industry, but in several others, and prices are climbing all around as a result.
Using recent Cox Auto reports and sales data from several other sources can be helpful to show a shopper that there simply won't be the 'wiggle room' they're used to and perhaps have negotiated in the past. Avoid using negative connotations as much as possible.
Focus on the service aspect
Explain to the client that you hope you've served them well enough to earn their business. If the pricing is manageable and their customer experience has been positive, you might be able to close the sale by turning their attention to how they've been treated thus far.
In addition, take time to explain how you and the dealership take care of their ongoing service needs. Assume that it's a long-term relationship you're just beginning.
Offer a factory order
If the inventory you have on hand isn't the right fit and the customer is leveraging that aspect for a better deal, offer a factory order. They can have the vehicle built exactly how they want it, assuming they have the time to wait for it to arrive.
Two things to consider with factory orders. First, ensure you have a final price agreed to for the order to avoid a dissatisfied client when the vehicle arrives. Second, if they don't have a vehicle while they wait for a factory order, explore the possibility of a month-to-month lease or subscription or a long-term rental that can be factored into the deal.
---
Did you enjoy this article from Jason Unrau? Read other articles on CBT News here. Please share your thoughts, comments, or questions regarding this topic by submitting a letter to the editor here, or connect with us at newsroom@cbtnews.com.
Be sure to follow us on Facebook and Twitter to stay up to date or catch-up on all of our podcasts on demand.
While you're here, don't forget to subscribe to our email newsletter for all the latest auto industry news from CBT News.