New vehicle sales are expected to slide well into the double digits when October's sales are reported, according to J.D. Power and LMC Automotive. Their joint forecast estimates total US retail sales of 943,500 units this month, representing a decrease of 17.4% compared to October 2020 when dealer lots were still full of cars. And compared with a typical selling year like 2019, those sales figures are down 15.4% when selling days are adjusted.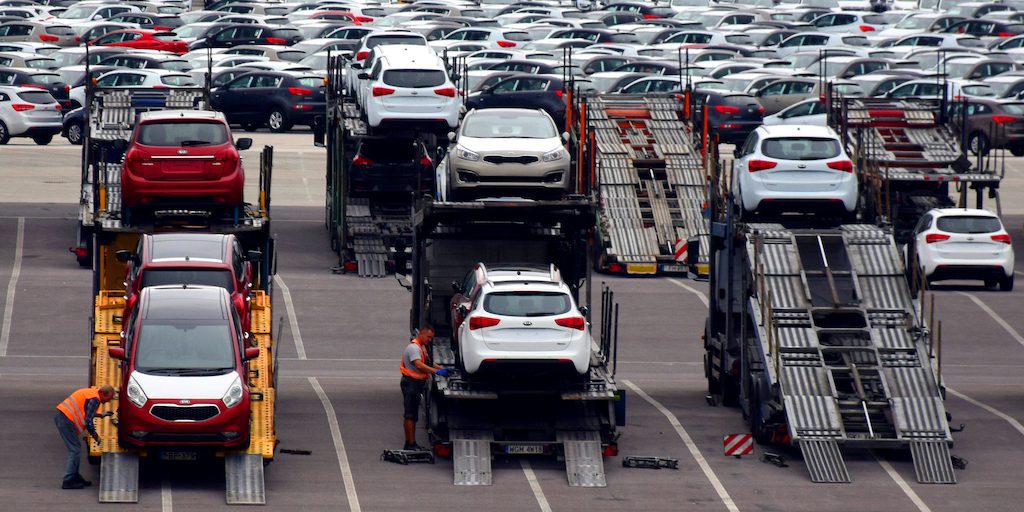 Those numbers are cars that arrive on the lot selling faster than most dealers have ever seen. More than half of the new vehicles that dealerships receive into inventory are sold in ten days or less. Yet, there just aren't enough cars being produced for the appetites of hungry drivers.
President of the data and analytics division at J.D. Power, Thomas King, said, "October results demonstrate that new-vehicle sales are still being constrained by how many vehicles are delivered to dealerships each month. However, strong consumer demand and a lack of inventory are leading to record transaction prices and profit for each unit sold. Month-end inventory of vehicles on dealer lots is expected to remain below one million for the third consecutive month.
"When new vehicles are delivered to dealerships they are sold swiftly. Retailers continue to sell a large proportion of vehicles almost as soon as they arrive in inventory. For the month of October 2021, nearly 54% of vehicles will be sold within 10 days of arriving at a dealership."
Dealerships may see average profit per unit cross the $5,000 bar for the first time in October when backend income is included. That would be more than double the amount seen in October 2020 when the average per-unit profit rang in at $2,192. Already, the past four months have shown profit per unit in excess of $4,000.
King says, "Strong demand and insufficient inventory continue to drive prices—and profit per unit sold—to record levels. In October 2021, average transaction prices are expected to reach a record high of $43,999, the fifth consecutive month above $40,000. For context, average transaction prices are trending to be 19.3% higher than in October 2020 when prices hit $36,887. This is partially due to the near evaporation of manufacturer incentives."
November looks to continue the trend
Rolling into November, the expectation is more of the same. Simply, the lack of available inventory is suppressing sales for dealerships nationwide. And although the chip shortage has shown signs of letting up in certain areas, the overall prediction for the month is around 20% fewer retail sales than the same time last year, albeit with higher gross profits and lower incentives.
King mentions that all signs point to "lower sales volumes offset by record prices and profitability".  Lower numbers of available new cars to sell will put a damper on the dealership's retail sales numbers, but that's mitigated by the incredible boost in profits per unit. To return to a more 'normal' sales position will require an increase in production, and there's no indication that semiconductor chips have even remotely recovered from the pandemic-driven shortage.
Related: How to shift marketing techniques during times of low vehicle inventory
Jeff Schuster, president of Americas Operations and Global Vehicle Forecasts at LMC Automotive said in the joint forecast, "Given that the pause in the recovery will extend through the fourth quarter and given the number of challenges manufacturing faces, we expect the industry will continue to struggle in its quest to return to normal. After the significant cut to our near-term outlook last month, we have trimmed 2021 by an additional 400,000 to 80.2 million units—which cuts the increase from 2020 to just 3%. We have also cut 2022 to 84.8 million units, a reduction of 500,000 units. While some OEMs have signaled a restart to manufacturing in November, the industry should expect to see starts and stops well into 2022."
Some industry reports say that the chip shortage could stretch into 2023 before the auto industry begins to see some sort of inventory normalcy.
---
Did you enjoy this article from Jason Unrau? Read other articles on CBT News here. Please share your thoughts, comments, or questions regarding this topic by submitting a letter to the editor here, or connect with us at newsroom@cbtnews.com.
Be sure to follow us on Facebook and Twitter to stay up to date or catch-up on all of our podcasts on demand.
While you're here, don't forget to subscribe to our email newsletter for all the latest auto industry news from CBT News.