The automotive retail industry has long been shifting away from physical-only stores towards online shopping experiences that complement the physical showroom. However, the COVID-19 pandemic forced this shift to happen much faster and more radically than expected. This new retail landscape has transformed the way consumers shop for cars. They rely on a dealership's website more than ever before to provide them with accurate, engaging, and relevant information. Unfortunately, many dealership websites fail to meet these expectations and lose potential customers. Their websites are filled with unnecessary features, convoluted elements, and static pages. Car dealerships need to enhance their online presence and customer experience to keep up in this competitive market. They should evaluate their websites against their toughest competitors a see the differences. By doing so, dealers will see one common denominator among all of the best websites: an emphasis on the customer experience.
Gone are the days of one-site-fits-all for online retail websites. The most successful franchise dealer websites emphasize a personalized and dynamic design that creates better engagement and higher conversion rates. Website personalization refers to a site's ability to tailor itself, whether in messaging or layout, to a shopper's past journey on the site. This can be as simple as a pop-up welcoming a shopper back, or as complex as suggesting a certain vehicle to a shopper based on information from a third party.
Personalization derived from customer data is expected and appreciated by shoppers. According to McKinsey & Company, 71% of consumers expect companies to deliver personalized interactions. Not only that, but 76% of consumers get frustrated when they do not receive a personalized shopping experience. Deep website personalization is the key to generating more leads and more return shoppers, and so many dealers are falling behind.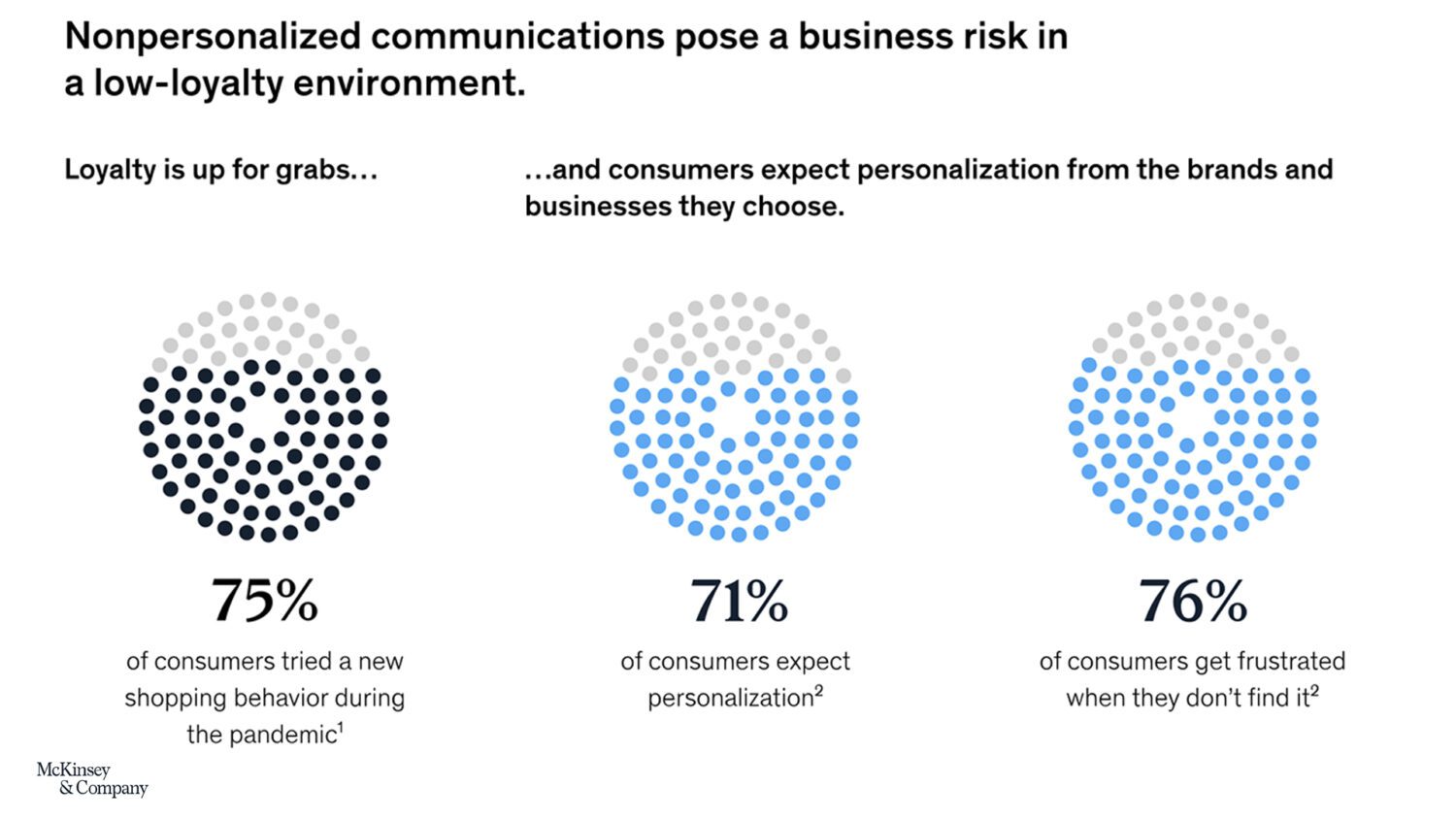 Currently, many dealerships are stuck with website technology that has not kept pace with changes in retail shopping experiences. Franky, the automotive industry is outdated. Outside of automotive, the leaders in website personalization utilize cookie-less identity resolution to understand who is shopping and how best to convert them. This can all be done without the customer filling out a lead form. Advanced identity resolution, the ability for a website to recognize a shopper, is progressing at a rapid pace. Technology is shifting away from tracking cookies as major web browsers like Google Chrome make moves to eliminate third-party cookies entirely. New identity resolution approaches are now being implemented by leading car dealerships to offer greater personalization to shoppers. Imagine a website that can tailor the shopping experience, create custom messages to increase engagement, and pre-fill information on forms from previous site visits. Better yet, a dynamic shopping experience can trigger an automated workflow when shoppers return to contact the customer via email or phone. All of this can be done without the customer filling out a new lead form. In addition to regular manual outreach, the website could trigger a customized SMS message or even display a loyalty message encouraging them to start a conversation with the dealership's staff. These websites can seamlessly integrate with digital marketing, inventory management, and digital retailing. 
A website should never feel separate from digital advertisements. Instead, everything must work together with a cohesive identity to deliver more results and fewer headaches for dealers. The changing retail landscape has made it essential for car dealerships to prioritize their online presence and customer experience. Evaluating your website and emphasizing personalization can lead to higher conversion rates, more leads, and more return shoppers. By putting the customer experience first, car dealerships can navigate these changes and succeed in the new era of retail.
In conclusion, the automotive retail industry has undergone a rapid and radical transformation, and websites need to catch up to consumer expectations. Consumers depend on dealership websites to provide them with highly relevant information to make informed decisions about buying a car. Too many dealership websites are outdated, cluttered, and boring. They do not offer a satisfying online shopping experience that matches the physical showroom. Car dealerships need to improve their websites by creating a dynamic, customized experience for buyers. By doing so, they can attract more customers and increase their sales in this new retail environment.