Welcome to this episode of The Friday 5 with Steve Greenfield, Founder and CEO of Automotive Ventures, an auto technology advisory firm that helps entrepreneurs raise money and maximize the value of their companies.
Well, we were out in Las Vegas last week for the National Automobile Dealership Association convention, and it was really nice to see everyone again after two years.

We had a number of meetings with dealers who are excited about participating in our new Automotive Ventures DealerFund, a fund created for dealers to participate as investors, and which is meant to help auto dealerships navigate through the next decade of unprecedented change, invest into, and participate financially in the AutoTech startups they help to grow. 
Our investors in this new fund will represent a critical mass of the most progressive dealership locations, the very customers of the technologies in which we aim to invest. We first work closely with these investors to understand their biggest challenges and needs. This will provide us with a unique advantage to identify which companies to invest in, and position us to help those companies be adopted by thousands of the most influential dealerships across the industry. 
I'll keep the Friday Five audience up to date as we make progress bringing the  Automotive Ventures DealerFund to market.
In the biggest investment news of the last week, Tekmetric, a cloud-based shop management system for automotive repair shops, announced the close of a growth investment from Susquehanna Growth Equity, an entrepreneur-centric growth equity firm exclusively focused on software and information services.
The partnership enables founder-led Tekmetric to continue scaling its business as the highest-rated shop management platform in both existing and new markets. The funding will allow Tekmetric to significantly grow engineering and technical teams, as well as execute on its bold product roadmap to better support the thousands of automotive repair shops using Tekmetric across North America.
Tekmetric focuses on the automotive repair sector, is three years since product launch, and offers a comprehensive SaaS shop management system.
Shop owners use Tekmetric's intuitive platform for all their business needs, from digital inspections and integrated payments to direct customer communication within the system. Tekmetric's ongoing upgrades and new features help thousands of shops across the nation streamline processes, keep shop data secure and increase transparency and visibility among customers.
Next up this week, Shift, a leading end-to-end auto eCommerce platform transforming the used car industry with a technology-driven, hassle-free customer experience, has entered a definitive agreement to acquire some of the assets of Fair.com for $15 million in cash and 2.5 percent equity.
Concurrently, Shift entered into a commitment letter with Fair investor SoftBank Group, whereby SoftBank Group has agreed to purchase senior unsecured notes due in 2025, which will be used to fund the acquisition.
Over the last 18 months, Fair has been developing an online marketplace platform that enables consumers to shop a deep inventory of cars from dealer partners, get approved for financing from a network of in-platform lenders, and sign for the one they want 100% digitally.
Dealers can manage the entire transaction via a proprietary digital onboarding platform, then easily schedule an at-home delivery.
The platform is the ideal solution for dealers to participate strategically in e-commerce, grow market share and develop long-term relationships with customers. Its technology, team and deeply established dealer relationships will allow Shift to accelerate its vision of becoming the destination marketplace for car ownership.
The acquisition of Fair's team and technology is expected to result in notable product synergies, significantly advance Shift's technology roadmap, and signals a pretty dramatic business model change for Shift, as they start to allow dealerships to list their inventory on Shift's platform.
Companies To Watch!
Every week we highlight interesting companies in the automotive technology space to keep an eye on. If you read my monthly industry Intel Report, I showcase a few companies each month, and we take the opportunity here on the Friday Five to share some of those companies each week with you. 
Today, we have two companies to watch: Ottometric and Viaduct.
Ottometric accelerates AV and ADAS training.
Advanced Driver Assistance Systems and Autonomous Vehicles require exhaustive validation prior to production release to ensure the safety of each new vehicle. 
Validation teams are required to drive millions of actual road-miles while recording the data from onboard cameras and sensors to determine if the systems behave as designed under real-world conditions. 
This process generates a massive amount of data that must be annotated and analyzed to understand system performance and identify areas for improvement. 
With increasing levels of driver assistance in each model year, this problem is becoming untenable and a major source of project delays, cost overruns, and potential warranty and legal liability.
Ottometric transforms ADAS validation and AV training with a software platform that automates and streamlines the validation and training process, helping companies save millions in development costs, while improving system reliability and ultimately saving lives.
Check out Ottometric at www.Ottometric.com.  
Viaduct provides AI for connected vehicles. 
Viaduct delivers proven value to the rapidly-changing automotive industry with AI-powered applications that help OEMs, suppliers, and fleets improve product quality, streamline manufacturing, lower warranty expense, improve customer experience, and generate new revenue streams.  
Viaduct's SMART SERVICE solution provides OEM aftersales and service organizations, along with fleet owners – who depend on Smart Service applications – to improve vehicle uptime, lower maintenance costs, run more efficient campaigns, and create value-added services that turn cost centers into profit engines.
Viaduct's SMART QUALITY solution provides OEMs and Suppliers responsible for design and production quality the opportunity to leverage Viaduct's Smart Quality applications and Insight Exchange to identify quality issues earlier, accelerate root cause analysis for systemic issues, and improve overall operating performance. Check out Viaduct at www.viaduct.ai.
——————-
As I mentioned last week, we at Automotive Ventures are now actively fundraising the Automotive Ventures DealerFund – to help auto dealerships navigate through the next decade of unprecedented change, invest into, and participate financially in the AutoTech startups they help to grow.
If you're an auto dealer, and you'd like to find out more, let me know. I look forward to working with you to bring the new Automotive Ventures DealerFund to market.
It's great to be back out here at the NADA conference in Las Vegas after a year off. It's great to catch up face to face with so many industry folks after missing out on the experience last year.
——————-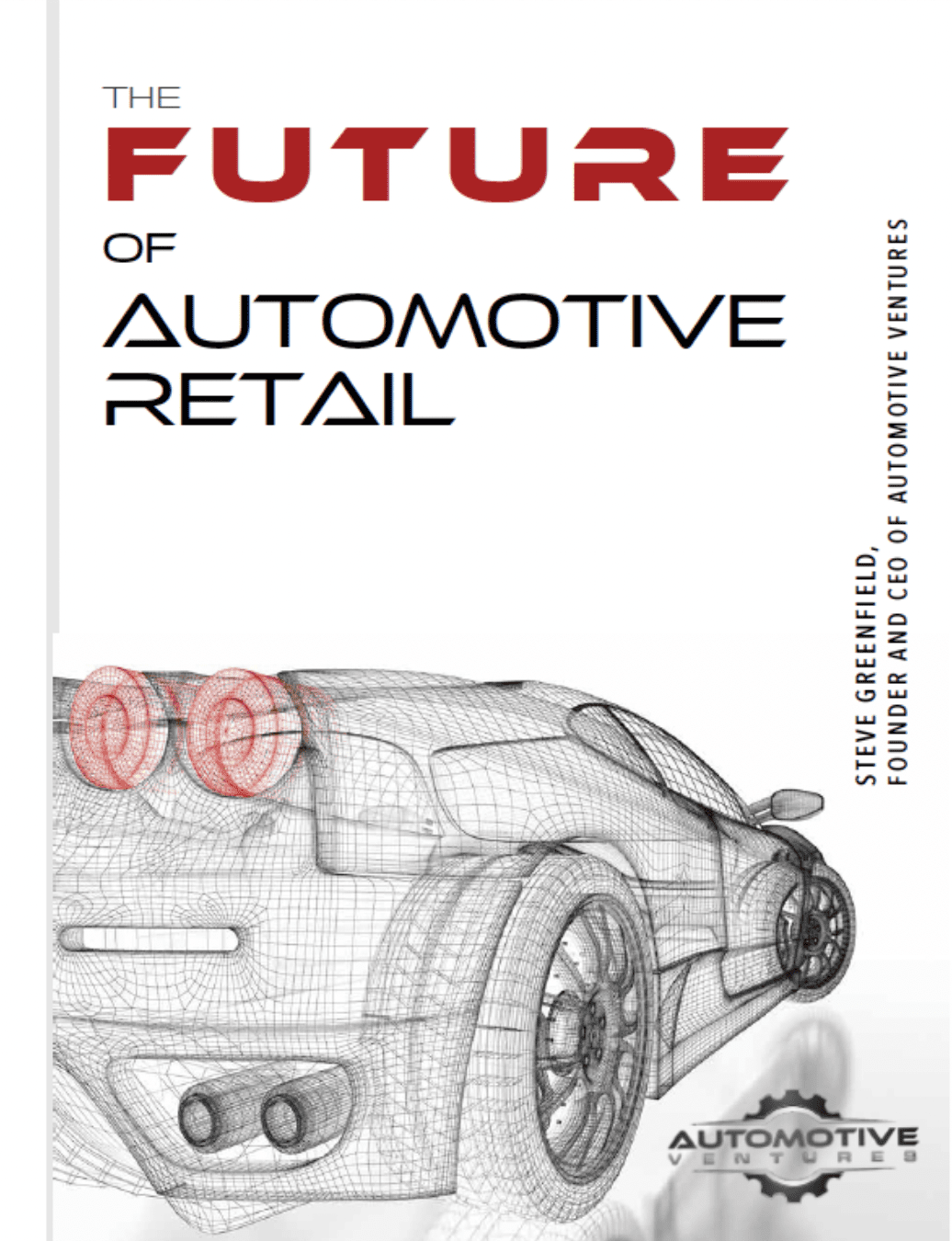 My new book titled The Future of Automotive Retail is now available! In the book, I overview the various themes that are most likely to impact auto dealerships' businesses over the next 5 to 10 years, and I attempt to provide some practical advice on how to prepare to weather upcoming disruptive forces.
For all of you who tune in to the Friday Five, I'd be thrilled to send you a copy of the book, just click here.
——————-
People often ask me why I'm affiliated with CBT News.
Besides having an outstanding, extremely talented, and hardworking team up here at the studio, I greatly appreciate the valuable role that CBT News plays in the automotive industry.
Every day, I eagerly look forward to my morning email from CBT News to ensure I'm getting the most up-to-date and relevant information on the industry.
I encourage you to tune in to CBT News to ensure that you're getting the automotive news that matters.
——————-
So that's your weekly Friday Five, a quick wrap-up of the big deals in the automotive technology space over the past week.
If you're an early-stage automotive technology entrepreneur looking to raise money, or an entrepreneur who is trying to decide whether and when they should raise money or sell their business, I'd love to speak with you.
Thank You For Tuning into CBT News for this week's Friday Five, and we'll see you next week!
---
Did you enjoy this episode of the Friday 5? Please share your thoughts, comments, or questions regarding this topic by submitting a letter to the editor here, or connect with us at newsroom@cbtnews.com.
Be sure to follow us on Facebook and Twitter to stay up to date or catch up on all of our podcasts on demand.
While you're here, don't forget to subscribe to our email newsletter for all the latest auto industry news from CBT News.