Think of the last stellar customer experience you have had. What made it stand out to you? Did they seem like they genuinely cared by asking questions, or summarizing what you needed? The chances are high that you felt listened to and that your preferences influenced their recommendation.
Contrary to our current landscape of attempting to get as much brand messaging in front of customers as possible, there is truly something special about "active listening." Active listening is exactly the way it sounds. It is the act of concentrating solely on what the other person is saying without listening only to make a response.

Active listening should be a vital part of a car buyer's customer experience as this tactic goes hand-in-hand with customer service. Not only can it improve how a consumer feels about a dealership, but if used effectively, active listening can also add to the bottom line.
According to Marchex, a call analytics platform, top-performing salespeople actively listened to potential customers 179 percent more than bottom performers. This behavior also ultimately led to more dealership visits and sales.
So, how can you employ this tactic at your dealership, and ensure customers feel heard? Read on for our tips to bring active listening to your dealership.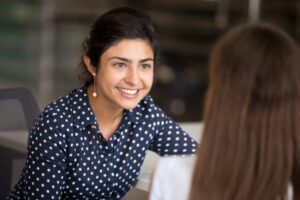 Offer Active Listening Training 
According to studies, we only retain 17 to 25 percent of the information we hear. Therefore, active listening doesn't come naturally to many of us. Like anything else, active listening is a skill that can be improved over time. There is a lot training out there to help salespeople and other teams develop their active listening skills. If done consistently, it will become second nature to yourself and your staff. 
Repeat Information and Ask Questions 
Even if you are not currently able to invest in training, there are tactics you and your team can use to encourage active listening. The first of these is relatively simple. Train your staff to repeat information and ask clarifying questions. For example, if an individual calls in and asks about a specific model, repeat their information back to them, and inquire about their interest. This not only allows you to go more in-depth about what they need, but it also ensures you have the correct information on each customer. 
Be Sure to Ask for Their Name and Use It 
According to Marchex's findings, top sales performers asked for the customer's name 163 percent more times than bottom performers. Asking for a person's name, and using it during the sales process adds a personal touch to the interaction. Think about the time a sales representative used your name when they interacted with you. It is highly likely that you were more likely to feel more open to doing business with this person. The same can happen when your salespeople add this level of personalization to the experience. 
Put Yourself in Their Shoes 
If you wouldn't want a sales representative to interact with you in a specific way, you need to ensure yourself, and your staff avoids unfavorable customer service tactics. For example, Marchex's study found that top performers used pleasantries like "please" and "thank you," 99 percent of the time. So, ensure your team is accomplishing the basics of customer service: being polite, using information gathered from questions to go above and beyond and showing a willingness to solve problems. Think of how you would want yourself or a family member to be treated. Doing this allows you to put yourself in your customer's shoes to understand what they need. 
Practice, Practice, Practice 
Again, active listening doesn't always come naturally, but the point is to enhance these skills with practice. Hold practice sessions where salespeople can practice with leadership as well as with one another. Also, make it clear which tactics count as active listening and point out those that do not. Again, the more your team practices listening with the intent of gaining information to better help customers, the more opportunities you will have to increase showroom visits and sales. 
Final Thoughts 
Every interaction with a customer should be high-value. The goal should be to listen to how you and your team can offer exceptional service. Customers appreciate personal touches and acts that show you and your team genuinely care about providing them with a car that is the best fit for them and their families. When it comes to providing the best customer service possible, active listening is an essential skill to add to the customer experience strategy.