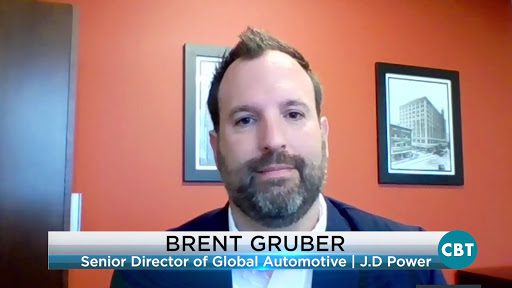 Brent Gruber, Senior Director of Global Automotive at J.D. Power, joins CBT News to discuss some of the biggest issues facing the automotive industry today, which Brent says has a lot to do with growing vehicle technology within the industry. According to the latest J.D. Power, multimedia quality and satisfaction study customers have very mixed feelings about automobile communication, entertainment, and navigation technologies. Obviously, customers like having these features, however, they can also pose problems. To hear more about these issues check out Brent's full interview above.
VIDEO TRANSCRIPT: 
Jim Fitzpatrick:
Hi everyone. Thanks for joining us on another edition of CBT News. Joining us to discuss how vehicle technology advances can affect the way dealers sell their customers is Brent Gruber, Senior Director of Global Automotive at J.D. Power. Thanks so much for joining us.
Brent Gruber:
Thanks for having me.
Jim Fitzpatrick:
Sure. So let's kind of dive right in here. In your opinion, what are the biggest issues facing the industry today in this regard?
Brent Gruber:
Yeah, I think from a product perspective there's a couple issues that are really challenging the industry right now, one being the acceptance of newer technology. We hear a lot about autonomous vehicles and ADAS technologies such as collision avoidance and automated breaking, things like that. But I also see an issue with consumer preference or trends in consumer preference where the industry is going in terms of preference towards types of vehicles and some of the fuel regulations that we have coming up in the future. Those seem to be at odds with one another.
Jim Fitzpatrick:
Sure. I could see that. In the latest J.D. Power multimedia quality and satisfaction study, how do consumers feel overall about the communication, entertainment and navigation technologies offered in vehicles today?
Brent Gruber:
It's a little bit of a mixed bag. Consumers obviously like having these features and technologies, but they are also a source for problems. In fact, when we look at the total vehicle and all the different problems that can occur on the vehicle, that's the number one source for problems. So they're happy to have it, but obviously when things go wrong, it's a great source of dissatisfaction.
Jim Fitzpatrick:
Sure. And this is something that I think dealers have been challenged with on the dealer side to effectively really teach consumers about the products that are offered, the technology that's offered in cars today, right?
Brent Gruber:
Yeah, yeah. Yeah, absolutely. So with a lot of these technologies, it's really a partnership between the manufacturer and the dealer body to help educate consumers on what these features are, how they can utilize them, and how they can maximize the value from those. The dealer plays a role in educating consumers in how to use those technologies. But there's is a delicate balance there. How do you educate them on those technologies and the use of those without overburdening them at the point of delivery? So that's where the manufacturers work with the dealer body to ensure that they're communicating the proper information and setting themselves up for a continual relationship to have consumers maybe come back to learn about some of those features and technology in more detail at a later date or utilize manufacturers' apps for those issues.
Jim Fitzpatrick:
Yeah, I would imagine the apps would be a pretty good way to go, right? I mean, that allows the consumer to-
Brent Gruber:
They are. Yeah, the apps have become very comprehensive. There's a lot of information in there. It obviously is a conduit between the manufacturer and the consumer, so it keeps that dialogue going between the customer and the manufacturer. It also allows manufacturers to understand what issues customers are having with the different features of technologies on their vehicles.
Jim Fitzpatrick:
Yeah. Do consumers want … Is that an area that they want more and more technology in their cars or have we hit a plateau that it's like … I get in mine, I'm like, "Okay, enough already. I'm good. I know how to drive." It just seems like it's coming at me from every angle. Maybe it's my age, I don't know.
Brent Gruber:
Yeah, they do want these features and technologies, but unfortunately you hit on a sore spot and that's the confusion or the overabundance of this. If it works right, they want it. If it doesn't work right, they don't want anything to do with it. You know, a lot of these features and technology can create distraction.
Jim Fitzpatrick:
Yeah.
Brent Gruber:
[inaudible 00:04:10] want distracted drivers. So some of these same technologies that are designed to minimize distraction can actually create more distraction. So if the technology is good and it works well, consumers certainly want it.
Jim Fitzpatrick:
Sure. Whenever you hear of these people that have got a vehicle that will drive itself on the highway and you can be playing with your phone or doing whatever you want to be doing, that is kind of enticing, the notion that we could be traveling at 70 miles an hour down the highway today in a lot of vehicles, and I could be playing with my phone or technology in the car or what have you.
Brent Gruber:
Yeah, it certainly does sound enticing. One of the issues that we see with that … That's a number of years off. But the challenge of trust, consumers having trust in those technologies … Theoretically it sounds great, but we have to get over the hurdle of trust with those technologies first before we're on that autonomous highway.
Jim Fitzpatrick:
What about companies like Google, Amazon and Apple making further integrations into in-car multimedia technology? Is it a good thing or a bad thing?
Brent Gruber:
I think it's a good thing. These are obviously companies that are pretty well-woven within our daily lives, whether it's smartphones, personal assistants, digital assistants. I think that there's a certain usability factor that's become commonplace with those products. So the more that those products proliferate into the vehicle, I think it's a good win for the consumer because there's a certain level of comfortability and usability with those technologies. We talked about distracted drivers. I think it's one of those things where these technologies from companies such those where we're so familiar with their products, can help really alleviate some of the confusion and the distraction that we see in the vehicle today. So I think it's certainly a win for consumers to have them in the vehicle.
Jim Fitzpatrick:
Yeah, that's for sure. Well, Brent Gruber with a J.D. Power, I want to thank you so much for joining us on CBT Automotive Network.
Brent Gruber:
Thanks again for having me.
Jim Fitzpatrick:
Thank you.