How can we best describe the buying path of a potential car buyer? Well, it definitely isn't a straight line. There are a lot of twists and turns associated with the decisions a consumer makes to purchase a car. According to Google, Millard Brown Digital, and Polk, the average consumer engages in 24 actions on their way to buy a vehicle.
In short, instead of one ad, social media posting, or phone call being the ultimate decision-maker for car buyers to purchase their next car from you, it is all three of these things—and more. Today, consumers are interacting with you on a variety of channels, and it is crucial that you make all of these touchpoints and micro-moments count.
So, how can you create exceptional omnichannel customer experiences that help to guide potential car buyers to purchase? Check out our tips below to help you get started.
Ensure That All Channels Maintain your Brand Voice and Personality
If customers have one experience with you on social media and an entirely different one through email, then there is a problem. For example, are you finding that your brand colors are not uniform on each platform, or that the customer experience is lacking on social media while your phone service is exceptional?
Either way, you need to ensure that you are maintaining your brand voice and high-quality service on all platforms. The best way to do this is to establish a brand and marketing style guide. This guide can provide insight into appropriate colors and logos to use. It also would help to consistently train your staff on the dealership principles they should adhere to every time they interact with a potential customer.
Be Present
Let's say that you always have someone monitoring Twitter for complaints or questions, but you fail to respond to customer comments on Instagram photos. Unfortunately, you are missing the chance to interact with a subset of your audience.
Fortunately, there is technology out there that can prevent this from happening. Tools like BuzzSumo, Sprout Social, and even Hootsuite can help you keep your ear to the ground regarding when you are mentioned online or on social media. This way, you never miss the opportunity to engage with customers regardless of where they are.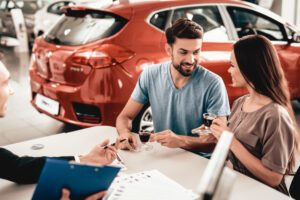 Create Buyer Personas
Having an idea of who your buyers are can help you better respond to them and offer the resources they need regardless of the channel. While buyer personas should include data about their buying and research habits, it should also include information regarding where they are the most likely to interact with you. Demographic and location data can give you a leg up on this, but don't forget to keep an eye on your actual audiences. Your current customers, along with general market research, can give you the insights you need to develop buyer personas that are as accurate as possible.
Know Where Your Customers Are
While Instagram may be an excellent platform for posting automotive photos, it is not going to yield favorable results if most of your local audience is not on it. So, don't invest in a platform because it seems like the right thing to do. Only use it if you know it is a channel your customers are using.
Developing buyer personas can help with this, but also conduct some research on the front-end. For example, when customers come in for test drives or to look at a car in the showroom, ask about how they found you and what their preferred digital platforms are. This step will provide you with more information regarding where you should be putting your efforts.
Personalize Based on the Platform
There is specific content or messaging that is better to share in an email newsletter than it is on Twitter and vice versa. Today, we have the privilege of living in a world where technology can take a lot of the guesswork out of figuring out which channel to share specific pieces of content. There are software tools that can help you gather relevant data that can be used to develop content that is tailored to the platform and the users engaging with it. Investing in these software tools can make the process of content creation and management easier-to-handle and efficient. 
Make Sure Your Mobile Site is Operational
According to Google, 71 percent of customer and dealer interactions happen on mobile phones. Customers are seamlessly going between social media, email, and dealer websites. So, make sure that your website is fast-loading, easy to navigate on the phone, and clearly displays what you need for customers to see. You want them to be able to use your site as a resource, regardless of the device, so make sure your website is optimized for mobile.
Final Thoughts
Omnichannel marketing isn't necessarily a new concept. From the days of billboards, television ads, and magazine ads, marketers have had to figure out how to appeal to customers using a variety of tactics. However, today, the channels that are having an influential impact on consumers are now digital. Those dealers who understand the importance of creating an omnichannel marketing strategy that includes these new digital touchpoints and channels will be steps ahead of the competition, and will enhance the interactions customer have with their staff in the long-term.