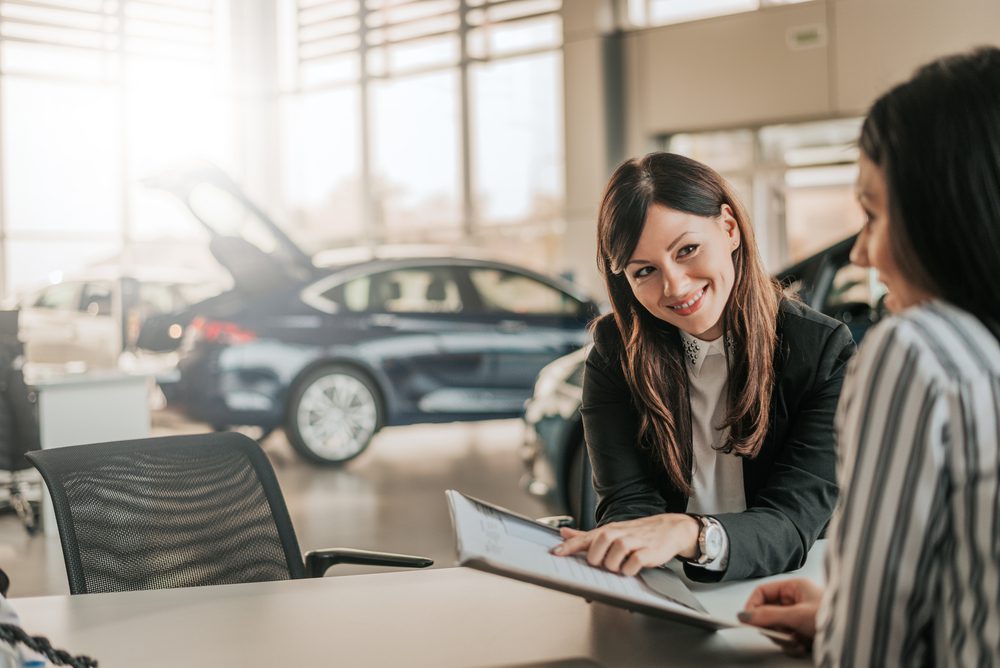 Even though dealers have to manage multiple competing issues of low inventory, rising lending rates, and a pandemic that is not quite 100% gone, they must still focus on activities designed to get people online and in the showroom. Marketing staff must make sure their name is top-of-mind with local shoppers, starting with proper branding. 
Brand building may be nothing new, but dealerships now have more options than ever that can make it easy to gain exposure: social media posts, digital ads, banner ads, and traditional media (print, direct mail).
One of the most potent ways to make an immediate impact when building and strengthening the dealership brand that you may not be doing now? White label your F&I products.
And if you're not, ask yourself 'Why'? Most would say they don't know how effective it would be or assume it's difficult to do. With the proper F&I administrator, it's easier than you think.
To add your dealership name to a VSC or preloaded appearance package benefits your store in more ways than one. And while dealerships are, in most markets, making record F&I profits, it can only help to consider white labeling now so that your department is ready for any slowdowns shortly. 
Let's look at how white labeling can help in the near and long term:
Immediate Benefits
Stay in Step with the Competition
As dealers open in your market or bigger groups acquire smaller competitors to increase their reach, your store has to stack as many 'Why Buy Here' reasons for local buyers to choose you. Attaching your dealership name to every VSC, for example, makes it easier for a customer to choose your car with the 'XZA Toyota No Fear Lifetime Powertrain Warranty.'
Suppose your competition only leverages the OE warranty or another national company with little name recognition. In that case, local shoppers will be more comfortable buying your car with your branded VSC. 
Your name is what they know and trust.
Better Penetration Numbers
Every dealership needs those penetration numbers to be climbing, and with a white label menu of F&I solid products, it can. Customers will see your products as something your store manages and administers, not an unknown company with little recognition. Car shoppers will be easier to close knowing that these products are yours, and close ratios will rise. Familiarity means a lot.
Increased Sales
The most immediate short-term effect is likely to be higher overall sales and increased lot traffic. If private branded F&I products are featured prominently in all ads across all marketing channels, that alone can be enough to bring more customers to the lot. Even when inventory is lean, a busy sales department only helps F&I with higher PVR.
Long-Term Advantages
Future Preloads are Easier
White labeling your VSC and other products can make it easier to preload moving forward. More dealerships look to preloading as an ongoing strategy for better and more stable F&I growth, and putting your dealership name on those products is a logical fit for the future.
Preloading limited powertrain warranties, for example, has recently become a popular way to set dealerships apart from their local competition and helps increase service traffic in the future. It's low margin and easy to add to every car sold and can be part of a long-term profit strategy.
Great for Service/Parts
Let's look at that Lifetime Powertrain Warranty again. If your store brands it, customers will know right from the start that they must bring the car back to your service lane for repairs. If it has another company name on it, they will assume they can take it anywhere in case of a problem, and no one wants that. That's your future service customer, period.
Service and Parts rely on repeat business to compete with the independent garages and the O'Reilly's of the world. White labeling VSCs or powertrain coverage ensures those customers return to you for years and not just for significant repairs. They may be more likely to come in for regular maintenance as well.
CSI Increases
As your customers become comfortable with your brand being on all F&I products, your CSI should remain strong for years to come. Knowing that their appearance protection package has your name on it, they will benefit from a better customer experience from a claims perspective, showing on CSI survey results for years to come. Your dealership staff helps them, not an unknown claims department in another city.
White labeling F&I products has gained popularity in recent years in a world full of 'influencers' and 'brand builders.' Now may be the time to look at this strategy as good for your dealership. The stronger your brand, the better growth for the years ahead, and with so many changes coming in the automotive world over the next few years, building your brand by any means necessary is as vital as ever.
---
Did you enjoy this article from Kristine Cain? Read other articles on CBT News here. Please share your thoughts, comments, or questions regarding this topic by submitting a letter to the editor here, or connect with us at newsroom@cbtnews.com.
Be sure to follow us on Facebook and Twitter to stay up to date or catch up on all of our podcasts on demand.
While you're here, don't forget to subscribe to our email newsletter for all the latest auto industry news from CBT News.