Welcome to another edition of The Friday 5 with Steve Greenfield, Founder and CEO of Automotive Ventures, an auto technology advisory firm that helps entrepreneurs raise money and maximize the value of their companies.
Big news this week in the digital retailing space.
CarNow has raised $30 million dollars from Battery Ventures. That follows a $10 million dollar fundraising round back in 2019, which was also led by Battery Ventures. Battery Ventures is also an investor in StoneEagle.
Advertising Partner

CarNow has raised about $55 million dollars since its December 2014 launch.
CarNow's valuation in this round was not disclosed.
CarNow specializes in digital retailing and conversational messaging tools and works with about 4,700 dealerships, most of them U.S. franchised stores.
CarNow plans to launch a product this fall, which is currently being tested in the field, that offers dealerships a real-time, end-to-end workflow linking together all of its existing tools.
The whole digital retailing space has been red hot this past quarter, as we witnessed Roadster selling to CDK Global, Gubagoo selling to Reynolds & Reynolds, and then Darwin Automotive to JD Power.
I expect that investments and M&A in the Digital Retailing space will continue to be active in the coming months.
Congratulations to CarNow founder Andy Park and the whole CarNow team. Andy is truly an incredible human being and has been very intentional about building an amazing company culture.
Cross-border vehicle trading platform TRADE X has acquired Techlantic, a vehicle trading, redistribution and financing company.
Terms of the deal were not disclosed.
Techlantic has been in the international vehicle trade space since 1983. The platform is designed to facilitate all pieces of trade financing. It also is designed to help trading customers line up financing and sort out tax compliance and international regulations around trading.
Techlantic had sales of more than $105 million dollars last year.
Private equity firm Brightstar Capital Partners has entered a definitive agreement to acquire a majority stake in the auto auction and remarketing facilitation company XLerate Group.
Current owner Huron Capital and XLerate's senior management team will retain minority equity stakes. Terms of the transaction were not disclosed.
Huron Capital purchased what was then known as the American Auto Auction Group in 2014. The auction company rebranded as XLerate later that year.
Congratulations to Cam Hitchcock and the XLerate Group team!
CallRevu has acquired the automotive division of CallSource. Terms of the deal were not disclosed.
CallRevu was founded in 2008, to help dealerships solve problems within the phone experience. This includes CallRevu's recently released Communication Intelligence platform which leverages artificial intelligence and machine learning backed by the quality assurance of human automotive-trained specialists to improve productivity by up to 44%.
CallSource claims to be the inventor of call tracking and has over 25 years' experience. CallSource has listened to and analyzed over a billion phone calls, and delivers targeted solutions for OEMs and dealers to improve customer experience and internal processes. They provide call tracking, call processing, coaching, and data analysis to the largest OEMs and industry providers in the automotive space.
APCO Holdings, home to the EasyCare, GWC Warranty and MemberCare brands, has acquired Strategic Diversified, a regional leader in the automotive retail, finance, and insurance space, that offers a variety of solutions to help dealers in the Mid-Atlantic states develop their F&I strategy to increases revenue and profitability.
Strategic Diversified includes the brands Northeast Dealer Services, FirstChoice, Paradigm Automotive and Automotive Profit Associates, and Strategic Diversified.
J.P. Morgan has acquired a controlling interest of close to 75% in the Volkswagen AG's payments platform, Volkswagen Payments.
The alliance between the two firms will seek to develop the platform for new markets and industries outside of the automotive sector where mobility-focused payments will become central.
Founded in 2017, Volkswagen Payments operates a payments platform designed for the auto industry. Operating in 32 markets around the world, the business offers a range of digital payments services across the auto ecosystem, including:
Initial purchase and leasing
In-vehicle payments
Fueling and electric vehicle charging
Parking and subscription-based services such as insurance and in-vehicle entertainment
Kevala, the startup that collects and analyzes energy grid infrastructure data for utility companies, renewable energy providers, EV charging companies, regulators and other energy industry stakeholders, has raised $21 million dollars in a Series A round.
The company says it will use the funds to grow its team from 60 employees to around 100 by the end of 2021 and increase the deployment of its grid analytics tools.
Kevala's Assessor Platform, its interactive cloud-based grid analytics toolbox, allows a range of energy industry stakeholders to leverage massive quantities of data the company has collected from public sources, as well as from its clients, in order to predict and plan for things like "extreme weather events, renewable energy adoption and increasing demand from vehicle, building and industry electrification."
In international news this week, EBlock has acquired digital dealer-to-dealer auction marketplace Tradehelper.ca and parent company ESP Auctions. The latter is a Montreal-based independent auction.
ESP owner Alain Boisvert partnered with former ADESA chief executive Stephane St-Hilaire to purchase TradeHelper in December 2019.
Founder Karl Tremblay heads up TradeHelper.
Both ESP and TradeHelper will continue operations as-is.
Russian internet and ride-hail giant Yandex has acquired Uber's stake in its Self-Driving Group, as well as Uber's indirect interest in Yandex. Eats, Yandex.Lavka and Yandex.Delivery. The total cost of the deal came to $1 billion dollars, giving the Russian company 100% ownership over all four businesses.
Back in 2019, Yandex and Uber were reportedly considering an IPO for their JV, which Morgan Stanley estimated to be valued at around $7.7 billion dollars. Yandex says autonomous driving technology is "highly synergistic to the Yandex ecosystem, which includes ride-hailing, e-commerce and food-tech businesses."
Carsome Group, an online platform for buying and selling used cars, has become Malaysia's largest tech unicorn after a $170 million dollar funding round boosted its valuation to $1.3 billion dollars.
Investors in the latest round included semiconductor maker MediaTek, investment company Catcha Group and Malaysian government fund Penjana Kapital, among others.
Carsome said one of the largest sovereign wealth funds in the region also joined the round, without disclosing its name.
Cazoo, the UK's leading online car retailer, has acquired Cazana, owner of one of the most comprehensive vehicle pricing datasets globally and one of the leading data insights platforms in the European automotive industry.
Founded in 2012, Cazana has grown to a team of more than 50 staff including world-class data scientists and engineers headquartered in London. Cazana has built an extensive dataset of over 500 million historic vehicle transactions from over 40 countries including the UK, Germany, France, Spain and Italy and its tools are used by car manufacturers, lenders, fleet owners and insurers.
BP Ventures, the investing arm of oil and gas giant BP, has announced a €10 million Euro investment in RYD, a German in-car digital payments provider. The fresh funds will help RYD expand its service into international markets and build out its offering.
Ryd's service allows users to lump together online payments for services like fuel purchases, EV charging and car washing via the startup's app or integration with smart car systems.
Ryd will get the benefit of scaling its technology to BP customers across Europe.
Companies to watch
So let's transition to our companies to watch!
Every week we highlight interesting companies in the automotive technology space to keep an eye on. If you read my monthly industry Intel Report, I showcase a few companies each month, and we take the opportunity here on the Friday Five to share some of those companies each week with you.
Today, our companies to watch are Lender Compliance Technologies and HyperSpec.
Lender Compliance Technologies
First up this week is Lender Compliance Technologies.
Lender Compliance Technologies brings together extensive industry experience in lending, recoveries and compliance, and SaaS development to create a compliance-driven technology solutions company focused on the needs of lenders.
Its first product, Refund Control, helps lenders take control of the cancellation and refund process of F&I products and protect against operational errors that can ultimately be found by regulators to violate consumer protection laws. With the regulatory landscape intensifying, LCT is the right tech from the right team at the right time.
Refund Control is the lender-managed cancellation and refund system for loan products that protects your relationships with dealers as well as your bottom line.
Our second company to watch this week is HyperSpec.
HyperSpec is an edge technology company that enables car manufacturers to unlock 95% of roadways for Self Driving.
Autonomous vehicles lack the ability to see, think and act for themselves, but instead rely on high definition maps to inherit pre-encoded context about the environment. This architecture is unable to cope with stale map information or unplanned obstructions.
Right now 97% of roadways are inaccessible to autonomous vehicles because of the limited coverage of high definition maps. This means that outside the boundaries of these high definition maps, the autonomous vehicle will simply not function.
Hyperspec.ai unlocks 95% of Roadways to Autonomy, and enables autonomous vehicles to drive like humans do — on complex urban roads with real time map creation that has the same fidelity and resolution of a HD map.
Hyperspec.ai's edge optimized hardware removes unnecessary data serialization or compression, while reducing latency and accelerating image processing on low power hardware.
——————-
So that's your weekly Friday 5, a quick wrap-up of the big deals in automotive technology over the past week.
It's an exciting time to be in the automotive space, with a ton of deals going on. Make sure you stay tuned in each week to stay up to date on the auto industry's technology M&A activity. I'll keep my fingers on the pulse of deals being done, so I can share updates with you.
If you're an early-stage automotive technology entrepreneur looking to raise money, or an entrepreneur who wants to chat about the best timing and process to sell your company to achieve the best outcome, I'd love to discuss it with you at steve@automotive.ventures.
——————-
People often ask me why I'm affiliated with CBT News.
Besides having an outstanding, extremely talented, and hardworking team up here at the studio, I greatly appreciate the valuable role that CBT News plays in the automotive industry.
Every day, I eagerly look forward to my morning email from CBT News to ensure I'm getting the most up-to-date and relevant information on the industry.
I encourage you to tune in to CBT News to ensure that you're getting the automotive news that matters.
---
Did you miss enjoy this week's episode of The Friday 5? Please share your thoughts, comments, or questions regarding this topic at newsroom@cbtnews.com.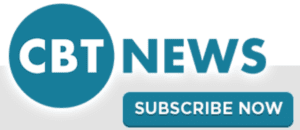 Be sure to follow us on Facebook and Twitter to stay up to date or catch-up on all of our podcasts on demand.
While you're here, don't forget to subscribe to our email newsletter for all the latest auto industry news from CBT News.