Welcome to another edition of The Friday 5 with Steve Greenfield, Founder and CEO of Automotive Ventures, an auto technology advisory firm that helps entrepreneurs raise money and maximize the value of their companies.
It's NADA week, and I'm sad that we weren't all down in New Orleans for the show this week. Quite contrary to what is typical during NADA, there were actually far fewer deals announced this week.
But nevertheless, let's dive right in.
While I proclaimed that 2020 was the Year of the SPAC, or Special Purpose Acquisition Corp, I may have been wrong. We've had an incredible number of automotive-related SPACs hit the market so far this year. And we're only barely into February.
This week, shares of Tortoise Acquisition Corp. II spiked as much as 47% after the SPAC announced a merger deal with the EV charging station manufacturer Volta Charging.
Volta will net $600 million dollars from the transaction including a $300 million investment from BlackRock, Fidelity Investments, and Neuberger Berman that will be used to accelerate the company's charging network buildout.
The combined entity will be listed on the NYSE under the ticker "VLTA" and is valued at over $2 billion dollars.
Microvast, Inc., a maker of electric vehicle battery technology, is going public via a merger with SPAC TUSCAN HOLDINGS LIMITED in a deal with an implied equity valuation of $3 billion dollars.
Upon closing, the combined company will be renamed Microvast Holdings Inc. and will list on Nasdaq under the new ticker symbol "MVST."
The company was founded in 2006 in Houston, Texas, and develops batteries for commercial and specialty vehicles. Its R&D and production capabilities span battery materials, multiple battery cell chemistries, modules and packs. Its batteries are being used in almost 30,000 vehicles in 160 cities and 19 countries, for a total of more than 3.8 billion miles traveled.
The new company will have up to $822 million in cash. The deal is expected to close in the second quarter.
Self-driving car startup Pony.ai raised $100 million dollars in an extension of its series C round. The funds bring the company's total raised to over $1 billion dollars at a post-money valuation of $5.3 billion, up from $3 billion as of February 2020.
Pony's full-stack hardware platform, PonyAlpha, leverages lidar, radar, and cameras to keep tabs on obstacles up to 200 meters from its self-driving cars. PonyAlpha is the foundation for the company's fully autonomous trucks and freight delivery solution, which commenced testing in April 2019 and is deployed in test cars in Fremont, California and in Beijing and Guangzhou in China.
Rivian, the electric-vehicle startup backed by Amazon and Ford Motor Company, is looking to go public as soon as September at a valuation of about $50 billion and perhaps more.
The company's timeline for an initial public offering isn't final and a listing could happen later in the year or even slip into 2022.
Rivian has raised more than $8 billion to date from investors who expect its battery-electric pickup and SUV to perform well in the U.S. market. At a $50 billion valuation, it would likely be one of the biggest IPOs of the year and one of the most noteworthy EV listings since Tesla's 2010 offering.
Finally, data giant Solera is in talks to go public via a merger with SPAC Apollo Strategic Growth Capital.
A deal is expected to value the company at more than it was worth in 2016, when it went private for $6.5 billion, including debt.
Vista Equity Partners acquired Solera in 2016 along with co-investors including Goldman Sachs and Koch Industries. The company currently has $4.8 billion in debt.
Vista Equity also holds DealerSocket, one of the "big three" auto industry CRMs, which include Cox's VinSolutions and CDK's eLead. So we'll be interested to see if this Solera deal somehow involves DealerSocket as well.
Companies to Watch
Every week we highlight interesting companies in the automotive technology space to keep an eye on. If you read my monthly industry intel report, I showcase a few companies each month, and we take the opportunity here on the Friday Five to share some of those companies each week with you.
Today, we'll look at two companies to watch, Robotire and SparkCharge.
Our first company to watch, Robotire, enables robot-driven 15 Minute tire changes. Whether you're a fleet operator, dealership, or independent service center, RoboTire works in nearly all automotive use-cases.
Waiting in a service station waiting room, Robotire founder Victor Darolfi had a simple thought. "If we use robots to put tires on at the factory, Why don't we bring robots into the service industry?"
The notion sparked RoboTire, founded in October 2018. RoboTire has already generated interest in the industry for its ability to change car tires in a fraction of the time of most mechanics.
Robotire can do a set of four tires in 10 minutes. It normally takes about 60 minutes for a human operator to do a set of four. Some technicians can go faster, but they really can't maintain that pace consistently for eight hours a day.
Partnering with Mitsubishi robotics, RoboTire has designed a system which it's looking to license to service centers, dealers and other outlets.
RoboTire anticipates that the robot should generate around $10,000 a month, essentially earning back the cost of a unit in around two years.
The executive plans to manufacture and assemble systems in Detroit, an area with an abundance of automotive and manufacturing talent, but a dearth of job opportunities.
Our second company to watch this week is SparkCharge, a company that has created the world's first mobile and intelligent on-demand EV charging infrastructure.
SparkCharge offers a portable charging unit that is small, ultra fast, and modular. Since the chargers are compact, they can be delivered to an electric vehicle (EV) owner on demand via Uber, Lyft, or AAA. This creates a mobile, on-demand charging infrastructure, allowing EV owners to have their cars charged ultra fast anywhere.
SparkCharge's portable charger is called the Roadie, and also has an on-demand mobile charging app called BoostEV.
SparkCharge got a ton of exposure last year, when they pitched on the season premiere episode of ABC's Shark Tank and received an investment from Mark Cuban.
SparkCharge has grown to create not just portable chargers but also the platform to connect EV drivers with the companies capable of delivering an EV charge on-demand to any location.
---
Did you miss enjoy this week's episode of The Friday 5? Please share your thoughts, comments, or questions regarding this topic at newsroom@cbtnews.com.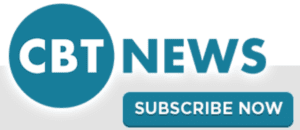 Be sure to follow us on Facebook and Twitter to stay up to date or catch-up on all of our podcasts on demand.
While you're here, don't forget to subscribe to our email newsletter for all the latest auto industry news from CBT News.