The Kerrigan Advisors Blue Sky Third Quarter 2022 report shows a mix of optimism and caution for the automotive market. A new normal is emerging in the post-pandemic market. One that is impacting dealers and investors differently.
The volatility of vehicle affordability for the average car buyer has added to the shift. Kerrigan Advisors looks closely at the buy/sell market, expectations from dealers and Wall Street, and vehicle affordability.
Here are valuable takeaways from the report:
The buy/sell market hasn't slowed
According to Kerrigan Advisors, the buy/sell market hasn't been significantly impacted by the volatility of car sales and demand fluctuations. Dealership acquisitions were up 25% compared to the third quarter of 2021. For the year leading up to September 2022, there were industry-high sales of 439 transactions. In Kerrigan's 2022 Dealer Survey, about 50% are considering adding one or more dealerships to their group in the next 12 months. So, dealers can still acquire other dealerships in this market—a sign of optimism and that they have money to spend.
Dealers and investors see a different outlook
Many dealers did see increased earnings. The average U.S. dealership earned an estimated $4.24 million over a year, a 205% rise compared to pre-pandemic levels. These results have led dealers to carry their optimism into the latter part of 2022 and 2023. Kerrigan's 2022 Dealer Survey showed that 75% of dealers expect revenue to stay elevated this year.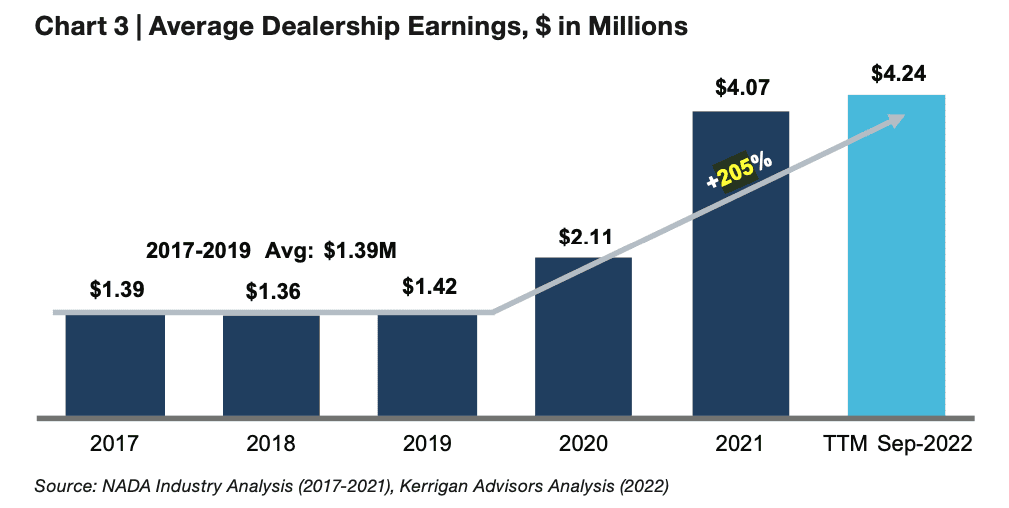 Because of these higher earnings, 80% of dealers think their valuations will increase going into 2023. This is at odds with investors. The Kerrigan Index dropped 25% from March 2022 to November 2022. Private auto retail investors are likely worried about decreasing vehicle affordability, as higher interest rates typically correspond to softer demand.

With interest rates reaching significant highs (interest rates have risen to 6.5% in Q4 of 2022, according to Edmunds), investors and dealers might continue to have differing insights into what 2023 will bring.
Supply discipline may become part of the "new normal"
An interesting trend has started to take place. Typically, dealers may oversupply the market with inventory during a recession, but some trends show this might not happen in 2023. Kerrigan Advisors thinks the past lessons dealers have learned about the need to supply their dealership lots appropriately will help dealers avoid adding too many cars to their inventory.
This can help fight lagging demand, contribute to fewer supply days, and improve dealership margins. Dealership supply discipline could lead to better profitability over the long term in the face of a slowing economy. This may help them still maintain stability in the face of a slowing market.
Final thoughts
For dealers, according to their expectations, the future is bright. Many expect earnings and dealership valuations to stay at their current high or even rise. Because of these expectations, many have considered adding a dealership to their automotive group. Nevertheless, investors feel differently, and affordability is the primary reason why.
Demand typically softens when interest rates rise, and investors expect this to happen in 2023. Inflation and recession worries may also lead to a decrease in car buying. Nevertheless, the silver lining is that many dealers may be able to preserve margins and profitability with more accurate supply numbers.
Be sure to check out the Kerrigan Advisors Third Quarter Report for 2022 for more crucial automotive market insights.
---
Did you enjoy this article? Please share your thoughts, comments, or questions regarding this topic by connecting with us at newsroom@cbtnews.com.
Be sure to follow us on Facebook, LinkedIn, and TikTok to stay up to date.
While you're here, don't forget to subscribe to our email newsletter for all the latest auto industry news from CBT News.