Welcome to another edition of The Future of Automotive, with Steve Greenfield, Founder, and CEO of Automotive Ventures, where I put recent automotive and mobility news items into context, in terms of the broader thematic areas that will potentially impact the industry.
I'm glad that you could join us.
This week we have two notable and newsworthy items out of China.
First up this week, it's growing increasingly probably that we start to see Chinese automakers bring their impressive — and importantly, inexpensive — electric cars to the US. 
I spent a lot of time over in China 15 years ago, and I found the build quality of the cars was pretty sad back then.
Fast forward to current day, and the cars have improved by leaps and bounds, and after many years of threatening to set up shop in America, some of the Chinese OEMs are getting closer to making the move into the US.
As a bit of background, China's EV industry has grown exponentially in recent years. To make a comparison: last year US EV sales hit a new high of 800,000 units, while Chinese consumers bought 5 million EV vehicles.
Another notable item: after many years as global king of EV sales, Tesla is about to lose its crown as the world's largest EV maker to Chinese company BYD. You might recall that BYD is the company into which Warren Buffett's Berkshire Hathaway made an investment.
Remember back to the 1970s, when Japanese car companies like Toyota and Honda entered the US market with affordable and fuel-efficient vehicles, and successfully took market share from the US automakers? More recently, Hyundai, Kia, and other Korean brands have made significant strides in taking additional market share away from the legacy domestic manufacturers.
With the recent inflated prices for new vehicles, and average MSRPs hovering around $50 thousand dollars, we may find that history repeats itself. Chinese EV manufacturers may be able to gain a foothold in the US by coming in with budget-priced vehicles. 
But the road isn't going to be easy.
Political tensions between China and the US continue to dominate the news cycle. Consumers here may be less likely to support Chinese brands than they would Japanese or Korean brands.
And remember that the Trump-era import tariff of 27.5% remains in effect on Chinese cars, and the current administration's Inflation Reduction Act tax credits for EVs favor vehicles built in North America with battery components that don't come from China.
But, for those doubters, keep an eye on Polestar, a Swedish EV brand owned by Geely and Volvo, who is already importing vehicles from China. 
Just this week we saw that Geely has doubled their ownership stake in Aston Martin. 
EV manufacturer NIO, known for their battery swap stations, has announced plans to enter the US by 2025.
Speaking of NIO, our second news item also relates to the Chinese automaker. It appears that we may be on the cusp of EVs with 600 miles of range. Although they won't be coming cheap.
NIO has filed in China for regulatory approval of three electric vehicles that will use batteries by semi-solid-state battery supplier WeLion. 
The new EVs will have 150 kWh semi-solid state battery packs that would give them a promised 600 miles of range.
But, watch your wallet. Apparently, the semi-solid state battery that WeLion is providing costs as much as a small sedan itself, so NIO said it may offer to rent it to its customers for longer trips this summer at its network of battery swap stations.
If NIO is able to enter the US market in two years with a 600 mile battery that's swappable, it could create some serious buzz. I wonder if they'll rely on a franchise dealer network, or elect to sell direct to consumers in this country?
Companies To Watch
Every week we highlight interesting companies in the automotive technology space to keep an eye on. If you read my monthly Industry Intel Report, which you can subscribe to for free, I showcase a few companies each month, and we take the opportunity here on this segment to share some of those companies each week with you.
Today, we have two companies to watch: Coast & BlueDot.
Coast
Our first company to watch this week is Coast.
Coast is the all-in-one card to run your fleet and manage employee expenses.
Coast offers smarter security and controls, remarkable visibility, and optimized spend across your fleet – from fuel to supplies.
The reason that I love Coast is they provide one card for all your driver expenses. Whether you need a fuel-only card or want to expand how your employees can spend on the job, your Coast card flexes to what you need for your business.
You'll find Coast is the most flexible fleet card ever.
You can check out Coast at www.CoastPay.com.
BlueDot
Our second company to watch this week is BlueDot.
BlueDot is also in the credit card space, and simplifies your EV charging payments.
BlueDot allows consumers to use one app to find, pay and access thousands of charging stations. 
Consumers can find charging stations, check availability and get up to 20% cash back. 
EV owners can use the BlueDot card to charge and then earn rewards, track all of their EV expenses on one card, and earn cash back wherever they spend money.
Consumers can shop at nearby stores and earn up to 20% cash back on their purchases at local merchants.
Public charging can be expensive. So BlueDot has created their $0.30 kWh flat fee policy at all stations for BlueDot card owners.
The reason that I love BlueDot is that the EV owner won't have any need for any other app. With the BlueDot app, users can safely make all of their charging decisions, make all of their payments, and charge other EV-related spending, all while saving money in the process.
You can check out BlueDot at www.TheBlueDot.co.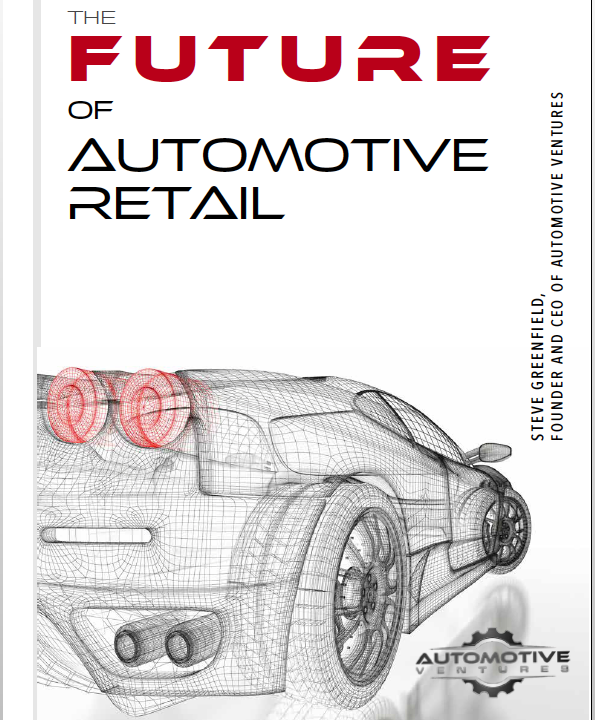 If you're an AutoTech entrepreneur working on a solution that helps car dealerships, we want to hear from you. We are actively investing out of our new DealerFund.
If you're a dealer who wants to invest in early-stage AutoTech companies that benefit your business, let me know. We are still accepting new investors into the DealerFund.
If you're interested in joining our Investment Club to make direct investments into AutoTech and Mobility startups with small checks, join the Club. There is no obligation to start seeing our deal flow.
And don't forget to check out my book, The Future of Automotive Retail, on Amazon.com.
Thank you for tuning into CBT News for this week's Future of Automotive segment, and we'll see you next week!