Dealers across the nation have had mixed reactions to California's ban on the sale of new gasoline and diesel vehicles by 2035. The move could have major business implications for dealers as EVs only make up 2% of auto sales in the current market. Brett Hedrick, Owner and General Manager of Hedrick's Chevrolet, joined us on CBT News to offer perspective on the ban from a California dealer. 
Hedrick begins the conversation by discussing how his team made the best out of a difficult situation when COVID-19 began. Hedrick's Chevrolet shut down for two weeks in accordance with the government mandate to prevent the spread of the virus. After the team returned to the dealership, they began selling vehicles like never before according to Hedrick. The dealership also didn't have to lay off any of its staff through the pandemic. 
"I'm one of those people who doesn't want to add to the unemployment rates," said Hedrick. "I always take an optimistic approach, we got out there, and we kept everyone working. We've got the best team, everyone just did their job, reached out a little bit more, and worked a little bit harder."
Hedrick then gets into the implications of the state's ordinance to ban gas-powered vehicle sales by 2035. Hedrick believes that OEMs such as General Motors will do a good job getting the technology and vehicles in place to meet this order. However, he doesn't agree with Governor Newsom making an executive order that impacts thousands of dealers as well as millions of consumers. 
"What if our consumers don't want electric vehicles in 2035 or that vehicle isn't manufactured to do their job," said Hedrick. "Construction is big here, agriculture is big here, and I would have rather seen the governor say let's join together to reduce emissions and CO2, and make it a step by step program. But he didn't. He said, this is how it's going to be."
Hedrick says he doesn't believe manufacturers, dealers, nor consumers will be ready for EVs exclusively by 2035. 
Hedrick concludes the conversation by discussing how franchise dealers are handling the emergence of electric car makers selling directly to consumers. He says that dealers in the state are very well represented by the California New Car Dealers Association (CNCDA). Hedrick says the CNCDA is constantly working for the dealers in the state to ensure the system remains fair for franchise dealers. 
---
Did you enjoy this interview with Brett Hedrick? Please share your thoughts, comments, or questions regarding this topic with host Jim Fitzpatrick at jfitzpatrick@cbtnews.com.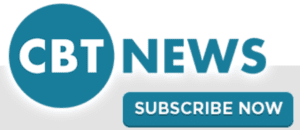 Be sure to follow us on Facebook and Twitter to stay up to date or catch-up on all of our podcasts on demand.
While you're here, don't forget to subscribe to our email newsletter for all the latest auto industry news from CBT News.