Welcome to this week's episode of Used Cars Weekly, the original CBT News show dedicated to bringing car dealers best practices and tips for the used car department, in-depth dealer interviews, hands-on dealership strategies, as well as vendor analysis. Today, host Jasen Rice is joined by John Anderson, Chief Operating Officer for Lotpop.
The pair begin their conversation by discussing some of the hot topics that emerged during a recent 20 group that Anderson attended. One of the biggest challenges that used car departments currently face, is that lesser price point inventory has gone away from the market. Higher-priced inventory is sitting, shopper counts are down, and fresh inventory is bleeding through. Bleed-through meaning that more vehicles between 0 – 30 days old are now aging into 31 – 60 days old. (See Jasen's video on bucket management here)These aging vehicles continue to be a problem for dealers.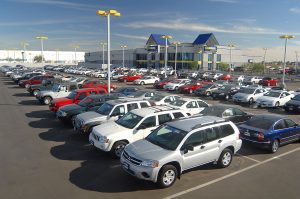 Private-party acquisition is a strategy that many used car managers are having success with. It takes a lot of leg-work, but dealers who commit to it see their average investments go down, while their grosses and sell rates climb. This segues into dealership activity levels or, how many calls, texts, and emails you are getting from customers. The more dealers dive into their internal processes, fix what is broken, and drill down on improvements, the more their activity levels will rise. Another thing to consider, says Anderson, when working with a high activity lead, decrease the amount of time between contact points.
The service and reconditioning departments play integral roles here as well. Due to the shortage of automotive technicians, and an increase in service demand, recently acquired used vehicles are not being merchandised fast enough. So, how do car dealers hire more automotive technicians? Some dealers are now advertising open positions on stickers, seriously. Technicians will leave these stickers on the oil filter of the car, and if that customer were to go to Jiffy Lube or Pep Boys for service, those technicians will see the signing bonus offer. This is just one of the many ways car dealers continue to think outside the box.
Other car dealers have started doing appraisals in the service lane. There are many ways to do this. One dealer told Anderson that, after service is complete, they leave a hanging tag with an offer. These fixed-ops strategies combined with private-party acquisition, and strong used inventory bucket management, will position dealers for success throughout this year.
---
Did you enjoy this episode of Used Cars Weekly? Please share your thoughts, comments, or questions regarding this topic by submitting a letter to the editor here, or connect with us at newsroom@cbtnews.com.
Be sure to follow us on Facebook and Twitter to stay up to date or catch up on all of our podcasts on demand.
While you're here, don't forget to subscribe to our email newsletter for all the latest auto industry news from CBT News.