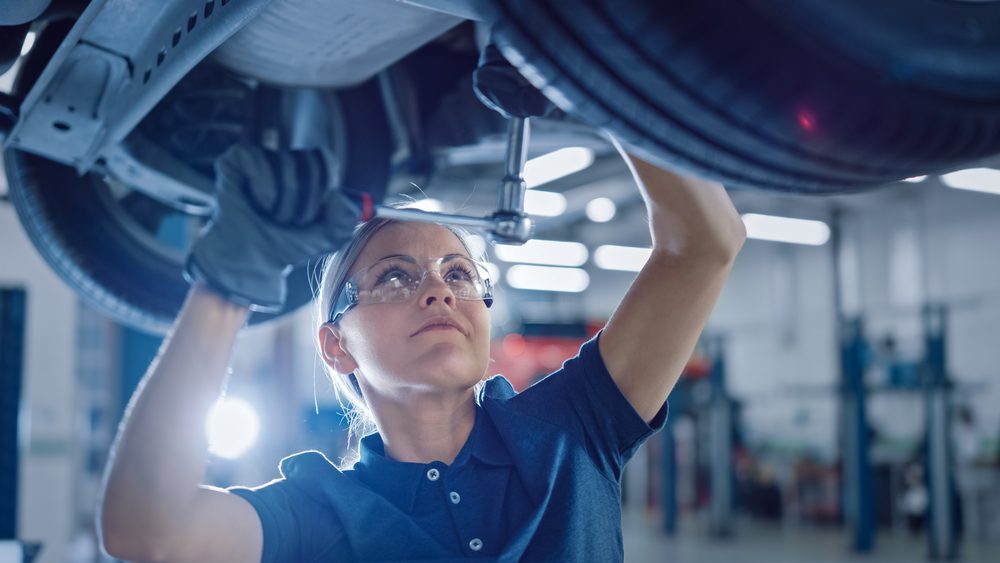 One study reveals that a little over 26% of the workforce in the automotive industry, including manufacturing, are roles held by female employees. With this in mind, what is your strategy to attract, hire and retain women? Having more female employees on staff in all positions including leadership roles will result in higher profits overall, give your business a strategic market advantage and increase your overall employee retention. Working towards "gender-parity" will also result in attracting, selling, and retaining more women customers.
Efforts to achieve equality benefit us all. Diversity leads to stronger business results, as numerous studies have shown. When the most talented people can rise to the top, regardless of what they look like and where they're from, we all end up winning.
Create a female-friendly culture
Previous poor treatment and lack of respect for female job candidates, or women customers, for that matter, leave a negative, lasting impression on how women perceive our industry. It's hard to believe that at some dealerships, women customers are still greeted with a detestable statement like: "Is your husband with you today?" Commit to providing a consistent Female-Friendly culture and experience.
Provide ongoing training
There is an increase in the number of women interested in pursuing automotive careers. Work with your local automotive trade schools and high school career fairs and apprenticeship programs, provide scholarships for women and offer to include ongoing training and education with financial support for tuition factored into your compensation plans. This will give you a competitive advantage in hiring and retaining female employees and in fact all new employees.
Create a career path
Re-examine the positions in your company that can effectively interest and challenge women and encourage not only their entry into the industry, as well as their interest in making it a career.
Offer flexible schedules
Consider not just the primary financial needs of full- and part-time female employees, consider their family and personal needs as well. Millennial men and women with children both want more the same things; flexible time to participate in their children's school events and after-school activities.
Mentorship
Make a commitment as an owner to formally mentor female employees. Invest in their careers by sending them to conferences like the Women in Automotive Conference and Women in Auto Care conferences. These organizations provide mentoring as well as the opportunity to learn and network with other women building a career in our industry.
Make her part of the team
Shake off the old "but we've always done it this way" mantra and try new methods. Explore new realistic ways to meet female employees' needs. Challenge and eliminate those ideas and procedures that have been used forever, and have failed.
Listen
Her female perspective is essential to your business. Ask for her opinion and listen when conducting job interviews and if hired keep an open mind. You may be surprised at the great insights on marketing, selling, serving, and communicating better with female customers she can provide to you and your team.
Support women in your local market
A strong message to your local market of available female employees for hire is to support women's groups like GSUSA, NAWBO, the National Association of Women Business Owners, and other local charities that support women's issues or health concerns. Networking with and supporting women in your local market creates an important hiring pool.
Include this in help wanted ads
When placing advertising for new hires you need to fish where the fish are. Carefully craft job descriptions to include mentions of previous job experience wanted at businesses women generally have had work experience in your local market. This sends a strong signal to female job seekers, "women welcome here". Run these help-wanted ads where women will see them not in the "Automotive Only Section".
Highlight her role
Feature your female employees, including photos, profiles, roles, and responsibilities on your social network page. Again you will be telling a great story to potential female customers and employees, that you value women. Women spend three times more per day than men do on social networks. Facebook ads that tell this story aimed specifically at women, can be a very good way to advertise and promote ads to female job seekers.
Make a commitment to attract hire and retain more female employees and make "gender-parity" a strategic goal.
---
Did you enjoy this article from Jody DeVere? Read other articles on CBT News here. Please share your thoughts, comments, or questions regarding this topic by submitting a letter to the editor here, or connect with us at newsroom@cbtnews.com.
Be sure to follow us on Facebook and Twitter to stay up to date or catch-up on all of our podcasts on demand.
While you're here, don't forget to subscribe to our email newsletter for all the latest auto industry news from CBT News.