Welcome to another edition of The Friday 5 with Steve Greenfield, Founder and CEO of Automotive Ventures, an auto technology advisory firm that helps entrepreneurs raise money and maximize the value of their companies.
Over the past year we've seen a blurring of lines between the wholesale and retail spaces of the automotive landscape, as historical silos are collapsing. In that same theme, we've witnessed two back-to-back acquisitions in the wholesale space that underscore that the auction players are breaking down historical partitions.
ACV Auctions announced its acquisition this week of MAX Digital, a pioneer in automotive data and merchandising products and best known for its flagship inventory management system FirstLook.
The transaction is valued at $60 million.
MAX Digital's SaaS-based software products enable dealers to accurately price wholesale and retail inventory while maximizing profit on each vehicle sold by leveraging predictive analytics.
This acquisition allows ACV to expand its suite of digital capabilities to offer new inventory and pricing guidance, merchandising and sales enablement tools that will help dealers run their businesses more efficiently and profitably. MAX Digital joins ACV's growing network of brands that includes ACV Auctions, ACV Transportation, ACV Capital, and True360.
Inventory Management products, like MAX Digital's FirstLook solution, are used by dealers to help run appraisals and examine inventory to determine how to price vehicles for sale, whether for wholesale or retail. Merchandising products support dealers in effectively promoting, positioning and selling their retail vehicles.
The MAX Digital news comes on the back of news last week that auction company The XLerate Group acquired Liquid Motors. That combination will help serve consignors and buyers, both digitally and in-lane. Liquid Motors provides "One Click" wholesale auction management tools for auto dealers to easily and efficiently market their vehicles across most major online wholesale marketplaces.
I expect the Wholesale auction and remarketing space to continue to be active in the coming months, from an M&A standpoint.
Investments and acquisitions in the Digital Retailing segment continue to be hot.
This week, PureCars announced its acquisition of truPayments, in a move meant to solidify its commitment to helping dealers thrive by expanding its marketing technology and services suite to include personalized payment shopping.
Financial details of the deal were not disclosed.
PureCars' tools are designed to optimize media buys to achieve lower ad costs per unit sold and per RO, resulting in increased profitability for dealerships. Meanwhile, truPayments' solutions are geared to convert shoppers earlier in the buying process, further reducing advertising costs for dealerships, while providing an improved buying experience for their customers.
PureCars highlighted the acquisition of truPayments will add even more payment data to PureCars' data warehouse, enabling dealers to serve payment-relevant ads to shoppers, and convert those shoppers to buyers, earlier in their buying journey, further reducing dealer ad costs per unit sold.
PureCars said dealers will be able to more quickly and efficiently match in-market shoppers with their inventory at exactly the right payment.
The whole digital retailing space has been red hot this past month, as we witnessed Roadster selling to CDK Global, and Gubagoo selling to Reynolds & Reynolds, and then Darwin Automotive to JD Power.
I expect that M&A in the Digital Retailing space will continue to be active in the coming months.
Spectrio, one of the nation's leading providers of customer engagement technology, announced that it has acquired Automotive Broadcasting Network, an auto dealership digital signage company based in Jacksonville, Florida.
Details of the transaction were not disclosed.
With the addition of ABN's client base to Spectrio's footprint in dealerships, auto care, and aftermarket retail, Spectrio is now the largest digital signage software provider in the automotive industry.
ABN's digital engagement platform allows auto dealerships to showcase their brand while entertaining and educating customers and building emotional engagement throughout the buying experience. Utilizing an array of strategically-placed digital signage, menu boards, and video walls, the ABN team helps clients create cross-sell and up-sell opportunities, take advantage of dwell time, and make the maximum impact on potential customers.
Lacuna Technologies, a startup that helps cities create and enforce transportation policies by building and managing open-source digital tools, has raised $16 million dollars in a Series A round, bringing the company's total investment to $33.5 million dollars.
Since the startup was founded in 2018, Lacuna has invested in helping cities like Los Angeles, Seattle and Miami build digital twins — or software models of real world cities – including all forms of mobility from delivery to rideshare to drones to regular traffic.
City planners and transportation agencies can use these models to monitor the current environment and implement new regulations, as well as run simulations to provide a clearer picture of how certain policies could address congestion, pollution, accessibility and safety.
While cities focus on real world public right of way, including all the street connections, speed limits and parking rules, new mobility companies like Uber or FedEx are building up digital models of cities and operating their businesses on top, and the city has no way of accessing them.
Lithium-metal battery supplier SES Holdings said it planned to go public through a merger with Ivanhoe Acquisition Corp., a publicly listed special-purpose acquisition company, or SPAC.
The companies valued the combined entity at $3.6 billion dollars.
Proponents of lithium-metal batteries for electric vehicles see the technology as an option that could slash battery costs and ramp up energy density, compared with the current battery technologies in use.
The deal takes place against a backdrop of roaring interest in EV battery chemistry as automakers lay out their plans to electrify.
SES, of Singapore, formerly known as SolidEnergy Systems, in 2015 caught the eye of General Motors, which is now an investor.
Other investors include Hyundai Motor Company, Kia Motors and Chinese automakers GEELY Holding Group and SAIC Motors.
In international news this week, Caura, the London-based vehicle management platform raised $4.2 million in funding to develop its application and integrate with in-car infotainment systems.
TwinFocus Capital Partners led the seed round but, among the other funds and angels investing, were InMotion Ventures, the corporate venture arm of Jaguar Land Rover, whose vehicles will be the first to benefit from Caura's seamless integration.
First launched as an iOS app in 2020, Caura aims to remove many of the pain points from vehicle ownership. The application currently offers two products. Caura Protect partners with a range of insurers to manage vehicle and driver insurance, while Caura Drive manages the payments of various charges and tolls the driver might incur. The app manages all payments via Apple Pay or a registered credit card, offering drivers a fully integrated solution.
Autonomous driving startup Freetech Intelligent Systems raised more than $100 million in a Series A round from investors including China Internet Investment Fund, Huiyou Capital, and Dongfeng Bank of Communications.
The funds will mainly be used to scale the production of Freetech's solutions, which encompass vehicle perception and control through the use of cameras, radar, and sensors.
Established in 2016, Freetech supplies its intelligent driving products to over 40 OEMs.
Keyloop, the former international division of CDK Global, has completed the acquisition of digital automotive retail documents specialist MotorDocs as it aims to become the sector's leading technology provider.
MotorDocs helps dealers transform performance through innovative and intelligent digital document solutions. They develop cloud-based platforms that improve efficiencies, compliance, profitability, customer experience and environmental impact.
This is the third acquisition for Keyloop since its own acquisition and rebranding by Francisco Partners in March. Keyloop's other two acquisitions were enquiryMAX and RAPID RTC.
Cox Automotive in the UK has acquired FleetMaster Software, founded in 2011, a cloud-based fleet software business that counts rental companies, dealerships and automotive manufacturers among its clients.
The deal enables Cox Automotive to further expand its capabilities to customers and prospects in Europe seeking to access mobility services across international market.
Following the acquisition, FleetMaster will be integrated into Cox Automotive Mobility.
Mobility is a huge growth area and presents a significant opportunity for Cox Automotive, who has made several strategic acquisitions over the past few years in this sector. The acquisition of FleetMaster is a clear indication of Cox Automotive's intent to significantly extend their mobility capabilities in Europe.
Indian full-stack used car retailing platform Spinny has raised over $100 million dollars in its Series D round led by Tiger Global Management. The D round has come after the company raised $65 million dollars in a Series C round in April of this year.
Other investors in the round include Avenir Growth Capital, General Catalyst, FJ Labs and GC DF Ventures.
Spinny was reportedly in talks to raise fresh funds at a valuation of $800 million, which is not surprising as it had raised the last round at over $350 million valuation.
The six-year-old company has raised over $220 million dollars.
Company to Watch!
Every week we highlight interesting companies in the automotive technology space to keep an eye on. If you read my monthly industry Intel Report, I showcase a few companies each month, and we take the opportunity here on the Friday Five to share some of those companies each week with you.
Today, our company to watch is Dollaride.
Dollaride, founded in 2018 by entrepreneur Su Sanni, is located in Brooklyn, NY.
Dollaride provides an innovative technology platform that connects people living in transit deserts to private ride-sharing networks. Dollaride is the glue that connects operators, drivers, and passengers through the first digital platform for informal transit. Dollaride's service provides ridesharing technology to drivers and passengers who enjoy commuter van service in NYC.
Originating in the 1980s, commuter vans (also known as "dollar vans"​) now provide local transportation service to over 120,000 New Yorkers every day.
Dollaride's service provides ridesharing technology to drivers and passengers who enjoy commuter van service in New York City, and has a wide application to business use cases, as well as cities outside of New York, and internationally.
————
So that's your weekly Friday Five, a quick wrap-up of the big deals in automotive technology over the past week.
If you're an early stage automotive technology entrepreneur looking to raise money, or an entrepreneur who is trying to decide whether and when they should raise money or sell their business, I'd love to speak with you.
——————-
So that's your weekly Friday 5, a quick wrap-up of the big deals in automotive technology over the past week.
It's an exciting time to be in the automotive space, with a ton of deals going on. Make sure you stay tuned in each week to stay up to date on the auto industry's technology M&A activity. I'll keep my fingers on the pulse of deals being done, so I can share updates with you.
If you're an early-stage automotive technology entrepreneur looking to raise money, or an entrepreneur who wants to chat about the best timing and process to sell your company to achieve the best outcome, I'd love to discuss it with you at steve@automotive.ventures.
——————-
People often ask me why I'm affiliated with CBT News.
Besides having an outstanding, extremely talented, and hardworking team up here at the studio, I greatly appreciate the valuable role that CBT News plays in the automotive industry.
Every day, I eagerly look forward to my morning email from CBT News to ensure I'm getting the most up-to-date and relevant information on the industry.
I encourage you to tune in to CBT News to ensure that you're getting the automotive news that matters.
---
Did you miss enjoy this week's episode of The Friday 5? Please share your thoughts, comments, or questions regarding this topic at newsroom@cbtnews.com.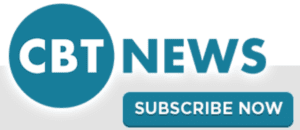 Be sure to follow us on Facebook and Twitter to stay up to date or catch-up on all of our podcasts on demand.
While you're here, don't forget to subscribe to our email newsletter for all the latest auto industry news from CBT News.