Welcome to another edition of The Friday 5 with Steve Greenfield, Founder and CEO of Automotive Ventures, an auto technology advisory firm that helps entrepreneurs raise money and maximize the value of their companies.
First up this week, Exeter Finance, the indirect auto finance company, is being acquired by an investor group led by Warburg Pincus from funds managed by Blackstone. Terms of the private transaction were not disclosed.
Exeter is an indirect auto lender with a managed loan portfolio of more than $7 billion dollars. The company underwrites, purchases, services, and securitizes retail installment contracts from more than 11,000 auto dealers and 475,000 customers nationwide.
Warburg Pincus is a long-time, active investor in the auto industry across a variety of verticals including auto lenders, rental car providers, e-commerce distribution, and software platforms.
Driven Data has announced its series seed B investment of $4.5 million led by entrepreneur and private investor Rick Gibbs and JH Capital.
Automotive dealers heavily rely on third-party data to target and track consumers and drive revenue, but with privacy concerns and dissolving support for third-party cookies, they are going to have to find another way to market. Driven data has been working behind the scenes for the past three years to solve this issue by building a hyper-personalized, open integration marketing platform that seamlessly integrates first-party data from multiple sources.
Cabana, a travel-tech startup reinventing how travelers get out and explore through its luxe mobile hotel experience, has secured $10 million dollars in series A financing. The company has designed and built a fleet of upscale custom-made mobile hotel rooms to give travelers the freedom to travel and sleep where they want and when they want.
Craft Ventures and Goldcrest Capital led the funding round, with Launch, Castor Ventures, Gaingels, and Nordic Eye Venture Capital joining the round as well.
Joyride, a company that provides white-label apps, back-end analytics, and multimodal fleet management for shared micro-mobility startups, has raised $3.7 million dollars in seed money that it says will help it reach a greater number of small, local operators.
Joyride operates in more than 160 markets in every continent other than Antarctica.
BP Ventures has invested $7 million dollars in smart EV charging firm, IoTecha Corp, leading a $13.2 million dollar investment round. The start-up uses internet-of-things technology to connect EV chargers with the grid, optimizing the charging process and enabling automated payments. It allows electric vehicles from any manufacturer to communicate seamlessly with charging stations to signal when they need recharging. The platform also gathers information over time to identify patterns and energy requirements of each user.
BP reportedly aims to provide over 70,000 public EV charging points worldwide by 2030 and says the investment in IoTecha is in line with this target.
Electra Vehicles closed an oversubscribed seed round of $3.6 million dollars led by the Italian investment group Liftt and Blackberry.
Other investors include Club Degli Investitori, Massachusetts Clean Energy Center, Hyperplane Venture Capital, Prithvi Ventures, Launchpad Venture Group, and Tie Boston Angels.
Electra's flagship product is eve-ai 360 adaptive controls, an ai-based software that optimizes the performance of battery systems on any vehicle in the e-mobility space.
DriveItAway, which offers automotive dealer mobility platforms, and a rent-to-own car dealer technology, has taken an undisclosed investment from Knightsgate Ventures.
DriveItAway's "try it before you buy it, pay as you go" turnkey platform for dealers may be the only way for those that are down payment or credit-challenged to purchase the used vehicle of their choice, as every subscription payment accumulates towards the down payment at a prearranged purchase price established at the beginning of the process. The platform appeals to all potential used car buyers, who would like to try a used car out for an unlimited period of time, before making any purchase commitment.
EV startup Electric Last Mile Solutions merged with SPAC, Forum Merger lll Corporation and shares of the combined company began trading on the Nasdaq under the symbol ELMS on Monday.
Lendbuzz, a fintech company focused on car loans, has raised a $60 million dollars in series C equity financing led by Wellington Management joined by Goldman Sachs and MUFG Innovation Partners, as well as existing investors including 83north, O.G. Tech, Arkin Holdings, Mivtach Shamir and Highsage Ventures, and $300 million dollars in debt financing led by Goldman Sachs, joined by Viola Credit.
Lendbuzz provides car loans to people who don't have a U.S. credit history or FICO score and makes money by charging customers with interest on loans. A machine learning platform evaluates applicants based on their employment history and their educational background. Approved applicants can either receive their loans directly or redirect the funds to one of the 300 car dealerships nationwide partnering with Lendbuzz.
In international news this week, CredR, an Indian consumer brand for used motorcycles, raised $6.5 million dollars in its latest round led by Yamaha Motors and existing investors Omidyar Network India and Eight Roads Ventures with participation from automotive-focused Astarc Ventures.
The funding will be used towards consolidating its market position, strengthening its technology platform, and expanding customer offerings.
Founded in 2015, CredR has been focused on formalizing the unorganized and fragmented used two-wheeler market, with over 100,000 dealers, across India.
LocoNav, an India-based startup that is helping drivers and fleet owners in over two-dozen nations run their vehicles more efficiently and save money, has raised $37 million dollars in a series B financing round. Investors include Quiet Capital, Anthemis Group, Foundamental, Sequoia Capital India, Rit Capital Partners, Uncorrelated Ventures, and Village Global. The new financing round brings the to-date raise of LocoNav to $47 million dollars.
Over half a million vehicle and fleet owners in 25 nations use LocoNav's platform today, which uses ai to help them manage their fleet operations, keep a watch on performance, and improve efficiency.
Companies to Watch
Every week we highlight interesting companies in the automotive technology space to keep an eye on. If you read my monthly industry intel report, I showcase a few companies each month, and we take the opportunity here on the Friday 5 to share some of those companies each week with you.
Today, our companies to watch are Blyncsy and Wrapmate.
First up, we have Blyncsy, which was founded in 2015, and is located in Salt Lake City, Utah.
Blyncsy is a movement and data intelligence company, that through the power of big data and location analytics, helps its customers understand how connected devices are moving throughout an environment. Blyncsy's powerful platform assists departments of transportation, cities, and other private and public entities to better understand the habits and trends of people.
Their solutions crowd-source intelligence on the condition of roads, based on collecting data from in-car cameras. As a result, the department of transport can efficiently both identify traffic patterns as well as where roads need repair.
Our second company to watch this week is Wrapmate, founded in 2018 and located in Greenwood Village, Co.
Wrapmate is an end-to-end digital platform for consumers to get their graphic projects designed, printed, and installed.
Utilizing Wrapmate's advanced technologies, customers can create and visualize a unique vehicle graphic like never before. Wrapmate supports a network of top certified graphic professionals known as Wrapmate pros, providing them with vehicle wrap customers and tools to help manage their projects.
Wrapmate provides quality vehicle wraps designed and installed anywhere in the U.S.
——————-
So that's your weekly Friday 5, a quick wrap-up of the big deals in automotive technology over the past week.
It's an exciting time to be in the automotive space, with a ton of deals going on. Make sure you stay tuned in each week to stay up to date on the auto industry's technology M&A activity. I'll keep my fingers on the pulse of deals being done, so I can share updates with you.
If you're an early-stage automotive technology entrepreneur looking to raise money, or an entrepreneur who wants to chat about the best timing and process to sell your company to achieve the best outcome, I'd love to discuss it with you at steve@automotive.ventures.
——————-
People often ask me why I'm affiliated with CBT News.
Besides having an outstanding, extremely talented, and hardworking team up here at the studio, I greatly appreciate the valuable role that CBT News plays in the automotive industry.
Every day, I eagerly look forward to my morning email from CBT News to ensure I'm getting the most up-to-date and relevant information on the industry.
I encourage you to tune in to CBT News to ensure that you're getting the automotive news that matters.
---
Did you miss enjoy this week's episode of The Friday 5? Please share your thoughts, comments, or questions regarding this topic at newsroom@cbtnews.com.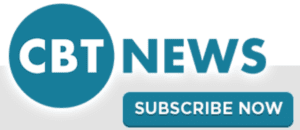 Be sure to follow us on Facebook and Twitter to stay up to date or catch-up on all of our podcasts on demand.
While you're here, don't forget to subscribe to our email newsletter for all the latest auto industry news from CBT News.