Welcome to another edition of The Friday 5 with Steve Greenfield, Founder and CEO of Automotive Ventures, an auto technology advisory firm that helps entrepreneurs raise money and maximize the value of their companies.
The markets remain strong, which is fueling a lot of merger and acquisition activity.
Globally, an all-time record of $1.77 trillion dollars in M&A transactions were announced through the first four months of 2021. That's up a whopping 124% compared to last year, and it's 10% higher than the first four months of any other year on record. 
Why is M&A so strong? Corporate investors and private equity firms are sitting on mountains of dry powder and looking for places to spend it. Interest rates are at record lows, launching a hunt for yield. A firehose of stimulus funding has flooded the globe. A surging stock market is driving investor confidence. And many potential deals that were postponed by the onset of the pandemic are now making their way to market, creating more targets than ever.
Let the good times roll. 
——————-
The automotive market continues to run red hot, fueled by stimulus outlays while mostly avoiding the impact of falling inventories from tight chip supplies. 
The seasonally adjusted, annualized rate (or SAAR) of new vehicle sales for April was 18.5 million, well above forecasts and an all-time high for the month.
The global microchip shortage has now idled Ford plants in Mexico. General Motors is also being forced to idle production of one of their top-selling models, the Equinox, at its manufacturing facility in Ontario for two months.Toyota had to halt Rav4 and Lexus RX production at their facility in Ontario due to a COVID-19 outbreak at a supplier's plant.
Wholesale values continue to rise in the auction lanes. With the ongoing new inventory shortage, the availability of used units is expected to remain tight throughout the summer, especially with rental and fleet companies holding their units in service longer. We're hearing some stories of used cars selling for more than their original MSRP.
And with that, let's jump into the technology deals of this past week.
RateGenius and AUTOPAY have agreed to merge to create a diversified consumer marketplace for automotive finance and refinance.
The combined company creates a differentiated experience for its marketplace participants; consumers get access to one of the broadest lending marketplaces through an end-to-end digital lending process, while channel partners and lenders benefit from aggregated loan supply and demand via APIs and embeddable co-branded and white labeled user experiences.
The Companies employ over 500 team members in their Austin and Denver hubs who are all driven to reduce the cost of borrowing for their customers. Working with over 180 lenders, in all 50 states, the companies will facilitate over $2 billion in automobile financing in 2021.  
Auction Frontier
KAR Global has acquired Auction Frontier, the developer of the Velocicast cloud-based auction simulcast solution, for $80 million in cash and up to an additional $15 million contingent on certain terms.
Velocicast powers KAR's own ADESA Simulcast and Simulcast+ platforms and also provides the technology behind the simulcast sales of more than 300 wholesale and retail auctions throughout North America and Australia.
In electric vehicle technology news, IRP Systems, a maker of innovative electric powertrains for electric vehicles, raised a $31 million dollar Series C funding round, bringing its total funding to $57 million dollars.
The financing was led by Clal Insurance and Altshuler Shaham, which are Israeli institutional investors. Also participating was Samsung Ventures, Renault-Nissan importer Carasso Motors and Shlomo Group, as well as existing investors such as Entrée Capital, FOSUN RZ Capital and JAL Ventures Fund.
IRP Systems supplies a whole host of EV manufacturers, including Renault. Its electric powertrain claims to have a high performance and efficiency while reducing the weight, size and overall cost of the powertrain in electric vehicles of several sizes.
IRP Systems will use the new case to scale the development of its systems for EVs and reduce the path to mass production, expand R&D, operations and customer support and make a push on global sales and marketing.
In Battery news, Solid Power, an industry-leading producer of all solid-state batteries for electric vehicles, announced a $130 million dollar Series B investment round led by the BMW Group, Ford Motor Company and Volta Energy Technologies. Ford and the BMW Group have also expanded existing joint development agreements with Solid Power to secure all solid-state batteries for future electric vehicles.
The investment positions Solid Power to produce full-scale automotive batteries, increase associated material output and expand in-house production capabilities for future vehicle integration. The BMW Group and Ford aim to utilize Solid Power's low-cost, high-energy all solid-state battery technology in forthcoming electric vehicles.
Solid Power has demonstrated its ability to produce and scale next-generation all solid-state batteries that are designed to power longer range, lower cost and safer electric vehicles using existing lithium-ion battery manufacturing infrastructure.
In Autonomous Vehicle news, Self-driving truck startup Plus is in talks to merge with special purpose acquisition company Hennessy Capital Investment Corp 5, making it the latest autonomous vehicle maker seeking to go public via a blank-check firm.
Sequoia Capital-backed Plus is set to have a valuation of more than $3 billion and raise $500 million to $600 million through the deal, which includes proceeds from the SPAC and new equity raised. BlackRock — already a Hennessy investor — is discussing putting in more money through a so-called private investment in public equity, or PIPE.
In international news, Bolt, the Estonian firm best known for its ride-hailing business, has launched a car-sharing service in Europe as it looks to diversify its revenue streams.
Like Zipcar and Drivy, Bolt Drive will allow customers to rent a car on demand for a brief period via the Bolt app, which can also be used to hail a taxi, rent bikes and e-scooters, as well as to order food.
Bolt said it is going to invest 20 million euros ($24 million dollars) into launching Bolt Drive in Europe this year, starting with a pilot in the Estonian capital of Tallinn where it is headquartered. Bolt Drive will launch in several other European markets this year if the Tallinn pilot is successful.
The pilot will feature 500 vehicles.
Company to Watch
Every week we highlight interesting companies in the automotive technology space to keep an eye on. If you read my monthly industry intel report, I showcase a few companies each month, and we take the opportunity here on the Friday Five to share some of those companies each week with you.
Today, our company to watch is Crispify, founded in 2018, and located in Tel Aviv, Israel.
Crispify is a cutting edge in-cabin air quality management solution. It is designed to offer car manufacturers, fleet operators, ride-sharing services and future autonomous vehicle transportation the healthiest ride possible. 
The automotive industry has made tremendous technological strides over the past decade, evolving into hybrid, electric and even autonomous vehicles capable of self-navigation. But existing vehicle HVAC and climate control systems are not up to par, relying largely on yesterday's technology without fully utilizing the power of data science and AI.
Crispify has the power to transform any climate control system into a state-of-the-art fully automated smart air filtration solution, thus, enabling drivers and passengers an exceptional user experience in terms of wellness, comfort and safety.
Crispify's AI-powered air monitoring and analyzing platform harvests data from inside and outside the vehicle to deliver unmatched in-cabin air quality while keeping fleet managers informed.
——————-
So that's your weekly Friday 5, a quick wrap-up of the big deals in automotive technology over the past week.
It's an exciting time to be in the automotive space, with a ton of deals going on. Make sure you stay tuned in each week to stay up to date on the auto industry's technology M&A activity. I'll keep my fingers on the pulse of deals being done, so I can share updates with you.
If you're an early-stage automotive technology entrepreneur looking to raise money, or an entrepreneur who wants to chat about the best timing and process to sell your company to achieve the best outcome, I'd love to discuss it with you at steve@automotive.ventures.
——————-
People often ask me why I'm affiliated with CBT News.
Besides having an outstanding, extremely talented, and hardworking team up here at the studio, I greatly appreciate the valuable role that CBT News plays in the automotive industry.
Every day, I eagerly look forward to my morning email from CBT News to ensure I'm getting the most up-to-date and relevant information on the industry.
I encourage you to tune in to CBT News to ensure that you're getting the automotive news that matters.
---
Did you miss enjoy this week's episode of The Friday 5? Please share your thoughts, comments, or questions regarding this topic at newsroom@cbtnews.com.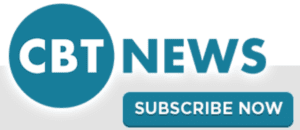 Be sure to follow us on Facebook and Twitter to stay up to date or catch-up on all of our podcasts on demand.
While you're here, don't forget to subscribe to our email newsletter for all the latest auto industry news from CBT News.