On this week's episode of F&I Today, Becky Chernek explains how what you are doing with your subprime deals will make a difference selling more cars and increasing F&I profits.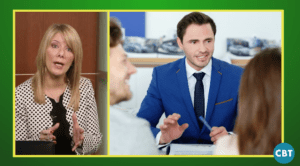 Video Transcription:
Welcome to F&I Today I'm your host Becky Chernek.  What you are doing with your subprime deals will make a difference selling more cars and increasing F&I profits.  Often times we miss out on opportunity by not getting that second eye –two heads are always better than one! How many actually facilitate a Make a Deal Meeting at least three times a week?  Go over the deals that have been delivered profit earned or the ones that are still being worked conditioned or declined?  Did your F&I manager take the time to meet with the customer firsthand to review the customer's pay back history – find the reasons behind the slow pay history?  What happened, what's changed and why it won't happen again? Get the story from the customer to sell to the bank. Instead of relying on the sales person to gather the information for you. Believe it or not the story will always sell the customer to the bank as long as you have everything else in order. Your bank wants to buy your customer give them a reason to do it.  Confirm the POI validate the spelling and primary address of the customer – does the customer driver's license match the credit application?  Is there anything that will prevent you from obtaining approval that can be eliminated?  The worst thing you can do is submit the deal to the bank that hasn't been properly vetted. This is why I'm so against the sales manager submitting deals to the bank that hasn't been extensively reviewed instead these deals are shot gunned everywhere.  This practice only causes more headaches and the likelihood of the deal getting conditioned or stipped by the bank for approval. Banks are not buying like they once did even eight months ago and are now conducting interviews and validating the customer information for accuracy so mistakes will cost you big here! Is the customer on the right car, is the advance and PTI within in bank guidelines?  Have you verified the customers income and time on job and additional earnings? Is the customer able to come up with additional down payment did you verify the trade payoff does the customer have full coverage insurance?  Knowing your bank guidelines inside and out will be the key factor to resurrecting a dead deal and or getting more conditioned deals approved and maximizing your profits.
If the customer is landed on the wrong vehicle the advance is 130% or more and or the PTI is over 50% on a FICO score of 620 and below what makes you think you have a deal – quit trying to put a square peg into a round hole. Throwing deals into the F&I office and hoping they stick won't sell more cars or increase your profits! Once in a while you might get lucky and get a mind deal bought but for all those other deals you sling into the F&I office it takes away from the deals that should get bought. So, if you happen to get the loan approved, the buyer was asleep at the wheel – I love it when that happens or get one of those gifts, will your customer agree to the payment?  I can't begin to tell how many times we lose out on a deal or our profits are sucked out of the deal just because we didn't take the time to review the customer payment budget. Get an idea of the payment before landing the customer on the car, it doesn't have to be exact.  For example, just because the customer can get an approval for $25,000 dollars out the door with Santander doesn't mean they will swallow the payment at an interest rate of 24% for 60 months. We automatically assume since the customer has this slow pay history they are going to be ecstatic about taking delivery of the vehicle than worry about what the payments are.  First of all, this is just stupid, you leave too much to chance and customers today won't buy into it – they are buyers, just like everyone else! You really need to consider the customer payment concerns earlier on in the process assure that the customer can afford the payments then a possible repo 8 – 12 months down the road. By stuffing customers into vehicle's they can't afford is short lived and the likelihood of jeopardizing your hard earned reputation, it's just bad business. Think about it this way, if the customer can manage the car payment that includes valuable products such as a service contract, tire and wheel and gap, chances they'll be much happier, and will be back buying their next vehicle from you, and as you know, repeat business is the best business! So, before you sling deals into the F&I office on a shoe string and a prayer does it really have merit – have you conducted a credit needs analysis – verified all the information with the customer.  Do you have the story down pat to sell to the bank?  Are you meeting with the sales manager to determine if the customer is on the right car they can afford while maintaining an adequate profit margin?  Is your F&I manager up at the desk working deal with your sales manager when possible, if not, why not, as I said earlier, two heads are always better than one and especially when the sales manager has no prior F&I experience (and why that happens today is beyond me. Not knowing your bank guidelines will drastically cut back on how many deals you're able to put together and the profit earned. As Dale Pollack points out in his new book Like I See It – your future success is about the customer engagement and the chance to make a positive impact on the overall buying experience. Keep doing what you have been doing and expecting a different result assures complacency and your ability to stay relevant and competitive in the marketplace. Track every single deal that makes its way into the F&I office the deals that have been approved, conditioned and declined.  Make it a point to review those transactions in the Make A Deal meeting on a regular basis to help critique and challenge yourself to obtain better ideas to get more deals approved align your business practices with your banks relationships will help you to sell more cars and reach higher levels of success. Be upfront be transparent create a win-win for you and your customer be intuitive and make it a point to map out a process that assures consistent practices is being implemented 100% of the time!
Thank you for joining me on F&I Today. Be sure to come back next week right here on the CBT Automotive Network for our next edition of F&I Today. Also, feel free to contact me regarding my consulting services. My specialty is helping auto dealers achieve high levels of performance and profit by improving internal processes that begin the moment customer touches down on the dealership website and ends with finalizing in-person transactions in F&I. Also, for our CBT Automotive dealers – contact me about my complimentary (1) roof top online analysis and find out what's preventing you from taking the lead position!