An analysis by iSeeCars.com, a search engine designed to help buyers find the best deals, clearly shows the effects of rising inflation and higher used-car prices on the retail auto market. Fewer buyers are in a position to afford a used car this year, and the percentage of people who can reasonably afford one has plummeted since the onset of the pandemic in 2020.
The report shows that even popular, typically affordable models are now out of reach for many consumers. A combination of post-pandemic issues, such as persistent supply chain shortages and logistical issues, have contributed to rising prices.
Add to that an economy where inflation and interest rates are rising. At the same time, wages and incomes struggle to keep pace, and the industry is left with a population of buyers who no longer have the available income to purchase a vehicle.
"Due to supply chain shortages and increased demand, the rising prices of new and used cars have outpaced income growth," said iSeeCars Executive Analyst Karl Brauer.
"From August of 2019, well before the pandemic lockdowns started, to August of 2022, new car prices increased by almost 29%, and three-year-old used car prices increased by 52%, but incomes increased by only 13%," Brauer said.
"People still need to replace their vehicles, so the resulting drop in affordability means shoppers are either taking longer loan terms and paying higher interest rates, putting down less money for a down payment, or even forgoing the kind of car they originally wanted for a lower cost model in order to make ends meet."  
How affordability is calculated
iSeeCars used its Car Affordability Index to calculate the results. The index compares US households' median income to an idealized amount typically needed to finance a vehicle comfortably.
Measurements are based on an index value of 100 – with values equal to that mark matching the idealized income amount needed to afford a vehicle. Index values over 100 are above that idealized mark, while those under 100 fall below the idealized income amount.
The idealized income rate is calculated based on industry averages for loan rates and terms, with the standard being 60 months for new cars and 36 for used vehicles. The analysis puts the maximum amount of a household's annual income that should be spent on a vehicle purchase at 10%.
Used car affordability plummets since pandemic
Based on the results, used car affordability dropped by 26.7% between August 2019 and August 2022 when examining three-year-old vehicles. Comparing the results from years past, it's easy to see the effect economic factors have had on used car affordability.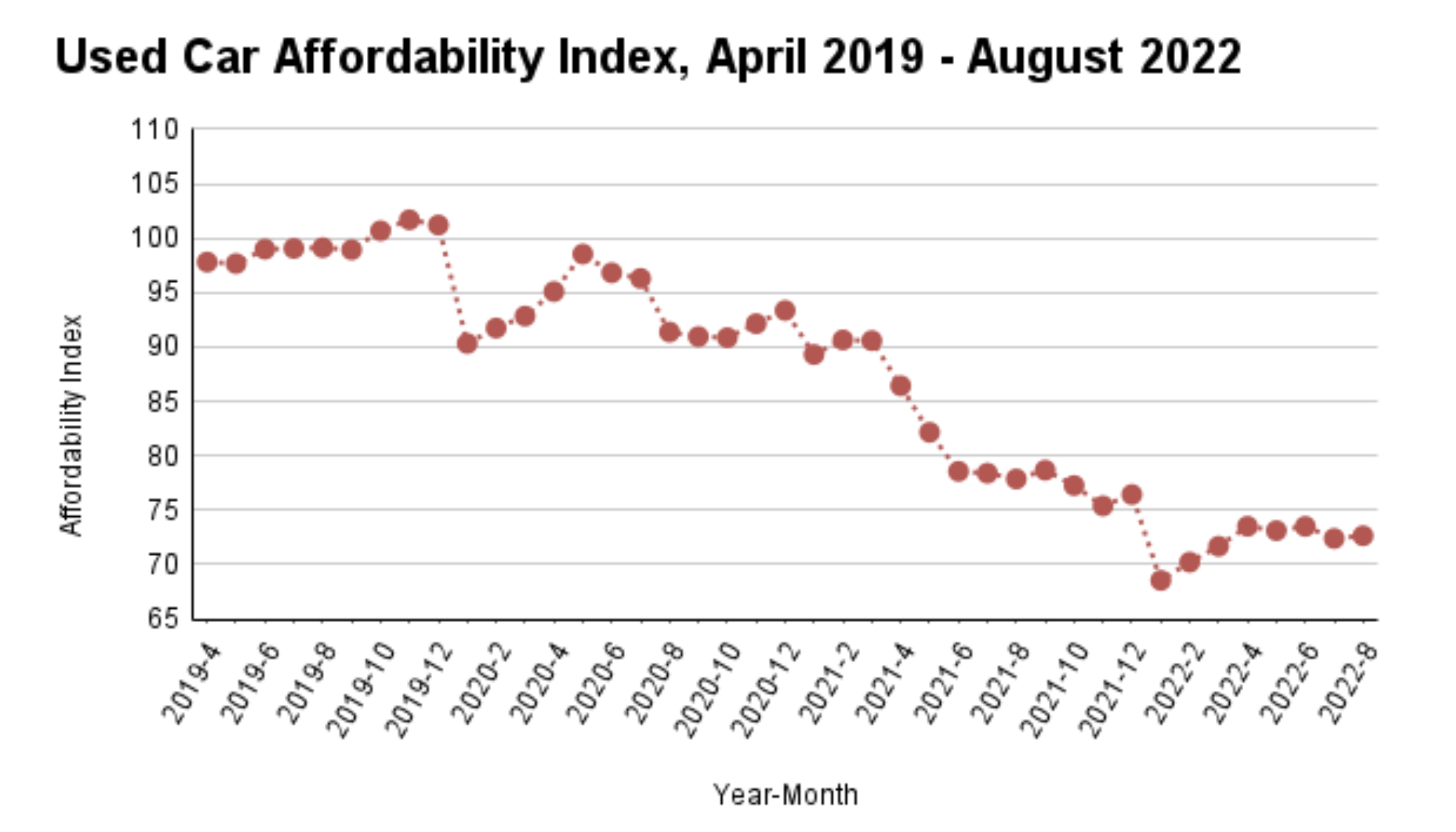 In 2019, the index rated the affordability of those vehicles at 99.5 out of the 100-point index. That rating dropped to 93.4 in 2020 and 81.8 in 2021 before landing at a dismal 72.0 this year. 
"Used cars were affordable in 2019, but affordability began dropping after the beginning of the pandemic lockdowns, around March of 2020. The drop in affordability accelerated in 2021," said Brauer. "This coincides with higher used car prices and the lack of used car inventory due to the decrease in new vehicle production, which ultimately led to used car shoppers paying more for their desired vehicles."
Now-unaffordable used car models
The iSeeCars listed those vehicles that were considered affordable between April and December 2019 and became unaffordable from January to August 2022. A total of 33 cars have gone from affordable to unaffordable over the three years since the onset of the pandemic.
The list includes market favorites from Toyota and Honda, like the Toyota Camry and RAV4 and the Honda Accord and CR-V. Also making the list were the Subaru Forester and Outback.
High-volume offerings like the Chevrolet Traverse, Ford Edge, and Toyota Prius typically generate enough supply for the used car market to make these models affordable to buyers. However, because new-car production has slowed significantly, the corresponding demand for used cars has increased – and prices have risen to match.
"This is yet another indicator of how drastically prices have shifted on used cars in recent years," Brauer said. "When you have a used Toyota RAV4's price going from $20,534 to $32,090 in 3 years, that's a clear indicator of affordability lost."
The iSeeCars analysis found four new-car models that shifted from affordable to unaffordable over the same time period: the Nissan Frontier, Chrysler 300, Kia Sorento, and Jeep Cherokee.
Moving forward into uncertainty
Brauer said these drops in new and used car affordability mean "it's more important than ever for shoppers to choose vehicles that fit their budget." He warns buyers to avoid the temptation to take out a longer loan to minimize monthly payments or to make a smaller down payment.
"In this high-interest environment buyers will end up paying even more in the long run," he said.
Analysts are still determining if inflation rates will come back soon, despite efforts from the Federal Reserve to reverse the trend by increasing interest rates.
And while supply chain issues may be easing and production rates rising, the industry's future in terms of higher prices, increased demand, and falling affordability are all measuring sticks to watch in the future.
---
Did you enjoy this article? Please share your thoughts, comments, or questions regarding this topic by connecting with us at newsroom@cbtnews.com.
Be sure to follow us on Facebook, LinkedIn, and TikTok to stay up to date.
While you're here, don't forget to subscribe to our email newsletter for all the latest auto industry news from CBT News.