The auto industry has suffered a big blow in the last month. NADA has revised its new light-vehicle sales from the original forecast of 16.8 million units in 2020, down to 13 million units for the year. Ouch.
But just because vehicle sales have decreased, doesn't mean there isn't demand. People who were planning to buy a new vehicle a month ago are still thinking about it. According to J.D. Power, leases on 1.8 million vehicles are set to expire between March and July. That's an opportunity.
The desire for new vehicles still exists. What is your dealership's plan to capture this pent-up demand?
As plans to re-open the economy progress, this is no time to sit back and relax. Be aggressive and fill your sales pipeline so your team can quickly ramp up revenue as business returns to normal.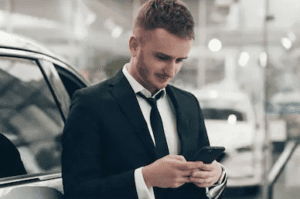 The problem is, all of your competitors are going to be hungry for the same business. What can your dealership do that's different, that goes above and beyond, to stand apart from all the competition?
Email and direct mail will deliver some results, but nothing beats the power of person-to-person communication. Specifically, good old-fashioned phone calls.
Right now, while people are at home and feeling isolated, it's the perfect time for your BDC or sales team to initiate outbound call campaigns.
At this point, the goal of outbound call campaigns should not be to try and set appointments or close deals—not yet. The reason to call consumers now is to convey information, ask questions, humanize your dealership and engage with current and potential customers.
If successful, your ROI will come when your customers resume normal car-shopping patterns and remember the great conversation they had with a representative of your dealership. Here are a few suggested outbound call campaigns.
Open for Business/How to Shop
Is your dealership open? Every state has their own guidelines for business operations, and as things slowly open up, your customers may not be aware that your dealership is open for business. If you're still closed, can you help customers with vehicle selection or finance paperwork over the phone? Do you have a digital retailing solution? Is your service department open?
You can also use this opportunity to gather additional information on customers. Because people have been cooped up for so long, they may be more open than usual to talking to real live people over the phone. Use this situation to your advantage and have real conversations. Small gestures and kind words can make a big impact in times like this. Focus on this vs. a hard sell. 
Unsold Prospects for 90 days
Most salespeople give up trying to reach a lead after two or three attempts. Yet, studies show it can take as many as five or six attempts to get someone on the phone. Now, more than ever, it's important to be persistent. Use a combination of email, phone calls and text (upon opt-in) to follow up all unsold leads for the past 90 days.
If the lead isn't ready to buy, let them know you'd like to confirm their contact information. Use this opportunity to update names, emails and phone numbers. Remember, the more data you have for each contact in your CRM, the better you can market to and service their individual needs. Now is a perfect time to clean up and flesh out the information in your database. 
Manufacturer Incentives
Make sure that customers who may be cash-strapped are aware of manufacturers' current incentives. Don't assume customers are aware of these deals, because they've probably been busy binge-watching their favorite Netflix series.
Average incentives recently reached $4,800 per vehicle, and as high as $7,200 for pickup trucks. Some manufacturers are offering zero percent interest loans for up to 84 months and many are also offering lease specials. Incentive-wise, this is a fantastic time to buy a car, so let prospects know about it!
If your showroom doesn't have much traffic right now, using your sales team to conduct outreach programs is a viable option. However, make sure they have the proper training and skills to nurture leads over the phone. Creating a strong script is essential if you go this route.
A better option would be to use an external BDC to conduct your outbound call campaigns. BDC agents are trained to be patient and are skilled at the art of conversation. An additional advantage of this approach is that you can create short surveys designed to engage customers while gathering valuable data about their car-shopping plans. Customers are more likely to disclose this type of information to a third-party rather than directly to a dealership.
As business returns to normal, the data captured by these outbound call campaigns will help your sales team identify hot leads, create call lists and be prepared to turn pent-up demand into quick sales.
---
Did you enjoy this article from Bill Wittenmyer? Read other articles from him here.
Car Biz Today, the official resource of the retail automotive industry.

Be sure to follow us on Facebook and Twitter to stay up to date or catch-up on all of our podcasts on demand.
While you're here, don't forget to subscribe to our email newsletter for all the latest auto industry news from CBT News.