Welcome to another edition of The Friday 5 with Steve Greenfield, Founder and CEO of Automotive Ventures, an auto technology advisory firm that helps entrepreneurs raise money and maximize the value of their companies.
Let's jump right into the technology deals of this past week.
SpinCar
First up, SpinCar has acquired Pulsar AI, the creator of the auto industry's most advanced conversational AI platform.
Advertising Partner

By combining Pulsar's automated communication technology with SpinCar's industry-leading digital merchandising offering, the company will expand its solution set to drive greater levels of online shopper engagement and lead conversion for auto retailers.
The acquisition will enable SpinCar to extend its shopper data and digital content assets into additional dealer communication channels and customer touch-points. Pulsar's AI technology will be integrated into the SpinCar platform and Pulsar's 30 employees will become part of SpinCar's expanded global Product, Operations and R&D organization.
Congratulations to both the SpinCar and Pulsar teams!
Big news this week for online marketplaces with new international money coming into the US market.
The largest automotive classified marketplace in Australia, Carsales.com.au is acquiring 49% of Trader Interactive for $624 million dollars, valuing the US-based company at $1.62 billion dollars.
Carsales has an option to take control of the company at a later date.
Trader Interactive generated 2020 revenue of $123 million dollars and EBITDA of $61 million, and has a track record of delivering earnings growth of 13% compounded over the last five years.
Trader Interactive has a customer base of more than 8,500 dealers and 49 original equipment manufacturers, across the commercial truck, recreational vehicle, power sports and equipment industries.
CarSales has made investments outside of Australia in the past, including South Korea, Brazil, Chile, Mexico and Argentina.
Carsales will invest alongside Goldman Sachs, Eurazeo, management and employees who collectively own the remaining 51 per cent interest in Trader Interactive.
In the Lidar and autonomous vehicle technology space this week, Innovusion, a five-year-old lidar company and a supplier to Chinese electric car upstart NIO, landed a Series B funding round of $64 million dollars. The new proceeds boost its total investment to over $100 million dollars.
Lidar is becoming a very competitive space, with much bigger players that have raised hundreds of millions of dollars, like Velodyne Lidar and Luminar Technologies.
Temasek, the Singaporean government's sovereign wealth fund, led Innovusion's latest financing round. Other investors included Bertelsmann Asia Investments, Joy Capital, NIO Capital, Eight Roads Ventures, and F-Prime Capital.
More investors are joining the wave to bet on lidar, the remote sensing method that uses laser light to measure distances and has garnered ample interest from automakers in recent times. But it's also a technology that has long been scorned by Elon Musk partly due to its once exorbitant costs.
Transitioning from Lidar to Radar, Oculii has raised a $55 million dollar B round, co-led by Catapult Ventures and Conductive Ventures, with participation from Taiwania Capital, Susquehanna Investment Group, HELLA Ventures, PHI-Zoyi Capital, R7 Partners, VectoIQ, ACVC Partners, Mesh Ventures, Schox Ventures, and Signature Bank.
Autonomous vehicles rely on many sensors to perceive the world around them, and while cameras and lidar get a lot of the attention, radar is an important piece of the puzzle — though it has some fundamental limitations. Oculii aims to minimize those limitations and make radar more capable with a smart software layer for existing devices.
Radar's major disadvantage is that, due to the wavelengths and how the antennas work, it can't image things in detail the way lidar can.
Oculii takes ordinary radar and supercharges it. The company claims a 100x improvement to spatial resolution accomplished by handing over control of the system to its software.
NI (or National Instruments)
Keeping with the theme of autonomous vehicles this week, NI (or National Instruments) has acquired monoDrive, a leader in ultra-high fidelity simulation software for advanced driver-assistance systems (also known as ADAS) and autonomous vehicle development.
The acquisition expands NI's reach in the ADAS and simulation markets and will enable NI's transportation customers to accelerate the development, testing, and deployment of safer autonomous systems.
NI will leverage monoDrive's expertise in signal processing and advanced simulation to help customers accelerate the delivery of ADAS through high fidelity driving environments capable of modeling numerous sensors and thousands of real-time scenarios.
This approach, combined with NI's software-connected systems, will help transportation customers streamline the transitions between simulation, lab-based and physical testing environments. In doing so, NI will now enable vehicle manufacturers and suppliers to accelerate the shift to self-driving vehicles.
Finally, in international news, electric and autonomous freight tech company Einride has raised $110 million dollars in a Series B round.
The Stockholm, Sweden-based company, which was founded in 2016, makes autonomous and electric freight trucks for the transportation of goods, as well as provides a freight mobility platform.
The company decided to focus on freight transportation for a few reasons. Freight lends itself well to autonomous transportation because it's predictable, repetitive and generally happens outside of cities.
Freight transportation also contributes to global CO2 emissions, which makes it a prime candidate for electrification.
Electrification — and autonomous vehicles — are both big themes in the world of transportation, though much of the attention is given to passenger vehicles. But the company's stance is that the freight transport industry could benefit more immediately from the trends.
Companies to Watch
Every week we highlight interesting companies in the automotive technology space to keep an eye on. If you read my monthly industry intel report, I showcase a few companies each month, and we take the opportunity here on the Friday Five to share some of those companies each week with you.
Today, our companies to watch are Dealer Trade Network and AmpUp.
First up, we have The Dealer Trade Network, founded in 2018, and located in Louisville, Kentucky.
The Dealer Trade Network is the largest and most trusted name in dealer trades. Their dealer partners need assistance with their inventory and rely on their professional staff to accomplish the mission. The Dealer Trade Network helps dealers place excess inventory or purchase new car inventory through business-to-business wholesale transactions.
The Dealer Trade Network helps dealers to build their new car allocations. They identify the hot body styles and specialty units that retail immediately. They help dealers track their high-volume vehicles as well. They have assisted their dealer customers in growing their franchise and moving up the national dealer rankings list.
The Dealer Trade Network supplements a dealer's new car and truck inventory. They locate the best mix of vehicles to match your current needs. They connect you with ready-to-sell dealers at their bottom line price. They contact every GM and Ford dealer in the country at least once per week. No other Locator knows the market or has more inventory than the Dealer Trade Network.
Finally, they help dealers place their excess inventory.  They can help you relieve floor-plan strains by contacting factory-authorized dealers who are currently buying. The Dealer Trade Network helps dealers achieve market value for their unwanted trades.
Our second Company to Watch this week is AmpUp, founded in 2017 and located in Cupertino, California.
AmpUp is an electric vehicle software company and network provider that enables drivers, hosts, and fleets to charge their vehicles stress-free. AmpUp gives businesses and property owners the ability to manage multiple charge stations and locations in one platform. AmpUp is also home to the world's fastest-growing shared charging network, helping increase station access for EV drivers.
AmpUp's network and software solutions have been deployed for customers across North America requiring installation and management of multiple electric vehicle chargers.
AmpUp was formed to solve a problem that many others experience: owning electric cars without home charging. AmpUp first released a mobile app to build a peer-to-peer charging network, or a way for hosts to make their charge stations publicly available for all electric vehicle drivers. The service quickly began to decrease range anxiety, providing an important service to the EV community. AmpUp has since released new charging management solutions for customers of all types yet their commitment to public charging is still ingrained in all of their products today.
AmpUp connects to ten different EV charging equipment manufacturers offering more than 50 charger models.
AmpUp provides electric vehicle charging solutions to all kinds of businesses and organizations.
——————-
So that's your weekly Friday 5, a quick wrap-up of the big deals in automotive technology over the past week.
It's an exciting time to be in the automotive space, with a ton of deals going on. Make sure you stay tuned in each week to stay up to date on the auto industry's technology M&A activity. I'll keep my fingers on the pulse of deals being done, so I can share updates with you.
If you're an early-stage automotive technology entrepreneur looking to raise money, or an entrepreneur who wants to chat about the best timing and process to sell your company to achieve the best outcome, I'd love to discuss it with you at steve@automotive.ventures.
——————-
People often ask me why I'm affiliated with CBT News.
Besides having an outstanding, extremely talented, and hardworking team up here at the studio, I greatly appreciate the valuable role that CBT News plays in the automotive industry.
Every day, I eagerly look forward to my morning email from CBT News to ensure I'm getting the most up-to-date and relevant information on the industry.
I encourage you to tune in to CBT News to ensure that you're getting the automotive news that matters.
---
Did you miss enjoy this week's episode of The Friday 5? Please share your thoughts, comments, or questions regarding this topic at newsroom@cbtnews.com.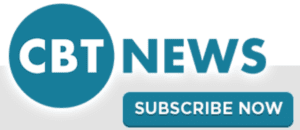 Be sure to follow us on Facebook and Twitter to stay up to date or catch-up on all of our podcasts on demand.
While you're here, don't forget to subscribe to our email newsletter for all the latest auto industry news from CBT News.