Welcome to this episode of The Friday 5 with Steve Greenfield, Founder and CEO of Automotive Ventures, an auto technology advisory firm that helps entrepreneurs raise money and maximize the value of their companies.
Automotive Ventures has launched this year's March Madness contest on LinkedIn, where you get to vote for the early-stage AutoTech companies that you think are most likely to achieve a $1 billion dollar exit someday.
Head on over to the Automotive Ventures LinkedIn page to get your votes in for your favorite early-stage AutoTech companies.
In the biggest investment news of the last week, myKaarma announced a major investment from HIG Growth Partners. 
The terms of the investment were not disclosed.
Founded in 2012, myKaarma is a rapidly growing provider of innovative end-to-end solutions for franchise automotive dealerships and has expanded to over 1,500 dealerships in the United States and Canada.
With over $11 billion in payments processed, 230 million text messages transmitted, and over 2.5 million videos recorded, customers have realized a 30% lift in repair order dollars when using the latest solutions.
myKaarma is an advanced end-to-end platform with scheduling, communications, payment, pickup and delivery, video MPI, BDC solutions, and insightful reporting.
Next up this week, Kyte, the on-demand car rental delivery startup that brings the rental car to your driveway, has secured $200 million dollars in credit financing from Goldman Sachs and private equity firm Ares Management Corporation.
The funding will be used to help Kyte expand into new cities and accelerate growth for its fleet of vehicles.
The valuation of the San Francisco-based company wasn't disclosed. However, it was valued at $145 million dollars after a $30 million dollar funding round in October, according to data provider PitchBook.
And finally this week, After nearly 60 years, BMW Group is acquiring luxury tuner brand Alpina Group. The deal is expected to close in 2025.
Financial details of this deal were not disclosed.
Alpina's roots can be traced back to the 1960s when the typewriter and textiles manufacturer began producing performance carburetors and crankshafts for BMW vehicles — which are reflected in the brand's logo — and, eventually, full-blown racing vehicles.
Over the decades, the partnership between the automaker and tuner has grown, with Alpina now plucking chassis straight from BMW's assembly line for modification.
Alpina's focus has also changed from racing to building luxurious grand touring vehicles, like the Alpina B8 Gran Coupe and the Alpina XB7.
Like Mercedes acquiring custom tuner AMG back in 1999, it'll be interesting to see what BMW does now that it owns the Alpina brand.
Companies To Watch
Every week we highlight interesting companies in the automotive technology space to keep an eye on. If you read my monthly industry Intel Report, I showcase a few companies each month, and we take the opportunity here on the Friday Five to share some of those companies each week with you.
Today, we have two companies to watch, both in the cybersecurity space: Secure Things and Shift5.
Our first Company to watch this week is SecureThings.
SecureThings has developed end-to-end solutions for vehicle security to ensure the protection of software, devices, and data throughout the connected vehicle ecosystem.
Through a 5-pronged approach of Detection, Response, Recovery, Identification and Protection, they take a holistic approach to cyber security; from product development to deployment and on into updates and patches.
With this defense-in-depth approach, security issues can be prevented and remediated when they arise.
SecureThings begins with a detailed risk analysis of use cases, attack surfaces, and potential attacks to mitigate the impact and develop recovery plans.
SecureThings' technology provides real-time insights and intelligence for continuous monitoring to detect any anomalous behaviors and vulnerabilities to prevent/detect attacks and minimize the impact.
Check out SecureThings at www.SecureThings.ai.
Our second company to watch this week is Shift5.
Shift5 defends planes, trains, and tanks from cyber attack. The company attempts to defend systems critical to transportation networks
Shift5 is a single security solution designed to protect the onboard Serial Data Bus systems that power military and commercial aircraft, freight and passenger trains, and other heavy vehicles.
Shift5 captures and analyzes data from onboard subsystems in real time to detect and alert on cybersecurity anomalies so crew and maintenance personnel can take action to respond to incidents.
Check out Shift5 at www.shift5.io.
——————-
As I mentioned last week, we at Automotive Ventures are now actively fundraising the Automotive Ventures DealerFund – to help auto dealerships navigate through the next decade of unprecedented change, invest into, and participate financially in the AutoTech startups they help to grow.
If you're an auto dealer, and you'd like to find out more, let me know. I look forward to working with you to bring the new Automotive Ventures DealerFund to market.
It's great to be back out here at the NADA conference in Las Vegas after a year off. It's great to catch up face to face with so many industry folks after missing out on the experience last year.
——————-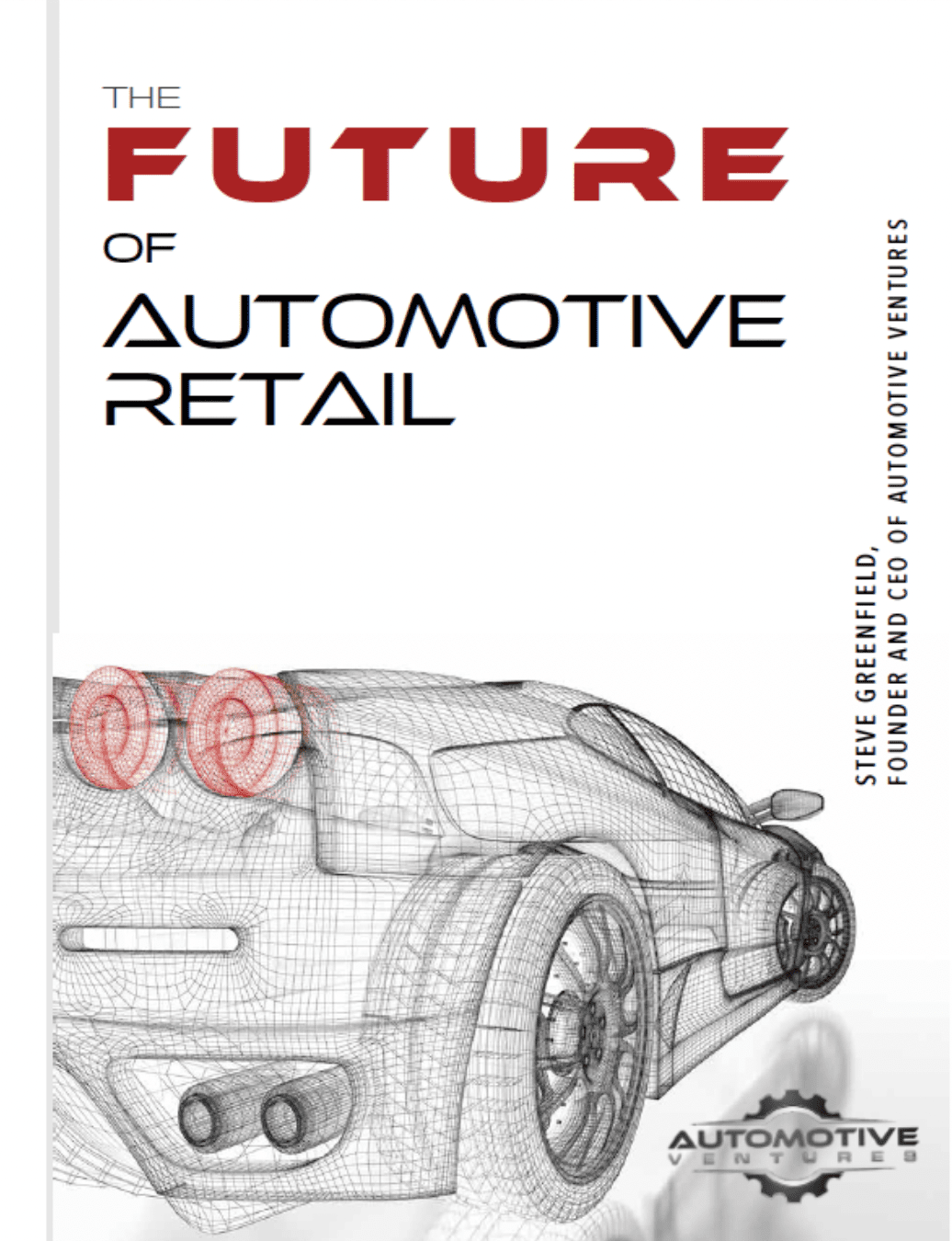 My new book titled The Future of Automotive Retail is now available! In the book, I overview the various themes that are most likely to impact auto dealerships' businesses over the next 5 to 10 years, and I attempt to provide some practical advice on how to prepare to weather upcoming disruptive forces.
For all of you who tune in to the Friday Five, I'd be thrilled to send you a copy of the book, just click here.
——————-
People often ask me why I'm affiliated with CBT News.
Besides having an outstanding, extremely talented, and hardworking team up here at the studio, I greatly appreciate the valuable role that CBT News plays in the automotive industry.
Every day, I eagerly look forward to my morning email from CBT News to ensure I'm getting the most up-to-date and relevant information on the industry.
I encourage you to tune in to CBT News to ensure that you're getting the automotive news that matters.
——————-
So that's your weekly Friday Five, a quick wrap-up of the big deals in the automotive technology space over the past week.
If you're an early-stage automotive technology entrepreneur looking to raise money, or an entrepreneur who is trying to decide whether and when they should raise money or sell their business, I'd love to speak with you.
Thank You For Tuning into CBT News for this week's Friday Five, and we'll see you next week!
---
Did you enjoy this episode of the Friday 5? Please share your thoughts, comments, or questions regarding this topic by submitting a letter to the editor here, or connect with us at newsroom@cbtnews.com.
Be sure to follow us on Facebook and Twitter to stay up to date or catch up on all of our podcasts on demand.
While you're here, don't forget to subscribe to our email newsletter for all the latest auto industry news from CBT News.