With all the technical innovations now available in the modern automobile, it stands to reason there would be a corresponding effect on the maintenance requirements that would help reduce costs to the consumer.  Today, most manufacturers offer at least some level of free maintenance for a specified period of time for buyers of their products. With auto makers offering up to five years free maintenance in some cases, this means everything the customer once used to pay for is now done for free.

Of course, customers owning these vehicles come to the service department having driven well into the 20,000 mile mark and still expect to pay nothing for the maintenance they need.  What used to be normal maintenance intervals that had our customers coming into the service department every 3,000 miles may now be as much as 10,000 miles with the customer only coming in once a year in some cases.

Yes, these factory maintenance programs and other pre-paid service contracts have the customer coming to the dealer for maintenance, but the downside is they are abandoning us at the end of the free oil changes.  This means dealers must apply greater effort to maintain customer relationships and find more ways to promote their non-covered products and services whenever they are in for maintenance work. When you consider the downside of this new development from every angle, it appears that our dealership service departments are losing their customer retail business.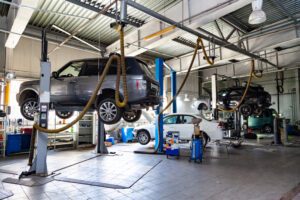 On top of this, there is a loss of maintenance work due to service-free electronic steering components or non-serviceable transmissions using lifetime fluids that may never need changing.  This too was once a billable service that is no longer occurring with some vehicle models today.

Of course, every car manufacturer wants to present their product as having low cost of ownership to their customers.  This appears to give them a very sellable advantage over the competition, but for some, the jury is still out. The downside is that it becomes harder and harder for our service departments to grow their business with these advanced components requiring little or no maintenance or repairs over their useable life.
The Secondary Service Market
Now, consider the rapid encroachment of secondary service and repair shops that are aggressively working to steal business away from dealerships.  Whether it is tire replacement, oil changes, mufflers or transmission work, these secondary shops pick up a tremendous amount of business because we don't fight to keep our customers through competitive pricing, marketing and effective up-selling practices.

According to the trade publication Modern Tire Dealer, there is a $29.2 billion U.S. market in replacement tires for cars and light trucks, however, in the last 10 years dealerships have only sold 5 to 8 percent of the retail tires bought by car owners in America.  Though it is not unusual for our service departments to invest $30,000 in equipment to help them recommend tires and alignments, they don't teach their service advisors how to sell them resulting in that business going elsewhere.
So What Can Be Done?
If your sales department is selling 100 new vehicles a month, a few years ago that would have accounted for about 960 oil changes twice a year and one tire rotation.  With oil changes at $38.00 and tire rotations at $20, that represents about $80,000 in revenue in a year.  Considering the 10,000 mile oil change interval, this is no longer a part of our retail business, and since advisors are often the least trained employees with the most customer face time – they seem to only be selling what the customers were originally planning to buy anyway.

Over 78 percent of dealership service departments do not have advisors performing a processed walk around of the vehicle asking customers how they drive or if they have had any major issues.

If dealers are serious about rejuvenating their customer retail business, the first thing they need to do is realize that these maintenance plans are not going away.  We need to embrace them as a means to get the customer to come to us for this maintenance when there are so many other choices available to them today.

Service Managers need to:
Make sure technicians are performing a thorough multi-point inspection.

Have an express maintenance operation.

Stop expecting customers to wait an hour and a half to two hours for an oil change.

Develop a sense of urgency, you can't just stare at the numbers and hope they change.
Advertising Partner

Advisors need to be trained to:
Do a revenue building walk around.

Sell tires and alignments.

Handle customer objections.
Educate customers that maintenance schedules are up for interpretation. There may be a national maintenance plan for the Honda Accord, but what maintenance that Honda needs in New York, California or DC traffic, as opposed to Minnesota winters, Arizona heat or highway driving in the Midwest, varies substantially.

Educate the customer on the entire multi-point inspection.

Document declined recommendations for follow up and re-visit them on the customers' next visit.
As for the future of factory maintenance plans there is little we can do about that.  But, we can take advantage of the opportunity they provide us to present the full array of products and services we have available in our dealerships.  By learning how best to maximize this potential, we stand a good chance at earning new business when our customers come in for their factory authorized free maintenance services.