Welcome to another edition of The Future of Automotive, with Steve Greenfield, Founder, and CEO of Automotive Ventures, where I put recent automotive and mobility news items into context, in terms of the broader thematic areas that will potentially impact the industry.
I'm glad that you could join us.
This week, I wanted to revisit the topic of vehicle subscriptions

Or more specifically the unbundling of vehicle features into a subscription as a service model, where the vehicle owner will pay monthly to activate certain features in the car.
Traditionally, automakers didn't install anything on a vehicle that they couldn't charge for. When you build hundreds of thousands of vehicles each year, every extra nickel or dime in parts matters. But in the electric vehicle/infotainment/subscription era, that strategy is changing.
With the average age of vehicles at a record high (of 12-plus years), average transaction prices increasing, and loans stretching to eight years and longer, automakers are thinking about how vehicles can generate revenue long after they leave a showroom.
GM is aiming for $20 billion to $25 billion in annual revenue from vehicle subscriptions by 2030. Both Stellantis and Ford have both said that they are aiming for subscription revenues in the same ballpark.
All of this isn't theoretical.
Software-based vehicle subscriptions generated more than $1 billion in revenue for Mercedes-Benz last year. That's only a fraction of the more than $150 billion in global revenues the automaker earned in 2022, but the business could explode after 2025 when Mercedes launches its own operating system that will open the door to more digital services in vehicles. That's also when Mercedes will roll out a robust menu of on-demand services, including charging and automated driving features.
Dealer participation in these new, high-margin subscription revenues are sure to vary. For example, General Motors says they will include their franchised dealers (and compensate them in some form) as part of its strategy around future software sales after a vehicle purchase.
I ask myself often: if this future is inevitable, how can the Automotive Ventures DealerFund position itself to capitalize on the upcoming wave of software subscriptions? And more importantly, how do we help dealerships both participate in these revenue streams and benefit from these coming changes?
I believe there are a whole range of potential new businesses that need to be built to deal with the uncertainties around "features on demand". For example:
In the future, how is a dealer going to handle the trade-in and sale of an off- brand used vehicle? For one, the appraised vehicle may look very different a week from now when the current owner cancels many of the vehicle features that they're paying for on a monthly basis. A naive dealer may over-appraise a vehicle.
Then, how does the off-brand used car salesperson know how best to demo the off-brand vehicle? Are they going to have access to the possible features that can be activated and paid for on a monthly basis?
Will an automaker compensate a off-brand dealer if they re-activate a subscription and allow that OEM to resume collecting monthly subscription revenue?
And back to that current owner. Who is going to help them remember and cancel all of their current software subscriptions?
What does the window sticker of the future look like? Will some areas be "greyed out" to show options that have been installed in the vehicle but not activated at the time of purchase?
How are wholesale auctions going to deal with all of this? The vehicle they inspect may look (and perform) very different by the time it runs through the auction lanes.
How do you set a residual value on a vehicle that may have features added or subtracted over time at the whim of the consumer?
How is the service writer going to be made aware of additional features that the consumer has activated since their last visit to the service lane?
Who does the consumer call if they have issues or problems with the new vehicle feature that they've just tried to activate, but isn't working as expected? Does the answer differ on new vs. used vehicles?
From our perspective, many new companies will need to be built to address these issues (and others we haven't even thought of yet).
If you're an entrepreneur that wants to work on these problems with us, please let me know.
Companies To Watch
Every week we highlight interesting companies in the automotive technology space to keep an eye on. If you read my weekly Intel Report, delivered to your email inbox at 7:00 AM on Mondays, I showcase a couple of companies to watch, and we take the opportunity here on this segment to share those companies with you.
Today, we have two new companies to watch: BirdStop and SATIM.
Birdstop
Our first company to watch this week is Birdstop, which is a startup operating in the aerial drone space.
Birdstop is a remote sensing platform using flying drones and AI, delivering a remote sensing platform using uncrewed aerial technology in low altitude airspace.
Their vision is to build a nationwide remote sensing platform using "Beyond Visual Line of Sight" (BVLOS) drones, like a constellation of satellites on the ground.
Birdstop collects detailed imagery on physical assets and locations without personnel present.
Birdstop can conduct "observations on demand": their nodes sit at a location and can activate remote sensing on a moment's notice. Each node deploys and commands a small drone to collect data in its local vicinity.
Birdstop allows you to operate from anywhere: Users securely operate networks of nodes and tap into data streams across the globe. Mission control can be at a central command location or in the palm of each user's hand.
Birdstop allows you to unlock insights: Large amounts of imagery are analyzed in near real-time. Anomalies are detected to assist in expedient response to issues and threats observed.
If you're interested in learning more, you can check out Birdstop at www.birdstop.io.
SATIM
SATIM is a Poland-based provider of an AI-based software for automatic object detection, identification, and classification capabilities using satellite synthetic aperture radar (or SAR) imagery.
SAR is a powerful remote sensing technology that bounces microwave signals off the Earth's surface to detect physical properties of objects. It is used to create high-resolution two-dimensional representations of objects.
SAR imagery can be captured day and night, without the usual visibility limitations of optical data and is well suited to monitoring extensive areas.
Founded in 2012, Satim provides a software platform used for automatic object detection, identification and classification capabilities utilizing satellite SAR imagery. Today, Satim actively serves the military, government, and commercial sectors.
SATIM has built a highly accurate simulator for generating synthetic SAR signatures of any object and any SAR data system. Synthetic signatures are used to train AI models for object detection and classification.
The company claims 95% accuracy on vessel detection in port and on the open ocean using SAR imagery, and 90% accurate classification of civil and military vessels using SAR simulated training data, providing a comprehensive solution for strategic site monitoring and maritime situational awareness.
From a defense and national security standpoint, SATIM delivers accurate classification of military ships including 'dark vessels' with the ability to add new types to their catalogue within days.
From a commercial shipping standpoint, the are closing the intelligence gap for global maritime situational awareness. They provide accurate detection and classification of civil vessels in port or on the open ocean.
Maritime illegal activities are a serious problem, with piracy, hijacking and theft often by ship-to-ship transfer of goods. Illegal, unreported and unregulated fishing is also a huge issue causing supply, environmental issues and territorial battles.
SATIM can identify vessels participating in illegal activity with 90% accuracy.
SATIM provides fast and accurate vessel detection and classification of a large catalogue of civil vessels, day and night in all weather conditions.
If you want to see more on SATIM, you can check out their website at www.SATIM.co.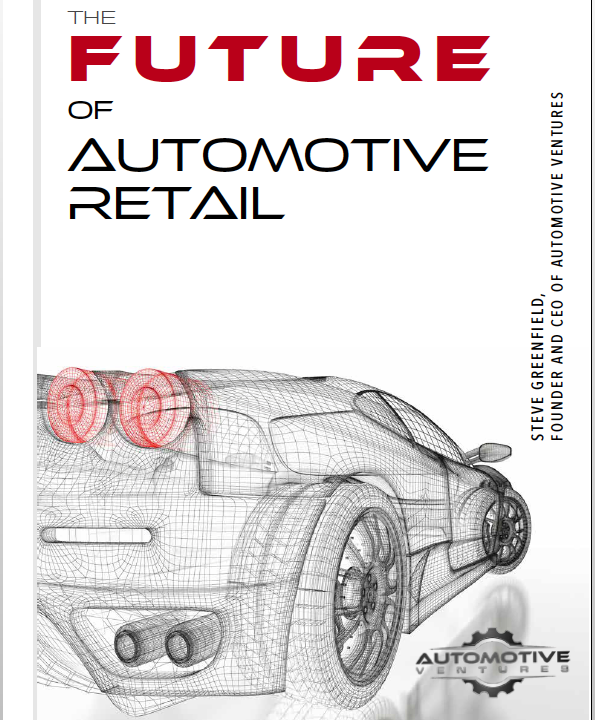 If you're an AutoTech entrepreneur working on a solution that helps car dealerships, we want to hear from you. We are actively investing out of our new DealerFund.
If you're a dealer who wants to invest in early-stage AutoTech companies that benefit your business, let me know. We are still accepting new investors into the DealerFund.
If you're interested in joining our Investment Club to make direct investments into AutoTech and Mobility startups with small checks, join the Club. There is no obligation to start seeing our deal flow.
And don't forget to check out my book, The Future of Automotive Retail, on Amazon.com. And keep an eye out for my new book, The Future of Mobility, which will be out at the end of the year.
Thanks as always for your ongoing support, and we look forward to working closely together with you to create the future of this industry.
Thank you for tuning into CBT News for this week's Future of Automotive segment, and we'll see you next week!