Welcome to another edition of The Future of Automotive, with Steve Greenfield, Founder, and CEO of Automotive Ventures, an auto technology advisory firm that helps entrepreneurs raise money and maximize the value of their companies.
First up this week, you may recognize that I'm not in the CBT News studio. My travels this week first took me to New York City and the NY Auto Forum, an outstanding event that kicks off the NY Auto Show.
At the Auto Forum, Thomas King from J.D. Power reported that last year was "hands-down the most profitable year ever" for auto dealers, and that this year, rising production and increasing competition are already driving down prices and profit margins.
For the three-month period that just ended, King said, dealers experienced the "second best first quarter on record" for gross margin and profits from finance and insurance — trailing only last year's. Expectations for full-year 2023, while not as strong a year as last year, will still play out out be a great year to be a car dealer, from a profitability standpoint. 
From New York, I headed out here to Halifax, Nova Scotia, to present at the CADEX show to about 150 franchise dealers from across the east coast of Canada. What a great group of dealers and we had some really lively discussion.
For today's show, I thought I would provide a quick recap of the April Automotive Ventures Intel Report, which we published early this week. In this latest Intel Report, I took the opportunity to provide an overview of the new DealerFund's investment thesis, which marries our perspective on the future of automotive retail with the investment areas that are of specific interest to us – areas where we believe startups will both solve big pain points for dealers and deliver outsized returns for our investors. 
So, let me take the opportunity to dig into one specific area that I explored in this month's report that may be of interest to our listeners, that being the billions of dollars that legacy automakers are expecting to make from unbundling vehicle features and selling them to consumers on a monthly basis as paid subscription services. 
For example, we've heard that General Motors is aiming for $20 to $25 billion dollars in annual revenue from subscription services by the year 2030. Both Stellantis and Ford have both said that they are aiming for subscription revenues in the same ballpark. 
And all of this isn't theoretical. For example, software-based vehicle upgrades generated more than $1 billion dollars in revenue for Mercedes-Benz last year. While that's only a fraction of the more than $150 billion in global revenues the automaker earned in 2022, the business could explode after 2025 when Mercedes launches its own operating system that will open the door to more digital services in vehicles. That's also when Mercedes plans to roll out a robust menu of on-demand services, including charging and automated driving features. 
Dealer participation in these new, high-margin subscription revenues are sure to vary. For example, General Motors says they will include their franchised dealers (and compensate them in some form) as part of its strategy around future software sales after a vehicle purchase.
How can the DealerFund position itself to capitalize on the upcoming wave of software subscriptions? We believe there are a whole range of potential new businesses that will need to be built to deal with the uncertainties around "features on demand". Let me provide a few examples for you to consider.
In the future, how is a dealer going to handle the trade-in and sale of an off-brand used vehicle? For one, the appraised vehicle may look very different a week from now when the current owner cancels many of the vehicle features that they're paying for on a monthly basis. A naive dealer may over-appraise a vehicle.
Then, how does the off-brand used car salesperson know how best to demo the off-brand vehicle? Are they going to have access to the possible features that can be activated and paid for on a monthly basis?
Will an automaker compensate a off-brand dealer if they re-activate a subscription and allow that OEM to resume collecting monthly subscription revenue?
And back to that current owner. Who is going to help them remember and cancel all of their current software subscriptions?
What does the window sticker of the future look like? Will some areas be "greyed out" to show options that have been installed in the vehicle but not activated at the time of purchase?
How are wholesale auctions going to deal with all of this? The vehicle they inspect may look (and perform) very differently by the time it runs through the auction lanes.
How do you set a residual value on a vehicle that may have features added or subtracted over time at the whim of the consumer?
How is the Service Writer going to be made aware of additional features that the consumer has activated since their last visit to the service lane?
Who does the consumer call if they have issues or problems with the new vehicle feature that they've just tried to activate, but isn't working as expected? Would your answer to this questiondiffer on new vs. used vehicles?
These are just a few examples of questions that will need to be answered as we enter into this new era of "Features on Demand."
From my perspective, many new companies will need to be built to address these issues (and others we haven't even thought of yet). And where they're uncertainty, there's an opportunity to make money as an investor. 
If you're an entrepreneur that wants to work on these problems with us, please let me know. 
And, if you like thinking through issues like these like I do, you can subscribe to my weekly Intel Report by going to www.AutomotiveVentures.com. 
Companies To Watch
So with that, let's transition To Our Companies To Watch. 
Every week we highlight interesting companies in the automotive technology space to keep an eye on. If you read my monthly industry Intel Report, which you can subscribe to for free, I showcase a few companies each month, and we take the opportunity here on this segment to share some of those companies each week with you.
Today, we have two companies to watch: Carmatic and Riderr.
Carmatic helps your team excel at sales operations, by maximizing how you already work with car buyers. No transformation needed, just one software platform from search to sale. You save everyone's time, help them find more of what they're looking for, and close more sales with more profit.
The reason that I love Carmatic is that they provide your employees with accurate information in real-time, including current inventory, features, and actual payment options. Carmatic's recommendation engine avoids dead-end leads and sold cars, and always finds you more alternative options for your customers, without replacing your existing tools.
Carmatic modernizes your retail experience with best-in-class payments, multi-user desking, and marketing automation. 
You can check out Carmatic at www.Carmatic.com.
Riderr is revolutionizing how bicycle data is collected by making it automatic, easy, and rewarding. Their app automatically detects when you're riding a bike and automatically tracks your rides, miles, and CO2 savings. From this data they can improve biking infrastructure and safety, automatically measure CO2 savings, and measure changes in transportation behavior. 
The reason that I love Riderr is that they are an online platform using behavior change to get more people riding bikes. They get more people cycling using their online platform, local promotion and good old human interaction.
You can check out Riderr at www.Riderr.co.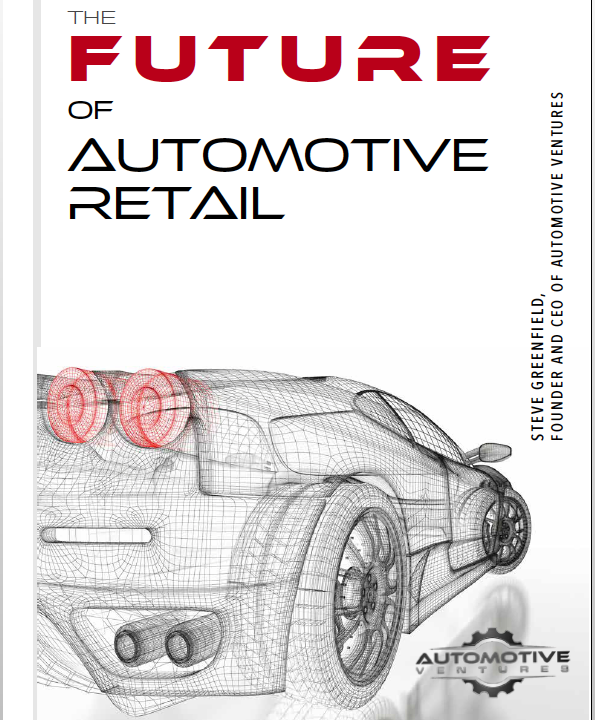 If you're an AutoTech entrepreneur working on a solution that helps car dealerships, we want to hear from you. We are actively investing out of our new DealerFund.
If you're a dealer who wants to invest in early-stage AutoTech companies that benefit your business, let me know. We are still accepting new investors into the DealerFund.
If you're interested in joining our Investment Club to make direct investments into AutoTech and Mobility startups with small checks, join the Club. There is no obligation to start seeing our deal flow.
And don't forget to check out my book, The Future of Automotive Retail, on Amazon.com.
Thank you for tuning into CBT News for this week's Future of Automotive segment, and we'll see you next week!