The 2020 New York International Auto Show is April 10th to 19th in the Big Apple, one of the most prolific auto shows in the world. Hundreds of cars are shown off by some of the biggest names in luxury and elite vehicles, not to mention new models that showcase novel technology and design. New York's show is one of the largest, certainly, but it's only one of dozens that span the nation, coast to coast to coast.
It tends to be a draw from corporate automotive sectors rather than retail, and that's unfortunate. From salespeople and sales managers to GMs and even dealer principals, there's a lot of value for members of retail automotive to attend car shows.
Learn What's Coming from their Brand
Of utmost importance at a car show is for dealer staff to see what the brand has in store for the future. Checking out new models that are on display is an investment of time for those individuals. By visiting booths for the manufacturer for which they work, they get the inside scoop on new models being released soon, conceptual designs that will influence the future, and prototypes that may arrive on the showroom floor in just a few years. 
Advertising Partner

Related: The Ultimate List of Automotive Retail Conferences
Discover What Attendees are Attracted To
A good salesperson can sell the vehicle in front of them, but a great salesperson will match a shopper with the right vehicle for their wants and needs. At an auto show, sales personnel can develop their ability to profile shoppers. Regardless of brand, the correlation between demographics and vehicle types can be made. Perhaps a disproportionate number of ladies are congregating around a new SUV or young males are ogling a beefed-up pickup truck. Or mature businesspeople are hovering around luxury brands or trims.
While stereotyping shoppers isn't the idea, developing the connections between certain demographics and the vehicles they gravitate towards will aid in streamlining the sales process back in the dealership. 
Find a Competitive Advantage
Some managers might prefer to keep their salespeople around their own brand but checking out the competition is an extremely intelligent strategy at an auto show. That's especially true for novice staff that have developed a broad knowledge base for the vehicles they sell off the lot but haven't been around a long time to learn the rest of the field.
Knowing the competitions strengths and weaknesses will only serve to help sales team members to focus on the right things to make the sale. They're able to point out unique features and competitive advantages for their own brand, as well as steer clear of areas where the competition has them beat. Customers appreciate when a salesperson knows their competitors.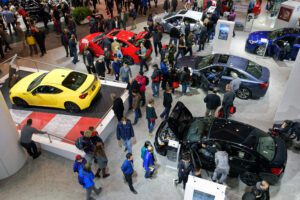 Get Reinvigorated
For a salesperson or sales manager, seeing their brand in the shining lights of an auto show can endear them to their job. The excitement, the buzz, the brilliant and shiny paint colors, new models, new tech – it's all a reminder why they love the automotive industry in the first place.
It's all too easy to let the excitement fade over time. Use a car show like the New York International Auto Show to reinvigorate salespeople and sales managers – a kid in a candy store type of experience.
Related: Five Ways Dealership Managers Can Improve Their Leadership Skills
---
Did you enjoy this article from Jason Unrau? Read other articles from him here.
Car Biz Today, the official resource of the retail automotive industry.
Be sure to follow us on Facebook and Twitter to stay up to date or catch-up on all of our podcasts on demand.
While you're here, don't forget to subscribe to our email newsletter for all the latest auto industry news from CBT News.