With social distancing, isolation, and quarantine efforts dominating news and daily life, coronavirus continues to wreak havoc on the U.S. and world economies. The automotive industry has felt the impact. Manufacturers and dealers are all working on innovative ways to make it through the crisis.
While sales departments are implementing digital retailing efforts, parts and service departments are also working on ways to put customers at ease and stabilize business operations. 
Parts Shortages

While dealerships haven't started to notice the impact of coronavirus on parts supply, automakers are scrambling to find parts and prevent shortages in their supply chains as the spread of the coronavirus rattles markets and threatens to roil manufacturing processes globally.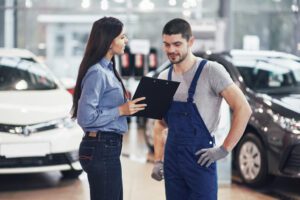 General Motors recently identified a potential parts shortage and airlifted supplies for its North American truck production, according to United Auto Workers officials.
Fiat Chrysler has said it is seeking alternative suppliers. Others like Toyota Motor and auto suppliers Dana and Aptiv have established teams, task forces and war rooms to closely monitor the COVID-19 epidemic.
Some auto manufacturers are also committing to temporarily divert resources to help produce essential health items like masks and respirators.
All of these conditions will likely result in a shortage of parts on dealer shelves at some point through this crisis.
The good news is that China is already getting back to work after being on lockdown for 2 months. With 80 percent of the world's auto supply chain connected to China, production shortfalls resulting from supply chain disruptions in China will impact global automakers.
Hubei (in the Wuhan region where the virus started) is one of the four major automobile production bases in China and has more than 100 automotive suppliers. Automotive plants in Hubei remained closed until March 11 and have now slowly started reopening. 
Related: How Fixed Ops can Boost Dealer Revenues in Times of Uncertainty
Illness and Potential for Shutdown
When dealing with the current crisis, dealerships must not only navigate the impact of a wide-scale economic shutdown, but many dealerships will have to face the reality of the virus itself. As the virus spreads around the nation, some employees will fall sick, and those dealerships may be forced (or choose) to close in response.
Two dealerships in California have already closed their doors voluntarily for two weeks out of precaution amid the spread of the virus, and stores in other states may be forced to follow suit as municipalities and governors across the U.S. take broader action.
Capistrano Toyota, in San Juan Capistrano, says on its website and in a recorded phone message that it has closed because of the COVID-19 pandemic.
Claremont Toyota also has the same message on its website. "We care about the health and safety of our employees and customers!" the dealerships say on their websites. "Due to the COVID-19 virus, Claremont Toyota will be closed for two weeks for the safety and protection for all. God bless and stay safe."
Even with social distancing measures, it is likely that more dealerships will be forced to close for a short period during this crisis. 
Transition to Online
As the fear of human contact surrounding the virus spreads, e-commerce giants like Amazon, Walmart and eBay are seeing an unprecedented increases in sales.
Consumer facing auto parts stores are already offering substantial incentives to buy online along with curbside service for online orders that request in-store pickup.
Dealerships that have not already looked at e-commerce as a viable part of their business will want to take a closer look now as these trends are likely to continue, even after the virus is controlled.
Related: DealerPRO Training Launches Online Forum to Remain Focused on Fixed-Ops Today
---

Did you enjoy this article from Ken Strong? Read other articles from him here.

Car Biz Today, the official resource of the retail automotive industry.

Be sure to follow us on Facebook and Twitter to stay up to date or catch-up on all of our podcasts on demand.
While you're here, don't forget to subscribe to our email newsletter for all the latest auto industry news from CBT News.