Welcome to another edition of Auto Marketing Now, with host Brian Pasch, founder of PCG Companies and BPE | Pasch Enterprises. Today, Brian discusses the new Google Analytics 4 cut-over and the Automotive Standards Council for GA4.
Car dealers should know that Google will end support of the current version of Google Analytics in July 2023, says Brian. If you are unfamiliar with Google Analytics, the platform is the primary tool that almost every car dealer uses to monitor organic traffic, paid traffic, conversions, engagement, and more. Many car dealers in the U.S. use Google Analytics to verify the performance reports from their vendors. However, that data stream is going away next year.

So what are dealers supposed to do?
The good news is that Brian recently announced the formation of the Automotive Standards Council for GA4. Progressive dealer groups, dealership marketing managers, OEMs, and members of the vendor community will make up the council.
This council aims to set standards to ensure that chat companies, website companies, digital retailing companies, finance, or trade tools, all support GA4 in a similar way, which allows dealers to easily inspect the traffic, engagement, and conversion on their websites. 
What should dealers do today?
You can install Google Analytics 4 right now and start collecting data. The sooner you install and configure GA4, the sooner you have the data set up. Here's the problem. Digital retailing tools, chat tools, and other integrations are likely not set up for GA4. This was the inspiration behind the Automotive Standards Council for GA4, explains Brian.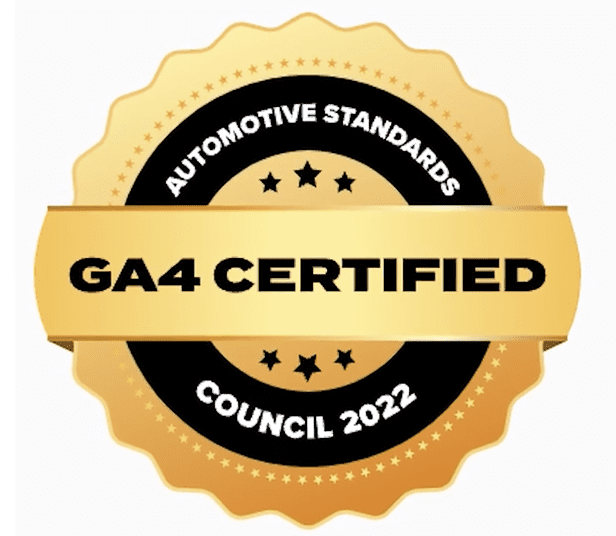 The logo to the right is designed to identify products that have been certified in compliance with the standards set by the council.
What's the goal?
To avoid the mess that we have today. Some website companies support Google Analytics better than others, Brian explains. Some create accurate conversion goals, and some do not. The council aims to set some standards to avoid confusion, discrepancies, and lack of transparency previous versions of Google Analytics have created for car dealers.
What about you?
Suppose you are a marketing manager at a single-point store, and you want to know how to configure Google Analytics. Or maybe you are a general manager or dealer principal who has enjoyed checking on analytics in the past. What is available to you? A series of training programs for GA4. Brian is offering live training events, the first of which will take place this summer.
To see all of the upcoming dates for Brian's live training events, visit ModernRetailingConference.com.
This summer, Brian will also hold meetings with members of the vendor community, dealers, and OEMs that have decided to be a part of the Automotive Standards Council for GA4. 
If you are a member of a technology company, website company, or OEM organization and would like to become a council member, check out BrianPasch.com/GA4 to find out more.
Under no circumstance should you avoid getting your dealership prepared for GA4. The sooner, the better says Brian. Ask the providers of your digital tool like chat, digital retailing, and pop-ups to consider joining the council and supporting transparency.
For any additional questions about preparing for GA4, email brian@brianpasch.com.
---
Did you enjoy this episode of Auto Marketing Now? Please share your thoughts, comments, or questions regarding this topic by submitting a letter to the editor here, or connect with us at newsroom@cbtnews.com.
Be sure to follow us on Facebook and Twitter to stay up to date or catch up on all of our podcasts on demand.
While you're here, don't forget to subscribe to our email newsletter for all the latest auto industry news from CBT News.