Welcome to another edition of The Friday 5 with Steve Greenfield, Founder and CEO of Automotive Ventures, an auto technology advisory firm that helps entrepreneurs raise money and maximize the value of their companies.
First up this week, Lender Compliance Technologies, the company that specializes in compliance solutions for automotive, RV, marine, and powersports lenders, has raised $4.15 million dollars in a Series A funding round. The round was led by a team of seasoned software entrepreneurs and joined by Automotive Ventures and Driven Capital Partners for the ongoing development of technology solutions to help lenders mitigate regulatory risks.
This announcement comes on the heels of the launch of LCT's Refund Control product, a lender-controlled compliance solution for F&I product cancellations and refunds.
Banks, credit unions, and finance companies face increasingly stringent controls. Consumer F&I product cancellations and credits are tedious and if handled improperly, expose lenders to hefty fines and damaged reputations.
Lender Compliance Technology's robust platform provides end-to-end services to simplify, automate, and streamline this process. With nearly 40 million F&I products purchased by consumers each year, the market is huge and the risks are significant. LCT helps mitigate these risks for lenders.
Cruise, the self-driving subsidiary of GM, has tapped a $5 billion line of credit from the automaker's financial arm to pay for hundreds of purpose-built electric and autonomous Origin vehicles as they start to roll off the assembly line.
The access to the credit provided by GM Financial will push Cruise's "total war chest" to more than $10 billion as it prepares for commercialization.
Preproduction of the Cruise Origin, which was first unveiled in January 2020, has started at GM's Factory ZERO assembly plant. Factory ZERO is the renamed and renovated Detroit-Hamtramck assembly plant.
Last year, GM announced plans to invest $2.2 billion into the factory to produce all-electric trucks and SUVs as well as Cruise Origin. The automaker said at the time it will invest an additional $800 million in supplier tooling and other projects related to the launch of the new electric trucks.
Detroit-Hamtramck will be GM's first fully dedicated electric vehicle assembly plant. When fully operational, the plant will create more than 2,200 jobs, according to GM.
Ford Motor Company is acquiring Electriphi Inc., a fleet charging service provider, to help strengthen its FordPro commercial business.
The automaker did not disclose a purchase price for the deal, which it said should close this month.
The acquisition will allow Ford to offer commercial fleet operators an "end-to-end solution" from installing EV chargers, to managing energy usage and coordinating vehicle charging to avoid downtime.
Ford believes it can increase revenue by more than $1 billion dollars from fleet charging solutions by 2030, when it expects businesses to have more than 600,000 full-size trucks and vans that need charging at the workplace.
Electriphi is based in California and has about 30 employees.
KeepTruckin, a hardware and software developer that helps trucking fleets manage vehicle, cargo and driver safety, has raised $190 million dollars in a Series E funding round, which puts the company's valuation at over $2 billion dollars.
G2 Venture Partners, which just raised a $500 million dollar fund to help modernize existing industries, participated in the round, alongside existing backers like Greenoaks Capital, Index Ventures, IVP, Scale Venture Partners and funds managed by BlackRock.
KeepTruckin intends to invest its new capital back into its AI-powered products like its GPS tracking, ELD compliance and dispatch and workflow, but it's specifically interested in improving its smart dashcam, which instantly detects unsafe driving behaviors like cell phone distraction and close following and alerts the drivers in real time.
Tractable, which works with automotive insurance companies to let users take and submit photos of damaged cars that are then "read" to make appraisals, has raised $60 million dollar, a Series D that values Tractable at $1 billion dollars.
Tractable says it works with more than 20 of the top 100 auto insurers in the world, and it has seen sales grow 600% in the last 24 months.
Its business today is based mostly around car accident recovery — where users can take pictures using ordinary smartphone cameras, uploading pictures via a mobile web site — not typically an app.
But Tractable's plan is to use some of the funding to expand deeper into areas adjacent to that: natural disaster recovery — specifically for appraising property damage– and used car appraisals. It will also use the investment to continue building out its technology, specifically to help build out better AI-based techniques of processing and parsing pictures that are taken on smartphones — by their nature small in size.
Insight Partners and Georgian Partners co-led the round and it brings the total raised by the company to $115 million dollars.
News this week that TRED has raised $3 million dollars. The company has raised a total of $12 million dollars, which includes prior convertible notes.
The company automates the entire automotive buying-and-selling process, providing a platform for collecting payments, arranging financing and warranties, and transferring titles.
Last year Tred's workforce more than doubled to 25 employees.
The company has expanded into Oregon, California, Texas and Florida.
In the next two months, TRED is adding three more states, covering up to 45% of the U.S. market in total.
Bridgestone has taken a minority stake in Kodiak Robotics, the Silicon Valley-based startup developing autonomous trucks, as part of a broader partnership to test and develop smart tire technology.
The terms of the deal weren't disclosed.
The deal involves more than capital. The two companies have also formed a strategic partnership focused on advancing Bridgestone's tire technology and fleet management system.
Kodiak will use Bridgestone's sensor-laden tires and fleet management system on its self-driving trucks, which are used to carry freight between Dallas and Houston as part of its testing program. The company recently said it is expanding its freight-carrying pilots to San Antonio. Kodiak also tests its self-driving trucks — always with a safety operator behind the wheel — in and around Mountain View, California.
Semi-trucks travel 100,000 to 150,000 miles a year, and tire integrity and tire monitoring are integral to the safety of trucking, whether they're driven by a human or computer.
Kodiak will use these smart tires to monitor pressure, temperature and even measure the loads on the wheels, which plays a role in vehicle dynamics and maneuverability. Kodiak will share the data it collects with Bridgestone, which the company can use to improve the chemistry of its tires.
Tire companies like Bridgestone already collect basic information from telematics providers that helps determine where trucks are driven, what types of roads they use as well as tire pressure and temperature. Predictive models are then developed based on that data. Autonomous vehicle companies bring an added value to tire companies. Kodiak's self-driving trucks are loaded with sensors of their own, which allows the company to collect massive amounts of driving data that can help Bridgestone understand exactly how its tires are being used.
AsTech, a portfolio company of Kinderhook Partners, has acquired Mobile Tech RX.
Mobile Tech RX is the industry leading automotive and collision reconditioning application with over 4,000 companies and approximately 6,000 active users that enables technicians to estimate, invoice, manage teams and collision workflow, process repair orders and capture data on-the-go through their mobile devices.
Mobile Tech RX also provides instant damage pricing estimates using machine learning enabled AI and computer vision with dispatch functionality to their technicians across the country in their own marketplace.
The Company represents the twelfth add-on acquisition for asTech and Kinderhook's 112th automotive-related transaction. Financial terms of the transaction were not disclosed.
Today, there are over 4,000 companies leveraging the application for glass repair, detailing, paintless dent repair, wheel and rim repair, paint touch up, window tint, interior repair, PPF and vinyl repairs. This technology enables these businesses to have all the necessary tools to compete from marketing, workflow, finance, payment to real-time analytics dashboards. Everything an independent automotive and collision business needs to manage, grow and enhance their position in the industry.
Trustworthy AI has been acquired by Waymo. Trustworthy AI aims to accelerate the development, testing, and deployment of safety-critical autonomous systems.
Autonomous vehicle technology has improved substantially over the past decade. In turn, understanding risk has become increasingly critical, and efficiently navigating the long tail of events and challenges has become more difficult.
Trustworthy AI uses adaptive adversarial search techniques to efficiently find realistic high-risk failures and guarantee testing coverage.
The terms of the acquisition were not disclosed.
IAA, a leading global digital marketplace connecting vehicle buyers and sellers, has acquired the entirety of the assets of Auto Exchange, a provider of personal service and security in the salvage recovery industry, effectively taking over the business operations of Auto Exchange.
IAA will operate the business of Auto Exchange going forward. Financial terms of the transaction were not disclosed.
Founded in 1979, Auto Exchange is a highly respected, regional salvage industry leader in New Jersey. The acquisition will leverage existing assets to expand IAA's physical presence in New Jersey and allow IAA to further serve the growing needs of the market and clients in the area.
Amazon has placed an order for 1,000 autonomous driving systems from self-driving truck technology startup Plus and has acquired the option to buy a stake of as much as 20%.
Amazon has the right to buy preferred shares of Plus, which amounts to a roughly 20% stake based on Plus's shares outstanding before its planned merger with special purpose acquisition company Hennessy Capital Investment Corp. V.
The Sequoia Capital China-backed company, which is developing autonomous driving technology for long-haul trucking, is set to have a valuation of $3.3 billion dollars, adding $500 million dollars in proceeds to accelerate its expansion. The company raised $150 million dollars via so-called private investment in public equity, or PIPE, from funds including BlackRock and The D. E. Shaw Group.
Quanergy, a supplier of self-driving car technology, will go public through a merger with Chinese blank-check company CITIC Capital Acquisition Corp.
Quanergy is the latest company developing LiDAR technology – which uses laser beams to help generate a three-dimensional map of the road – to turn to a special-purpose acquisition company (SPAC) to go public.
Others that have done so include Peter Thiel-backed Luminar Technologies and AEye.
The SPAC deal values Quanergy at $1.1 billion dollars, and the transaction is expected to close in the second half of 2021.
Sunnyvale, California-based Quanergy, founded in 2012, said it is the only major LiDAR provider to use Optical Phased Array technology, which reduces movable parts and which the company
Embark Trucks is merging with a special-purpose acquisition company to go public in a deal that values the self-driving truck startup at about $5.2 billion dollars.
Founded in 2016, Embark says it is the oldest U.S. self-driving truck software firm and aims to partner with shippers to bring down carrier costs and make roads safer.
Embark currently has a small developmental fleet running some routes out of Southern California. The company hopes to fully commercialize its technology and to license it so that carriers can operate a large number of their trucks using Embark's software without needing any human drivers in the years ahead.
The San Francisco-based startup is combining with the sustainability-focused SPAC Northern Genesis Acquisition Corp. II.
Embark is the latest self-driving truck firm to tap public markets in recent months, joining Plus and TuSimple. These companies are competing for customers and hoping to use the deals to raise the large sums of money needed to build out their technologies.
In international news this week, Chinese driverless car start-up WeRide has raised $310 million in a new round of funding as it pushes to commercialize its technology.
YUTONG Group, a Chinese company that manufactures commercial vehicles including electric buses, led the funding round. A number of other new investors jumped on board while existing venture capital firms also participated. WeRide did not disclose its valuation.
The Guangzhou-based firm is among a handful of companies in China vying to become a leader in driverless car technology. WeRide focuses on building the technology that enables vehicles to be autonomous rather than actually manufacturing automobiles.
WeRide's funding round follows a cash injection into rival Pony.ai in November which saw the latter's valuation top $5 billion dollars. Other companies including search giant Baidu, start-up AutoX and ride-hailing firm DiDi, are competing in the same space.
In late 2019, WeRide launched a robotaxi project in Guangzhou and has since expanded to allow users to hail a ride through Alibaba Group's Amap app. The company says it will launch trial operations for "Mini Robobuses" this month.
brumbrum, the Italian automotive e-commerce platform for both new and used cars, closed a 65 million euros to finance the purchase of cars offered on the platform and at the same time announced the entry of the DIP Capital as new equity investor
Unofficially, it has been reported that DIP Capital made an initial investment in brumbrum S.p.A. in early 2020 with a 3 million euro investment — but the deal was not announced at the time.
The international market for used car online marketplaces have been hot, and that interest includes European markets like Italy.
Companies to Watch
Every week we highlight interesting companies in the automotive technology space to keep an eye on. If you read my monthly industry intel report, I showcase a few companies each month, and we take the opportunity here on the Friday Five to share some of those companies each week with you.
Today, our companies to watch are Tractable and Reinvent Auctions.
Tractable
First up, we have Tractable, which was founded in 2014, and is located in London, England.
Tractable develops artificial intelligence for accident and disaster recovery. Their goal is to help the world recover faster from accidents and disasters that affect hundreds of millions of lives, from car accidents and burst piping, to full-scale floods and hurricanes.
Accident and disaster recovery starts with visual damage appraisal: assess the damage, calculate the cost, unlock the funds and rebuild. However, the first stage of assessing the problem can take days to weeks. Tractable's belief is that when accidents and disasters hit, the response could be 10 times faster, thanks to AI.
Tractable is starting with automotive damage. Their AI assesses damage to any car, whether in Europe, North America or Asia, and they work with the world's leading insurers in over 10 countries across the world.
Tractable has a world-class research and development team with over 30 years of combined research experience, and its solution is built on five years of dedicated research and development work undertaken by a team of Oxford and Cambridge-trained researchers. The company is based in London, with offices in New York City and Tokyo.
Our second Company to Watch this week is ReinventAuctions, founded in 2017 and located in Milwaukee, Wisconsin.
ReinventAuctions is the home of the first and only online wholesale trading platform to buy and sell vehicles with the click of a button.
The ReinventRV program functions as an online auction to facilitate easy dealer engagements in real-time. The goal is smooth B2B transactions with no interference from auction house middlemen. Dealers interact directly with other dealers for faster, easier transactions on an online platform – so a dealer from New York can easily trade or sell with a dealer in California.
ReinventAuctions provides frictionless digital trading platforms for dealer-to-dealer wholesale vehicle exchanges in targeted industries. ReinventAuctions platforms are designed and driven by dealers for a fully transactional end-to-end wholesale experience among select dealers with proven market experience and reputation.
List your inventory or expand your inventory by browsing listed units from other dealers. Reinvent can give dealers more flexibility and confidence in taking in trades because they now have access to a nationwide dealer network to sell those units to dealers who are looking to buy up used inventory or likewise buy more used units to refurbish and sell.
——————-
So that's your weekly Friday 5, a quick wrap-up of the big deals in automotive technology over the past week.
It's an exciting time to be in the automotive space, with a ton of deals going on. Make sure you stay tuned in each week to stay up to date on the auto industry's technology M&A activity. I'll keep my fingers on the pulse of deals being done, so I can share updates with you.
If you're an early-stage automotive technology entrepreneur looking to raise money, or an entrepreneur who wants to chat about the best timing and process to sell your company to achieve the best outcome, I'd love to discuss it with you at steve@automotive.ventures.
——————-
People often ask me why I'm affiliated with CBT News.
Besides having an outstanding, extremely talented, and hardworking team up here at the studio, I greatly appreciate the valuable role that CBT News plays in the automotive industry.
Every day, I eagerly look forward to my morning email from CBT News to ensure I'm getting the most up-to-date and relevant information on the industry.
I encourage you to tune in to CBT News to ensure that you're getting the automotive news that matters.
---
Did you miss enjoy this week's episode of The Friday 5? Please share your thoughts, comments, or questions regarding this topic at newsroom@cbtnews.com.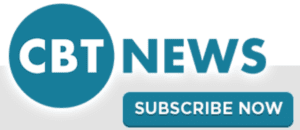 Be sure to follow us on Facebook and Twitter to stay up to date or catch-up on all of our podcasts on demand.
While you're here, don't forget to subscribe to our email newsletter for all the latest auto industry news from CBT News.