Welcome to this episode of The Friday 5 with Steve Greenfield, Founder and CEO of Automotive Ventures, an auto technology advisory firm that helps entrepreneurs raise money and maximize the value of their companies.
On the back of us reporting just last week that Buick has offered to buy out any of its US dealers who do not want to make the investments necessary –  as the brand transitions to an all-electric lineup by the end of this decade –  this week Ford dealers descended on Las Vegas for their national dealer council meeting, and we finally got some clarity on what CEO Jim Farley is planning on doing with the dealer body in regards to EVs.
If you remember back to March of this year, just prior to NADA, Farley and Ford had to backtrack pretty aggressively from the announcement that they were going to separate the Ford business into two and allow only some dealers the opportunity to sell and service EVs.  
At that time, Farly said that the automaker wanted only a certain number of retailers to "opt-in" to selling EVs under a new set of standards that will include carrying no inventory, selling at nonnegotiable prices and being held to greater facility requirements.
We'll, we did get a bit more clarity this week.
At the National Ford Dealer Meeting it was communicated that Ford's US dealers must invest as much as $1.2 million per location and adhere to rigorous sales standards if they want to sell electric vehicles beyond 2023.
Dealers have until Oct. 31 to opt into one of two EV certification tiers that cover varying investment levels in fast chargers and staff training. Those dealers who choose not to invest will be limited to selling internal-combustion vehicles and hybrids from the Ford brand.
EV dealers must sell the products at non-negotiable prices and won't be allowed to carry them in inventory, instead having customers order exactly what they want for later delivery.
Dealers who choose the highest tier — called "Model e Certified Elite" — will be asked to invest $900,000 initially, most of which will go toward installing two DC fast chargers, at least one of which must be public-facing. They likely will have to invest $300,000 more, and add a third fast charger, by 2026.
The lower tier — called "Model e Certified" — will require a $500,000 investment that will mostly go toward installing one public-facing fast charger. Those dealers will be allowed to sell only a limited number of EVs a year, though Ford hasn't decided on that cap yet.
The company offered the less-expensive tier in response to feedback from smaller dealers who wanted a lower-cost option.
Ford said the costs for each tier could change based on potential federal or local incentives to install EV chargers. Apparently, it's partnering with three consulting companies to help dealers install the equipment.
Each certification will be effective from Jan. 1, 2024, until the end of 2026. Ford said dealers who opt out of becoming EV-certified for now will have another opportunity to buy in starting in 2027. It does not expect to force any dealers to do so at that time, either.
It's not lost on me that it was exactly two years ago today that Cadillac told its 880 US dealers that they would need to invest at least $200,000 each on electric vehicle chargers, tooling and training to continue selling the brand's vehicles beyond 2022. About 150 Cadillac dealers instead accepted buyouts last fall that ranged from $300,000 to more than $500,000 per location.
It's going to be interesting to hear how Ford dealers react to the news this week. And, we'll keep a close eye if other automakers follow suit and try to separate their dealers into groups that sell ICE vehicles versus EVs. 
Companies To Watch
Every week we highlight interesting companies in the automotive technology space to keep an eye on. If you read my monthly industry Intel Report, I showcase a few companies each month, and we take the opportunity here on the Friday Five to share some of those companies each week with you.
Today, we have two companies to watch: Service Lane eAdvisor and Evonomy.
Service Lane eAdvisor has automated the service lane check-in process with one powerful system.
Advisors simply plug the eAdvisor scan tool into a vehicle's OBD2 port to collect vehicle information. 
Their system auto-generates the OEM report, VIN & mileage specific maintenance report, & service contract marketing report – all in under 10 seconds. No manual data entry required.
The reason that I love eAdvisor is that it helps dealers with some of their biggest fixed operations challenges, including: Improving the automotive customer experience; Increasing hours per repair order leading to more dealer profit; Removing the need for manual data entry; and providing vehicle data, service history and many more upsell opportunities at your service advisor's fingertips. 
You can check out Service Lane eAdvisor at www.SLeAdvisor.com.
Evonomy reviews customer requirements and identifies eligible solutions from over 400+ suppliers participating in their Repository. 
By participating, these suppliers are guaranteed to be considered for RFIs & RFQs worldwide in all segments, even at customers where they may not have established relationships. 
The reason that I love Evonomy is that as the pace of change accelerates in automotive, Evonomy offers Technical & Commercial services that keep companies on the leading edge for vehicle, system, component, and semiconductor solutions. 
You can check out Evonomy at www.Evonomy.com.
—–
If you're an auto tech entrepreneur working on a solution that helps car dealerships, we want to hear from you. We are actively investing out of the Automotive Ventures DealerFund.
If you're a dealer who wants to invest in early-stage AutoTech companies that benefit your business, let me know at steve@automotiveventures.com. We are still accepting new investors into the fund.
——
So that's your weekly Friday 5, a quick wrap-up of the big deals in the automotive technology space over the past week.
If you're an early-stage automotive technology entrepreneur looking to raise money, or an entrepreneur who is trying to decide whether and when they should raise money or sell their business, I'd love to speak with you.
Thank you for tuning into CBT News for this week's Friday Five, and we'll see you next week!
---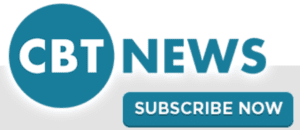 Did you enjoy this episode of the Friday 5? Please share your thoughts, comments, or questions regarding this topic by submitting a letter to the editor here, or connect with us at newsroom@cbtnews.com.
Be sure to follow us on Facebook, LinkedIn, and TikTok to stay up to date.
While you're here, don't forget to subscribe to our email newsletter for all the latest auto industry news from CBT News.