What is more powerful than well-drafted ad copy, video content, or a social media post about your dealerships discounts? You may be surprised to find that it has nothing to do with any dialogue you create regarding your dealership. According to a survey by SalesFuel, 59 percent of respondents said that a dealership's reputation was the most important factor in choosing one to visit. Typically, your reputation will depend on what others have to say about you. As a result, customer reviews can play a huge role in your marketing strategy.
How much of an impact can the words of a customer have on your business? These statistics reveal the importance of customer reviews to your dealership:
Customers are

5.3 times

more likely to visit your dealership if you have positive customer reviews.

On average, consumers will read

ten reviews

about your dealership online.

Approximately

95 percent

of shoppers read online reviews before they make a purchase.
So, consumers place much value on what past customers have to say about your brand. So, outside of Facebook ads, email marketing campaigns, and social media posts, customer-generated content should be at the forefront of your dealership marketing strategy. One of the best ways to do this is by empowering your customers to become unofficial brand ambassadors of your dealership. Giving them the tools they need to spread the message of what is unique about your business can have a lasting impact on your reputation and resulting bottom line. So, take a look at our tips for turning customers into effective ambassadors for your dealership's brand.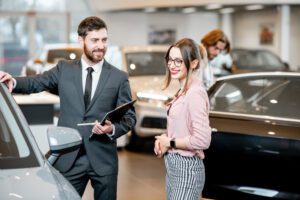 Collect Customer Reviews
This is mentioned in detail above, but it surely deserves its own entry. We live in a world where Yelp, Google Reviews, and other online review platforms are readily accessible. Because of this, customers want to use these resources to reduce their risk of making the wrong purchase. As a result, they look to reviews to see what their peers have to say about their purchasing experiences. So, be sure you are allowing your customers to share their interactions with your brand. Make it easy for customers to leave remarks about their experiences. Send out follow-up emails after the purchase or test drive, provide incentives for leaving a review, and make sure the review page or form is user-friendly.
Encourage Customers to Share Their Experiences on Social Media
Is a customer exceedingly excited about a recent car purchase? Did another customer share a story of how purchasing a car from you improved their quality of life? Don't let those stories walk out the door. Encourage customers to share their experience on social media. You can even suggest taking a photo of them with their new car or participating in a test drive, and then tag them on social media with the corresponding story. However, always be sure to ask for permission before posting any content or photos involving customers.
Track What They are Saying About You Online
Customers could be mentioning your dealership online, and you might not even know it. In the age of social media, customers will not shy away from expressing a complaint, suggestion, or statement of praise online. These are excellent points of cultivation and interaction. So, be sure to keep an eye on social media to see if your dealership is being discussed. A great way to do this is by utilizing a marketing automation tool like Hubspot or Buffer. Both (as well as others) will allow you to participate in "social listening," so you can quickly catch mentions and interact with your customer base in real time.
Show Your Appreciation to Long-Time Customers
If you have customers that have purchased multiple cars from you or always choose your dealership for service work, take note of who these individuals are. Then, come up with a way to show your appreciation for their brand loyalty. This act could be in the form of discounts, acknowledgment on social media, or even sending a gift card or a box of cookies their way. Saying "thank you," makes it more likely that these customers will stick with your dealership and leave a review that highlights their positive experience with you. Many times, these are the easiest individuals to turn into ambassadors because of their previous history with your brand.
Establish a Referral Program
This tactic is two wrapped into one. Not only are you encouraging customers to share their experiences with your dealership, but you are empowering them to refer other customers to you directly. There are many ways you can do this. You can provide cash, gift cards, a free service or maintenance appointment, or discount incentives to car buyers that make customer referrals that lead to a sale. This tactic enables your customers to enhance your word-of-mouth marketing strategy while also allowing them to benefit from rewards.
Final Thoughts
A collection of positive customer reviews can create a needed boost to your marketing strategy. Your goal should be to empower customers to tell the story of your brand on multiple platforms. Whether through a referral program, social media, or testimonial, you should provide as many avenues as possible for your customers to share their experiences. According to Revoo, reviews can produce a sales increase of up to 18 percent. So, make a point to enable customers to become ambassadors for your brand. This tactic could be just what you need to see a positive shift in sales and reputation.