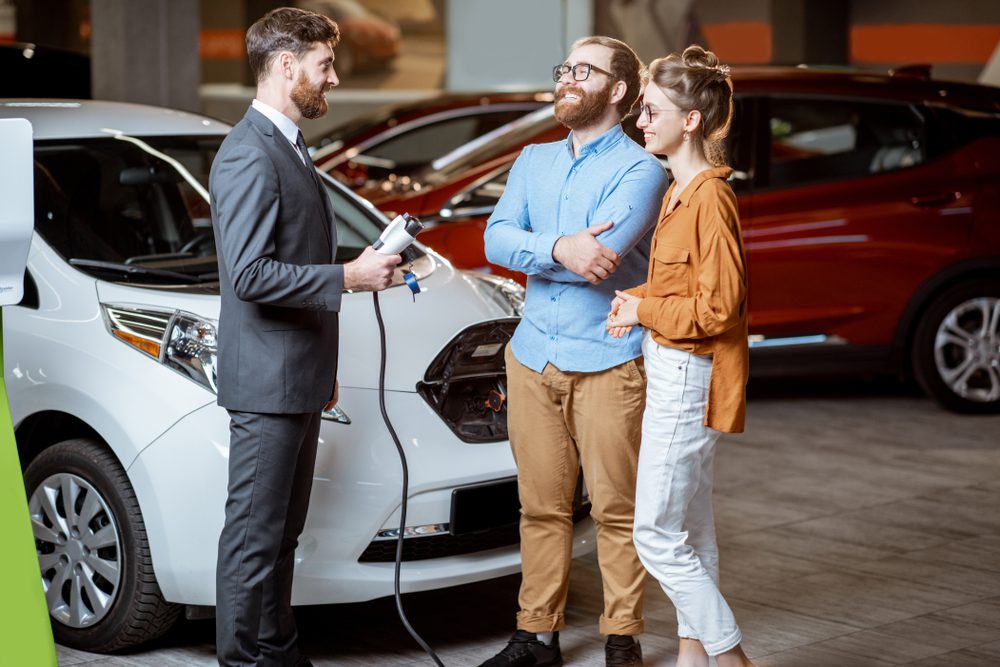 Once a niche segment among drivers, electric vehicles (EVs) have become top of mind for OEMs. Charged by commitments and incentives from the federal government and a growing sense of environmental consciousness and climate change awareness among consumers, the number of EVs on American roads is expected to rise from 1.5 million units in 2020 to almost 10 million in 2026, according to IHS Markit.
While this may seem far off for some dealers, consumers are already purchasing EVs at record rates. IHS Markit forecasts from October 2021 indicate the EV market will grow from 10.2% share of new vehicle sales in 2021 to 30.7% by 2025. This growth comes specifically from Battery Electric Vehicle (BEV) models, which are expected to double their share of sales in 2022.
Understand Barriers to Electrification
While consumer confidence around EVs continues to rise, Pew Research Center reports that about twice as many Americans still consider EVs less reliable than their internal combustion engine (ICE) counterparts (34% vs. 15%).
Studies show that vehicle range and price ranked as the top barriers preventing customers from considering EVs in 2021. However, low vehicle range has ranked as less of a concern for in-market consumers between 2019 and 2021. This shift may be attributed to longer vehicle ranges, faster charging speeds and growing availability of EV charging infrastructure. IHS Markit reports almost $7.5 billion has been allocated to alternative fuel charging in a new bill signed by President Biden in November 2021 as part of a $1.2 million dollar infrastructure bill. The emphasis on private charging will still be important however, as IHS Markit expects the infrastructure bill to supplement only 66% of required U.S. EV charger growth through 2026.
Identify and Connect with EV Buyers
It's equally important to understand why customers are purchasing EVs to identify and engage future buyers before they start shopping. While many EV buyers attribute environmental factors and sustainability elements as their main purchasing motivators, there are other factors that will inevitably lead to their decision. 
Simply put, the more customers know about EVs, the more likely they are to purchase one. In the same Pew Study previously referenced, only 13% of respondents who reported knowing nothing about EVs said they would be willing to seriously consider purchasing one, while 53% of those who know a lot fell into the same category.
With consumers' reasons for adoption varying from person-to-person and from market-to-market, it's important for dealers to understand their audience and their purchasing motivation to effectively market and sell EVs.
This means starting with the obvious: analyze and engage with your current portfolio of EV buyers. Find out:
What made them choose an EV over an ICE and what trade-offs did they make along the way? Find out where they conducted research, who they talked to, etc.

 

What problem did the EV solve that the alternative ICE vehicle could not?
Once dealers collect the above intel, they'll be in a better position to find similar customers and make more informed decisions on how to market EVs, including which messages will resonate best with top EV prospects.
Tailor Messaging to Your Existing Customer Base
Customer education is key to EV adoption. Dealers must take the same data-driven approach when engaging ICE customers with EV marketing – starting with identifying and engaging the customers who are the best EV candidates.
Finance and cash buyers may be better suited for EV purchases than lease customers. Since these customers generally show a greater commitment to their current vehicle (length of ownership), they are more likely to invest in home charging, which helps reduce total cost of ownership and increase customer convenience. These individuals may also qualify for certain federal and state-level incentives like the $7,500 federal tax credit.
When looking to the service department, consider targeting customers making frequent visits to your service drive. These individuals may be interested in trading in their ICE for a BEV if presented with messaging tailored to the reliability of electric vehicles and the convenience of over-the-air updates.  
Targeting multi-vehicle homes gives future EV buyers the option to use one of their current ICE vehicles for long-distances or overnight trips. This helps overcome any objections about charging speed or potential range anxiety
Lastly, fleet owners can benefit from the cost reductions and operational efficiencies EVs offer. Small business owners, real estate agents or food delivery services would be the right fit for this personalized messaging.  
While EV sales were once considered niche, the segment has emerged into one that's defining the future of the automotive industry. Future success requires dealers to embrace electrification with a customer-first approach. This starts by understanding the roadblocks to electrification, targeting your marketing efforts and tailoring your messaging to buyers' concerns and motivating factors.
---
Did you enjoy this article from Chris Potgieter? Read other articles on CBT News here. Please share your thoughts, comments, or questions regarding this topic by submitting a letter to the editor here, or connect with us at newsroom@cbtnews.com.
Be sure to follow us on Facebook and Twitter to stay up to date or catch up on all of our podcasts on demand.
While you're here, don't forget to subscribe to our email newsletter for all the latest auto industry news from CBT News.