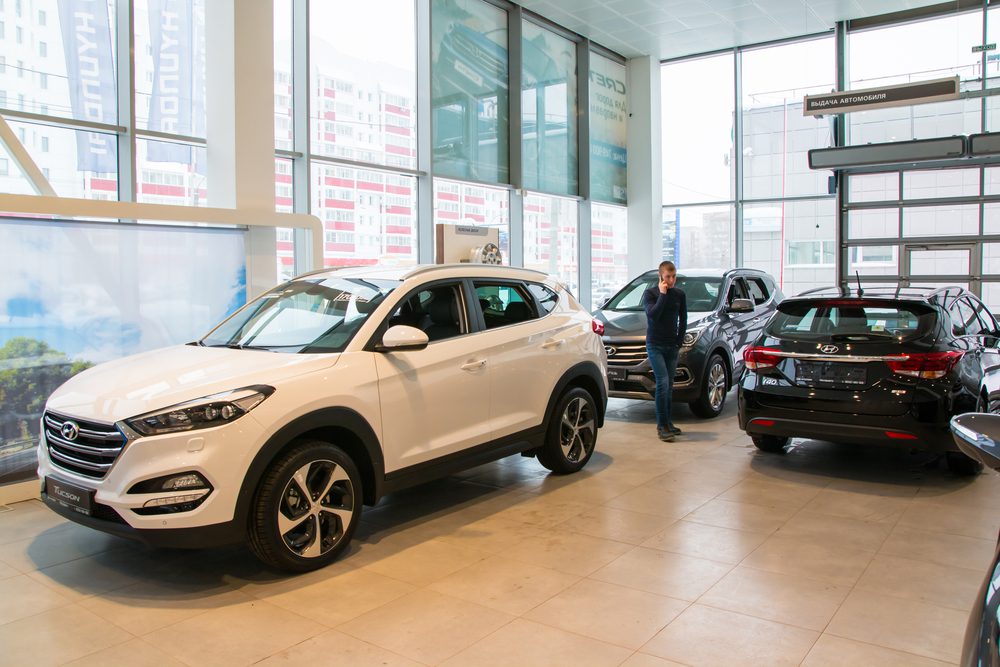 Consumers who are ready to buy that shiny new car at a reasonable price may have to wait a while longer, according to an Edmunds report released this week. While the economy will hopefully continue to bounce back after the disastrous effects of the COVID-19 pandemic, it won't happen overnight. As with most industries, it will take some time for the auto industry to recover, which includes the stabilization of supply chains as well as inventory and affordable vehicles.
Microchip Shortage
A significant reason for the current market conditions is the unprecedented disruptions in supply chains throughout the last year. Sam Rogers of News Center Maine noted that one notable reason new car inventory has consistently been low throughout the past year is the continuing shortage of microchips that are needed for all kinds of processes in new cars, including "power navigation, fuel control, traction control, and more." Like many large corporations, several microchip manufacturers shuttered production in 2020 to make supplies for hospitals and medical facilities trying to battle the COVID-19 pandemic instead.
Now that vaccine production has ramped up throughout the world and hospitalizations in the U.S. have slowly tapered down throughout the past few months, manufacturers are getting back to microchip production and consumers are looking for new cars as things get back to normal. Unfortunately, though, stymied supply chains have been detrimental to the typical rate of new vehicle production.
A professor at the University of Maine, Nuri Emanetoglu, noted that, "there are a limited number of chips being made at any given time, during the pandemic, or not," indicating that demand was already high and challenging to meet pre-pandemic. Throughout the past few months, dealership owners have consistently reported that new vehicles are just "sitting" waiting for new microchips to arrive, and in many cases, dealerships have no timeline on when they may get the completed vehicles ready for sale. Edmunds' Director of Insights, Jessica Caldwell, simply stated, "The chipset shortage has snowballed into a bigger crisis for the automotive industry."
Emanetoglu predicted that it could be between six and twelve months before the microchip supply chain recovers, meaning those "perfect" new vehicles that consumers have been wanting might not be available for a while.
Low Inventory, High Pricing
Of course, supply chain problems also affect inventory and prices. Edmunds' assessment included that available new cars nationwide are down 36% from a year ago and the average transaction price of a new car is now around $40,563 as opposed to $38,601 a year ago. Edmunds reported that larger vehicles including trucks and SUVs have been the most "disproportionately affected" by the shortages. Inventory of these new vehicles has reportedly dropped by 60% from March 2020, and the average transaction price is now $54,763 as opposed to $51,164 last year. Larger new SUV prices have also risen to $67,542 from $62,620.
Edmunds' average transaction price projection has also increased for used cars, from $20,273 a year ago to $22,663 this year. Used full-size trucks are expected to reach an average of $34,445, which is notably more than the $28,156 estimation last year at this time. Larger used SUV prices have risen to $35,035 from $31,232.
Going Forward
Although shortages and significantly elevated prices are not optimal for auto sales, "affluent" consumers have trended towards paying higher down payments and increasing the amount financed for both new and used vehicles. The figures are quite significant, with the average down payment in Q1 for new cars rising to $4,729 this year from $3,345 last year. Used car down payments saw a hike too, averaging out at $4,246 as opposed to $2,679 in Q1 2020. The average amount financed for new cars was $35,040 in Q1 2021 compared to $23,958 in Q1 2020. The used car financing average raised to $33,594 from $22,200 a year ago.
Caldwell stated that automakers can currently "comfortably count on financially stable consumers focusing their spending on bigger-ticket vehicle purchases" but warned that as vaccine distribution expands and consumers are ready to buy new cars, "automakers and dealers will need to prepare to get more creative in marketing the limited inventory that they have on hand." If supply chains can get sorted and shortages can be remedied, consumers will hopefully be out on the lot supporting the rebound of the auto industry.
---
Did you enjoy this article from Kristine Cain? Read other articles on CBT News here. Please share your thoughts, comments, or questions regarding this topic by submitting a letter to the editor here, or connect with us at newsroom@cbtnews.com.
Be sure to follow us on Facebook and Twitter to stay up to date or catch-up on all of our podcasts on demand.
While you're here, don't forget to subscribe to our email newsletter for all the latest auto industry news from CBT News.