Dealership sales staff are known for pulling long hours. From working during the weekdays, to pulling early evening and weekend shifts, sales staff are having to pull the traditional eight hours, and even more in certain situations. However, is it time to shake up this formula? Are dealership sales staff truly needed during traditional working hours? 
According to the Cox Automotive's 2019 Dealership Staffing Survey, dealerships experienced an 80 percent turnover of sales staff in 2019. This number is striking, one that shouldn't be taken lightly. 
Sales staff are leaving for a variety of reasons. One of the causes is the current commission-based pay structure, according to the Cox study; however, the other is long working hours. Both issues show that dealers may want to reconsider how they organize the workday of their sales team by optimizing it to increase earnings and productivity. 
The long sales day needs an upgrade, and here are some reasons dealers may want to switch up how they utilize the sales staff.
America's Eight Hour Workday Culture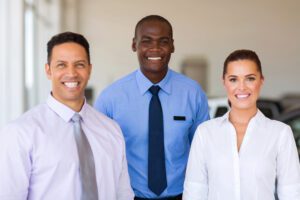 Let's do some math here. The average American worker gets ten days of PTO time (not including sick days) after one year of working, this goes up to 15 days after five years. This data means that they only have approximately two weeks' worth of weekdays out of the year to handle administrative issues (like purchasing a new car). Workers have to juggle vacation time with other important things like doctor's appointments, school functions, and unforeseen emergencies. That doesn't leave much time to purchase a car. Dealerships need to ask themselves if requiring the whole sales team on the showroom floor for the entire weekday is an effective strategy if the typical customer cannot make it in until after 5:00 pm.
Related: Are Service Department Hours in Line with Customer Needs?
Weekends May Need to Be the Focal Point
This scenario may be different for each dealership. However, every dealership owner should be tracking the foot traffic of its consumers. Are more customers coming in after work, or are they choosing Saturdays to stop by? Again, you only have a few hours each workday to capture audiences. The typical American likely gets off of work between 5:00 pm and 6:00 pm. That only leaves a few hours of the evening for consumers to come in for a test drive or purchase. This fact may make extended hours on Saturday a better option for strategically scheduling sales staff. 
The Problem with Sundays
One barrier to extending hours on the weekends are variations of Blue Laws in the United States. Almost 20 states still call for individual businesses to be closed on Sunday or adhere to restrictions on hours of operation. These policies impact dealerships. This situation requires a more significant systemic change, but one that may need to be addressed for dealers to optimize the time they have to sell to consumers. This exchange between an Autotrader content creator and a customer shows that there are some valid questions about why Sundays are not offered as days for car buying in some states. Again, sales staff are experiencing long hours during the week, and minimizing weekday hours and focusing on weekends—including Sundays—could be the answer. 
Customers are Spending Less Time in the Showroom
While walk-ins are still the most popular form of the first contact between dealer staff and potential car buyers, online research is diminishing the amount of total time people are spending in dealerships. Car shoppers are only visiting approximately two dealerships before they make a purchase. Consumers even want to handle some of the car buying experience online before entering the showroom. This situation means that dealerships have much less time to make an impact. This reason is why dealerships want to hone in on the actual times most customers are available to come in and decrease the numbers of sales staff for times of low foot traffic.
Related: 5 Tips to Effectively Manage Your Dealership's Online Presence

Offering Work Flexibility
Again, today's topics about workplace optimization have a lot to do with work flexibility. Offering more work-time options for sales staff to come into work can also increase their work satisfaction, productivity, and engagement levels at work. There may be a way your dealership can blend the work preferences of sales staff with peak visit times of consumers based upon your actual foot traffic data. Sales staff are experiencing burnout, and changing up the work times can help them while saving your dealership time and money. 
See What Works for Your Dealership
Every automotive dealership is unique, and the customers served are as well. However, as consumer preferences and availability changes, you have to be flexible and make the act of meeting their needs—as well as those of your staff—a priority. Reassessing whether having a large number of your sales staff on the floor during traditional working hours works for your sales team can help you add efficiency, cost-savings, and work satisfaction to your workplace strategies. 
First, see if altering your times is permitted by the OEMs, check for any state or local restrictions, and then monitor the foot traffic of your consumers as well as the needs of your sales teams. Considering evening or even weekend hours may be a better fit for a national workforce that is mostly still in the office during the weekday. Before you know it, you may find that lowering sales staff numbers during the weekdays and adding more opportunities for work on the weekends is the key to more revenue and less turnover.