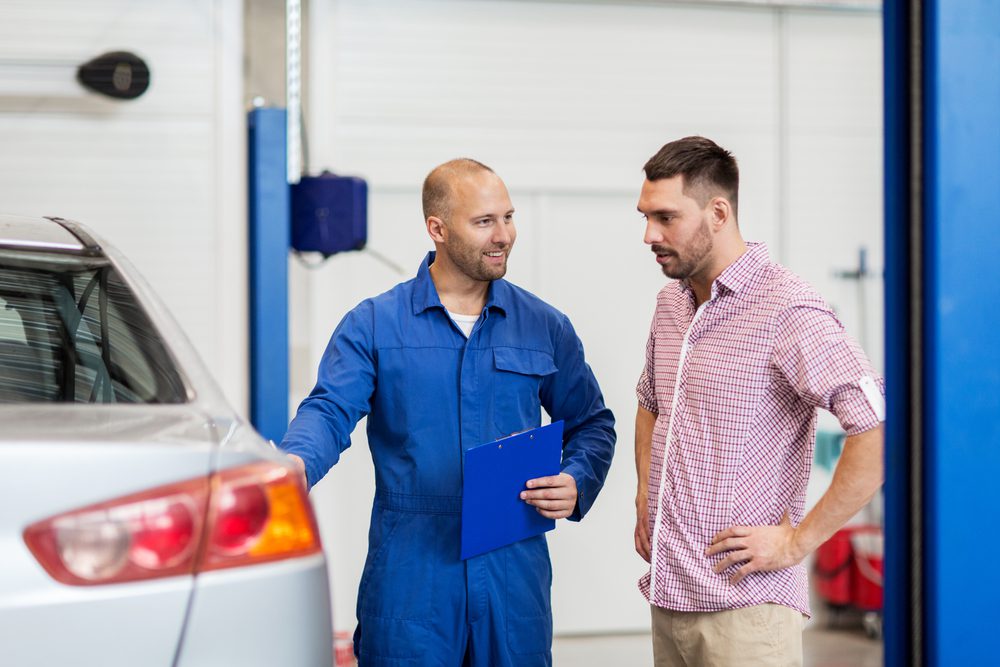 While the average passenger vehicle on the road in the U.S. today is increasing in age – hitting more than 12 years old in 2020 – the number of annual visits to dealer service centers is actually decreasing. 
This is troublesome, considering approximately half of all dealer gross profits come from the parts and service department. 
And the competition has taken notice. Companies like Bridgestone, for example, offer a wide range of new tires and services, while others, like AutoZone, are investing heavily in new technologies. According to one report, Amazon's auto parts and accessories sales reached $8.3 billion in 2020, with another $1.9 billion in OEM replacement part sales. 
J.D. Power estimates vehicle maintenance, repair, oil change and tire revenue in the U.S. currently exceeds $296 billion, with aftermarket providers capturing 70% compared to just 30% for franchised dealers. In fact, the competition doesn't even perceive dealer service centers as a threat. Just a quarter of repair shops in a recent study named dealers as their number one competition.
With a growing field of mobile mechanics, auto parts, and service and repair shops competing for customers, how can dealer service centers keep customers from straying?
Here are eight key strategies for success:
1. Own the ownership lifecycle
Today, monetizing post-warranty customers has become more important than ever. Successfully doing so requires delivering an outstanding customer experience and establishing the dealership as the customer's trusted advisor throughout the vehicle ownership lifecycle – across all ownership and support needs, particularly during the warranty period. But delivering a positive customer experience throughout the automotive lifecycle can be challenging. A key element is matching the support and services needed for each stage of vehicle ownership. 
Given this, understanding the stages of vehicle ownership – and what programs and extended services the dealership bundled into the sale – will help unlock opportunities to create value-added experiences at each step.
The "new-car stage" covers the first three years, when maintenance and service are minimal, and cars are under warranty. During this period, dealers capture 88% of annual service visits.

 

The "middle stage" includes vehicles three to five years old, as vehicles come out of the original warranty coverage, but 80% of which are still under financing. Because only 30% opt for extended service contracts, many of these owners face out-of-pocket maintenance and repair costs.

 

Finally, the "golden years stage" includes vehicles five to eight-plus years old. These are typically paid off but likely to incur growing maintenance costs, and just 21% are serviced at a dealership versus an independent repair shop (with many franchises falling off to low single digits)
With the right set of tools and services at a dealer's disposal – both those dealers can deploy on their own, along with assets from the OEM and partners – there are logical ways to engage with customers to increase stickiness and satisfaction.
2. Drive profitability through retention
Acquiring new customers is expensive; it costs up to seven times more to acquire a new customer than to retain an old one. It's far easier to grow the business by maintaining the existing client base, delivering exceptional experiences with ongoing support to retain customers, drive profitability, and repeat purchases. Case in point: the probability of selling to an existing customer is 60-70%, while the probability of selling to a new prospect is only 5-20%. In fact, increasing customer retention by 5% is shown to increase profits by anywhere from 25-95%.
Surprisingly few dealers actively pursue customers for oil changes, tire purchases, minor repairs, or even wiper fluid fill-ups and blade replacements. To capture and control the entire ownership experience, dealers need to cast a wide net at the top of the funnel – with a comprehensive set of product and service offers – to proactively position their business as the go-to provider for all the customer's vehicle service needs: oil, tires, and wipers included.
In addition to marketing and promoting these offers, having the right offers at the right time is essential. When a customer's car breaks down or requires service, dealers need to make it as easy as possible for the customer to come back for routine maintenance and parts. Use those opportunities to immediately schedule their next visit or alert them that easily replaceable parts will need swapping out soon and can be purchased now. These are easy wins that many dealers let slip through their fingers.
3. Make it easy, make it fast, and make it digital
Consumers today want less high-touch and more touch-less, and they want it fast and personalized. Not surprisingly, industry research shows that 94% of customers who perceive their service interactions as "low effort" are likely to repurchase. Providing them with the convenience they expect will get them through the door – and keep them coming back. For dealer service centers, this could include:
Express service, mobile mechanic options, and

concierge-style home vehicle pick-up and drop-off

that tackle customer concerns about time commitments.
Online scheduling, touchless check-in, and remote, mobile, or online payment capabilities to get customers in and out quickly.
Work and family-friendly lounge/waiting room amenities including Wi-Fi, drinks, snacks, and useable power outlets that make customers more comfortable and minimize disruption to their day.

Alternative transportation

options that help customers get on with their day by offering complimentary shuttle or ride-hailing services.
Another simple fix? Cleanliness. When the service facility is cleaner than customers expect, J.D. Power's research shows satisfaction improves between 30 and 42 points.
4. Help customers in need
Dealers that haven't done so already should become involved in their OEM's roadside assistance program. Playing an active role in assisting the customer during a breakdown or disablement event can make a real difference to the bottom line. But education is key: our research shows that consumers frequently misunderstand what "roadside assistance" covers. That flat tire on the side of the road, dead battery in the driveway, or locked door in the parking lot can all be covered by the dealer through auto warranties and extended service plans. Talk with the OEM about what tools and technologies are available to support customers in these situations, which can make the process less stressful for customers and far simpler and more efficient for dealers.
5. Tie the customer to your dealership
Loyalty programs keep customers engaged through exclusive discounts, support, and peace of mind. These can include incentives and perks that extend beyond the vehicle to create a positive touchpoint with the customers wherever they go. A sample loyalty program could include:
Rewards, such as dealer credit cards, discounts on shopping or movie tickets, car wash vouchers, and more that customers can enjoy outside the dealership, but that keep the business top of mind.
Convenient, timely, targeted discounts and coupons that are delivered digitally to customers in their moment of need.

 

While prepaid maintenance plans can be complicated, they have been proven to drive revenue and provide an opportunity for dealerships to solidify their relationship with the customer – and prevent them from straying to the competition for services.
6. Stay connected with customers
Whether an independent dealer, part of a dealer group or affiliated with an OEM program, there are a variety of ways to deliver consistent communication, messaging, and engagement to customers. Consider programs and services that can be managed internally or by an external partner to deliver a comprehensive customer relationship management process grounded at the dealer level. These are live, managed support solutions – handled by skilled agents capable of complaint management, escalation campaigns, customer chat, and more – that can be applied to the ongoing ownership of customers' vehicles. 
7. Build your digital business
Dealership service centers without a functional, up-to-date website are likely to lose customers. Work with a website provider to invest in content and functionality associated with ownership, fixed ops, roadside services, and more. Smartphone apps and web-based request forms are convenient – and they mirror popular digital experiences that consumers use every day.
In addition, empower staff to support customers through easy-to-use tools and comprehensive training to continuously reinforce ownership and lifetime relationships. This includes leveraging partners and technology solutions for proactive and incoming customer support to eliminate transfers and games of telephone. 
8. Market to stay top of mind
In today's digital economy, dealerships are doing themselves a disservice if they're not differentiating themselves from the competition online. More than 80% of consumers start researching products and services online. Dealerships should promote themselves as the one-stop-shop for all customer needs, with the essential expertise required for keeping their vehicle in prime condition, the amenities that will make service simple and convenient, and the quality care they expect.
It is also incredibly important to reach customers where they are: this means that beyond a dealer's website, staying top of mind will require engagement through tactics like targeted email, SMS, or postcard marketing. Reach out to the customer base with information about existing or new services or capabilities, executing local dealer-initiated outreach during a recall, and building a social media presence.
Not to be forgotten are the other non-dealer sources that can help deliver this message. Marketing Fixed Ops business services by leveraging sites like Google, Yelp, Kelly Blue Book, Cars.com, RepairPal, and more, can help reach customers through the channels they use most to capture more post-warranty volume. 
The biggest mistake a dealership can make is only helping customers with some of their needs, some of the time – and the result more often than not is a lost customer. The best way for dealers to maximize and monetize post-warranty customers is to capture and delight them while they are still in-warranty. The key to success is making the dealership essential to the customer by offering every service they may need throughout the vehicle lifecycle — to keep them from straying.  Being the engaged expert that can advise them on along the journey and deliver the convenience and support that they demand. 
With these tools and tactics, dealers can not only establish life-long relationships with buyers that will keep them coming back but attract and monetize customers well beyond the warranty period.
---
Did you enjoy this article from Cathy Orrico? Read other articles on CBT News here. Please share your thoughts, comments, or questions regarding this topic by submitting a letter to the editor here, or connect with us at newsroom@cbtnews.com.
Be sure to follow us on Facebook and Twitter to stay up to date or catch up on all of our podcasts on demand.
While you're here, don't forget to subscribe to our email newsletter for all the latest auto industry news from CBT News.