We are sure you've seen these little grids on posters or mail pieces. These are QR codes, and they are rather versatile and straightforward to use paths to websites and apps. In this article, we'll explain how to use QR codes in your dealership's marketing strategy to better get messages out to more people.
A brief intro to QR codes
QR codes have significantly risen in popularity in the last decade. QR literally stands for Quick Response and is presented as a black-and-white grid with many pixels within. A person can scan the QR code with a phone, tablet, or laptop camera and be sent to an app or URL with a landing page. 
While we described some of the technical aspects of a QR code, the reality is that a QR code is meant to connect the user to more information digitally. Most open a website with additional content that wouldn't fit in the ad.
Examples of QR code use
To be fair, there are many, many uses for QR codes, this is just a few examples of how I've seen them implemented or would suggest implementing: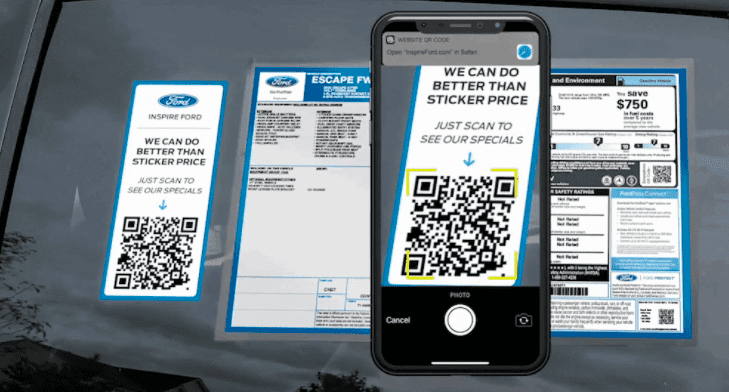 1. On 'for sale' vehicles
This requires a bit of work, but seeing how it plays out can be interesting. Have your detail or recon department print a QR code for every vehicle for sale on your lot. Visitors who are on your lot after hours or before a salesperson approaches can scan the QR code and be directed to the page for that vehicle. They might learn a lot about the car and potentially produce a lead on the spot.
2. On business cards
In addition to including the company website, QR codes can be used to send people to your page – or even a staff member's page on your website. Having a QR code might also help prevent customers from throwing away your cards right away.
3. Signs
Whether it's a sign in the front of your dealership or service department indicating your hours or a placard on a service waiting area or counter, you can add a QR code that delivers some content about your dealership. For example, a QR code in service could lead to a page that discusses the service process at your dealer or explores new and used vehicles.
4. Newspaper ads
Most dealerships are still running some form of newspaper ad in 2023, and that's not a bad thing! You can connect to some of your less digital readers in a space that is comfortable for them. Placing a QR code within a newspaper ad can help some of your more savvy newspaper readers connect to your website without typing it in.
What should I link the QR code to?
If your ad is very general, we suggest linking it to the homepage, so long as the homepage has general contact info, chat, and phone opportunities.
If your ad has a specific theme and is related to service or something unique about a vehicle, we suggest having it land on a page more closely associated with the theme of the ad. This might require building a particular landing page for a product.
How to track QR codes
Most marketing methods involving QR codes also offer the ability to know which QR code is scanned. While you won't have the customer's name unless they fill out a lead form, it is good to know when people are interacting with your QR.
Retention and QR codes
Let's assume you have remarketing set up on your website. Remarketing, by the way, is the process of having Google, Bing, and other networks collect some website visitor data and follow up with them through display ads as they use the Internet and apps.
QR codes mean that most users who visit your website after using a code will have ads shown to them as they continue regular phone or Internet usage.
Conclusion
QR codes can be a great way to follow up on the use of your existing ads to see which ones your visitors and customers want to interact with the most. You can also build some website content related to the services and products you make QR codes for to give the customer more information and a better experience.