Welcome to another edition of The Future of Automotive, with Steve Greenfield, Founder, and CEO of Automotive Ventures, where I put recent automotive and mobility news items into context, in terms of the broader thematic areas that will potentially impact the industry.
I'm glad that you could join us.
If you've been following the news cycle, many automakers, including Ford, GM, Volvo and now Mercedes, are conforming to the Tesla-developed North American Charging Standard or NACS.

But where does this leave auto dealers who have already committed to making significant facilities upgrades that include chargers with the old CCS standard connectors?
In many cases, automakers have compelled dealers to install charging stations with the old CCS-standard in order to sell their EVs.

But these investments may prove to be costly as the industry quickly moves to adopt the Tesla NACS EV plug standard. 
Installing chargers is expensive, especially the DC fast charging type. They can typically range from about $100,000 to $300,000 per charger but costs can vary with local labor, and construction and utility costs.
What we don't know is if Tesla will even approve of dealerships installing their Tesla-branded chargers in the future. And would dealers really want to have chargers bearing the Tesla brand on their property?
Only time will tell how this will play out. I do expect that many of the other automakers, like Nissan and Hyundai will soon announce they'll develop future EV models with the Tesla charging port standard. All of which will put more pressure on dealers to build out Tesla-compatible, or even Tesla-branded, chargers on their properties.
Next up this week, Automotive Ventures is excited to announce our latest investment out of our new DealerFund into electric vehicle charging start-up Go Eve, which has raised 3 million British Pounds in its first-ever funding round.
Go Eve has developed EV charging technology they call "DockChain," to make high-power DC charging cost competitive with lower-power AC charging options by extending the reach of single rapid DC chargers to service multiple parking spaces simultaneously.
Think about your power strip in your home. You can plug one end into the wall and plug 10 devices into the powerstrip. 
GoEve works the same for fast charging. Plug one end into a DC fast charger and plug in up to 20 vehicles into one single charger simultaneously.

This technology aims to improve on current EV charging technology, which only allows for one or two vehicles to use a fast charging station at a time. 
We hope that this company greatly alleviates the amount of EV charging infrastructure costs that auto dealers have to incur over the coming decade.
You can find out more about the company at their website, www.GoEve.com.
Companies To Watch
Every week we highlight interesting companies in the automotive technology space to keep an eye on. If you read my industry Intel Report, I showcase a few companies each week, and we take the opportunity here on this segment to share those companies with you. 
Today, we have two new companies to watch: Sicona Battery Technologies and About:Energy.
Sicona Battery Technologies
Our first company to watch this week is Sicona Battery Technologies, creating a low-cost, scalable next-generation battery materials technology used in lithium-ion batteries that enables electric mobility and storage of renewable energy.
Sicona's current generation silicon-composite anode technology delivers a remarkable 50-100% higher capacity than conventional graphite anodes and its anode materials can deliver more than 50% higher cell energy density than current Li-ion batteries.
This is tremendous news and has big implications for the EV battery world. 
You can check out Sicona Battery Technologies at www.SiconaBattery.com.
About:Energy
About:Energy, is a London, UK-based battery technology company, that focuses on building a portfolio of battery measurement and modeling capabilities to deliver a comprehensive software solution for battery design.
The reason that I love About:Energy is that the company's predictive models reduce the reliance on physical research, enhancing design, management, and prediction for battery development. About:Energy eliminates the barriers that prevent companies digitalizing R&D for batteries, by creating a seamless modeling experience, from battery system to simulation. 
You can check out About:Energy at www.AboutEnergy.io.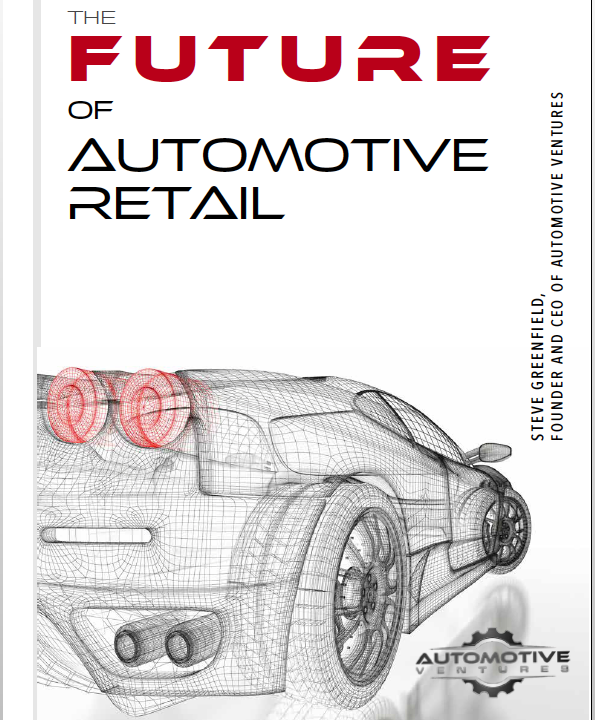 If you're an AutoTech entrepreneur working on a solution that helps car dealerships, we want to hear from you. We are actively investing out of our new DealerFund.
If you're a dealer who wants to invest in early-stage AutoTech companies that benefit your business, let me know. We are still accepting new investors into the DealerFund.
If you're interested in joining our Investment Club to make direct investments into AutoTech and Mobility startups with small checks, join the Club. There is no obligation to start seeing our deal flow.
And don't forget to check out my book, The Future of Automotive Retail, on Amazon.com.
Thank you for tuning into CBT News for this week's Future of Automotive segment, and we'll see you next week!